锚与盾 (translated as Anchor and Shield) is a Chinese featherweight robot which competed in the King of Bots 2019 Opening Battle. Representing the blue team, it fought one head-to-head battle against drum spinner Forsaken 2.0, which Anchor and Shield won after hitting, throwing and immobilizing Forsaken 2.0 within the first minute.
Under the captaincy of Team Think Tank, Anchor and Shield previously fought in various live events organized by King of Bots, with a 40% win rate.[1] Equipped with a cylindrically-shaped shell, it performed especially well at the 2018 Hangzhou event, finishing runner-up to Patchwork.[2]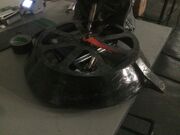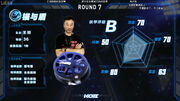 Anchor and Shield is a compact full-body spinner, utilizing a slanted shell with two pointed tips on either side. At the time of the 2019 Opening Battle, the shell was painted black, and had several scratches and dents carried over from its previous appearances at live events. To help Team Think Tank guide the robot, Anchor and Shield was fitted with a small curved piece of orange metal attached to the top of the shell. This piece identified the robot's position when the shell spun, as with similar devices found on other robots with this type of weaponry.
Robot HistoryEdit
2019 Opening BattleEdit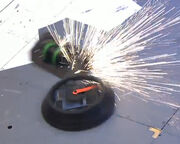 Anchor and Shield was one of eight featherweights which participated in the 2019 Opening Battle, where it represented the blue team. There, it fought a single head-to-head battle against drum spinner Forsaken 2.0. Anchor and Shield initially sat in the blue corner as it got its shell up to speed, before approaching and weathering two charges from Forsaken 2.0 as the two competitors met. It retreated towards the grinders, only to reverse into the side of Forsaken 2.0; on impact, Anchor and Shield catapulted Forsaken 2.0 into the corner, where the latter lay immobilized. Forsaken 2.0 was counted out after only thirty-eight seconds had elapsed, leaving Anchor and Shield - as well as a delighted Team Think Tank – victorious.
Wins/LossesEdit
Series RecordEdit
ReferencesEdit