Barghest is a featherweight robot entered into the 2018 King of Bots UK International Championships by team captain Christopher Loblie. It was successful in its qualification melees, and reached the Top 20, before withdrawing prior to the knockout rounds. Barghest was named after the Yorkshire legend of a demon dog.
Design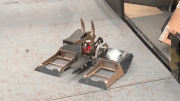 Barghest is one of the largest featherweights in King of Bots, with many gaps in its large frame to conserve weight. The robot uses a low-profile design, keeping its ground clearance as close to the floor as possible while also making the robot harder to hit. Barghest combines its two primary weapons to function as a 'control-bot', using a broad electrically powered lifting arm in conjunction with a vertical grabbing arm to hold opponents in the air, and take them to hazards such as the pit. The robot is quick on its two-wheel drive system, and its broad front end stops the robot from overbalancing while lifting.
Barghest's default 'Uberclocker-style' setup of a low-profile wedge with electric lifter and grabber can be substituted for a grabber-only setup, allowing the robot to equip a thick HARDOX wedge, painted gold, designed to resist horizontal spinners. Its two wheels were exposed at the rear, although this also allows Barghest to reverse off wedges.
Barghest's lifter can also be equipped with interchangeable 'ears', for different methods of self-righting. The lifter is themed after mythological dogs, with Anubis being the inspiration for Barghest's default lifter design.
"Originally, the plan was to just use the same hardox chassis from last year except with a new set of jaws, HDPE panels for extra protection and brushless drive. However, knowing that the competition would be tougher this year, I decided to change the entire design; opting to go with aluminium for the core chassis with billeted HDPE side pods. The hardox trays were now bolt-on pieces along with their wedgelets, and could be swapped out for a large wedge and grabber set-up in case a wild horizontal spinner appeared."
— Christopher Loblie on the modifications made for the UK Championship
Barghest was built and designed by Adam Hamilton, who also competed in the 2018 UK International Championships with his own machine, Amnesia. Both robots were assembled at the Team Immersion workshop and shared the same construction methods and materials, using a HARDOX chassis, billeted HDPE sides and aluminium.[1]
Robot History
King of Bots UK 2018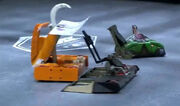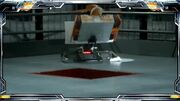 In its first battle, Barghest fought Cobalt and the original version of Aegis. Barghest was wired incorrectly for the battle, causing the robot minor issues, although it was quickly able to overturn and immobilise Cobalt in a joint attack with Aegis. For the remainder of the battle, Barghest fought Aegis head-to-head, and succeeded in overturning it on occasion, while carrying the robot high off the floor. Towards the end of the battle, Barghest pushed Aegis into the pit, and won the melee by knockout, earning it four points.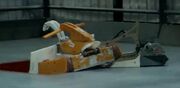 "The fight was harder than it should have been due to one issue: the wiring. In my rush to get things ready, I had assumed the length of the weapon's ESC cables would be fine, despite them being rather long and not being cable-tied or taped down. During the fight, they sometimes caught on the left drive motor resulting in one side occasionally not working right. This also caused the motor itself to be dragged a bit closer to the back panel resulting in further issues. Nevertheless, Barghest successfully tipped Cobalt over after it got cornered with the assistance of Aegis. Barghest then proceeded to wrestle with the orange lifter, occasionally throwing it over sumo-style to the delight of the audience, before concluding the fight by shoving it into the pit. Not the most spectacular victory, but a victory none-the-less and 4 points scored."
— Christopher Loblie
In its second battle, Barghest fought Forge Master and Vega. Ahead of the battle, Barghest was applied with new HARDOX armour on top, to protect it from the axe of Forge Master, and also used its broad wedge to resist the spinner of Vega, leaving Barghest without its lifting weapon.
"Despite issues with the shell spinner, I suspected Vega might have been working for this fight so I didn't want to risk gambling with the usual tray and lifting jaws combo, opting instead to go with the newly designed grabber and large wedge set-up. I was also cautious of the newcomer axebot known as Forgemaster so I put on hardox lids instead of the regular HDPE ones."
— Christopher Loblie

Barghest started the battle well, charging under Vega. In the process, the two robots became locked together, as Vega had hooked onto part of the wedge which had originally been designed to keep horizontal bar spinners away from the body of the machine. Barghest drove Vega into the pit, but due to technical issues with its drive ESC's, the robot could not reverse away from the pit, and eventually fell in. Forgemaster won the battle through little involvement of its own, although Barghest still earned two points for a second-place finish in the fight.
"The wiring issue was fixed, but others had reared their heads. One was that the wedge was designed to take on more traditional horizontal spinners like Telekinesis and Neon, hence the narrowed bit at the top to prevent them from getting to the weapon bulkheads. This narrowed bit ended up becoming a hook for Vega to be trapped on as Barghest ploughed into it. The other issue was an unusual one with the drive ESCS that came back to bite me as I tried to pit Vega: Barghest couldn't reverse. It could happily do everything else until the sun went down, but going backwards was a no-go. So instead of reversing in order to better position Vega for the pit, Barghest veered right and tripped into it with the spinner lodged in its mouth. Forgemaster had won by simply not doing anything, but Barghest still gained 2 points for coming second."
— Christopher Loblie
In its final qualifying melee, Barghest fought two previously successful machines, Legion and Conker 3. Christopher Loblie had low expectations of Conker 3 heading into the fight, as it had been suffering with weapon issues throughout the event, after arriving late. Ultimately, Conker 3's weapon proved to be fully functional in the battle.
"Now Conker 3 was late to the party and had issues with its eggbeater weapon, resulting in it losing its only other qualifying fight, so I had assumed it would be a simple matter of dumping Legion in the pit and that would be that. With the trays and lifting jaws reattached and a fresh boost in confidence, Barghest was ready."
— Christopher Loblie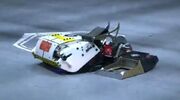 Barghest primarily attacked Legion at the start of the battle, using its lower wedge to sneak under Legion and control its movement, avoiding attacks from its opponent. Barghest pushed Legion into the corner, and when turning around, Barghest pushed Legion into the egg beater spinner of Conker 3, which rocketed Legion out of the arena. Barghest was guaranteed to earn points from this battle due to Legion being eliminated, although Conker 3 had already damaged Barghest upon contact with its side, while Barghest was attacking Legion. Barghest was only able to move on one side, and was unable to show transitional movement in the subsequent head-to-head, and was counted out. Nevertheless, Barghest was awarded two points for another second-place finish.
"The fight started out with Barghest and Legion coming to blows in the middle of the area, with the former being in control and not allowing the flipper to get underneath. Things were going rather well as Barghest managed to get Legion in the corner. Suddenly, Conker charged in after getting its weapon up to speed, knocking into the side of Barghest and seemingly crippling it on one side. Even while limping, it fended Legion off long enough for Conker to punt the flipper out of the arena. With no way to show controlled movement, Conker 3 came out the victor, but Barghest had snagged the last 2 points it needed to get into the top 20 and thus qualify for the knock-out stages."
— Christopher Loblie
Barghest had comfortably qualified for the Top 20 knockout rounds, and after a late substitution, its opponent was to be Utopia, which in turn was suffering from its own problems due to long-standing battle damage. However, the damage that Conker 3 caused to Barghest had twisted its chassis, and this damage could not be repaired in time for its head-to-head fight. Ultimately, Team Cerastes withdrew from the competition, and were replaced with Calabash Bros.
"Sadly, this never took place. My previous theories about the limping issue turned out to be incorrect and Barghest was still only moving on one wheel. I decided to concede the fight as I was under the impression Utopia, which had done rather well for being basically a rolling pile of scaffolding, was working fine. Barghest was replaced with the Chinese entry Calabash Brothers, which eventually made it to the Grand Final. Upon further testing and examination, it turned out the chassis may have been twisted; all the weight was going to the front and only one of the wheels. Barghest unfortunately had to sit the rest of the event out."
— Christopher Loblie
Results
BARGHEST - RESULTS
King of Bots UK 2018 (Insomnia 63)
Main Championship
Knockout Round
Rumble
vs. Aegis, Cobalt
Won via knockout (4 points)
Rumble
vs. Forge Master, Vega
Runner-up (2 points)
Rumble
vs. Conker 3, Legion
Runner-up (2 points)
NOTE: Although Barghest qualified for the Top 20 to battle Utopia, it withdrew due to time restraints
Wins/Losses
NOTE: Barghest's withdrawal from its knockout battle against Utopia is not considered to be a loss.
Outside King of Bots
Barghest was first built in 2017, with assistance from Adam Hamilton. It used a different colour-scheme, but was otherwise largely the same machine. It was relatively successful, most famously defeating Shard and Conker 3 in a single melee.
Barghest found great success at the Robodojo Autumn Featherweight Championship, held in November 2018. In the Sportsman class, Barghest took an undefeated path to the final, defeating robots such as the original Aegis, and became the first robot to defeat the third version of Amnesia in the Grand Final. Returning for the March 2019 event, Barghest went undefeated across its four head-to-head fights, defeating The Tragic Roundabout, Chimera's Revenge, Crota and Boring Wedgebot #9, although it lost the four-way Sportsman final to Amnesia. Barghest also won its four head-to-head fights at the May 2019 event, defeating Dino, Barnsley Bruiser, Tantibus and Luna-tic, eventually finishing third place in the four-way final won by Amnesia.
Barghest competed at the UK Featherweight Championship in August 2019, now boasting the ability to move its head as a separate grabbing weapon, while still keeping its existing setups. Barghest entered the competition at a disadvantage, having not been completed in time for its battle against Sinister, and it was also knocked out by X-303 despite a promising start. However, Barghest defeated Impact, Graffiti and Push-Abili-Tilly in sequence to finish third within its group. This put it into a three-way battle with Crabsolutely Clawful and Revolver to earn a place in the Top 16, with Barghest and Crabsolutely Clawful winning the melee. Within the Top 16, Barghest defeated Drumroll, but lost its quarter-final to Barróg Doom in a shock turnaround.
Before competing with Barghest, Chris Loblie originally built a pushing robot named Cerastes, which the team continues to be named after. Chris Loblie also designed and began building a heavyweight called Kasha, intended for an eleventh series of Robot Wars. However, the show was cancelled after Series 10, and in September 2021, its chassis and weapon were listed on eBay.
Trivia
When Barghest withdrew from the knockout rounds, it was replaced by the subsequent runner-up, Calabash Bros.
References
↑

Correspondence with Adam Hamilton, 16th December 2018.
External Links