Barróg was an Irish featherweight robot which competed at the 2018 King of Bots UK International Championships. Built and entered by Eoin Ó Cionna of Team Smacht, it initially achieved mixed results in its first two qualification rounds, finishing second against Utopia and third against Blunt Force Trauma Remix. Against Vega, Barróg won via knockout after throwing itself and the Team Vortex machine over simultaneously[2], picking up enough points to qualify for the 8 Way Melee, which it subsequently won on a Judges' decision. Barróg was reinstated as a result, and proceeded to win its next two battles against DB12. When both competitors fought each other again in the Quarter-Finals, Barróg lost after being thrown onto its side by DB12's flywheel and left unable to self-right. As a result, it was eliminated, finishing the 2018 UK International Championships in the top eight.
Towards the end of the 2018 UK International Championships, Barróg also fought in the eighteen-way Gladiator melee, where it finished second overall to Aegis after losing drive on one side at the ten-minute mark.
The robot's name (pronounced "bah-rogue") translates to 'hug' in Irish.[3]
Design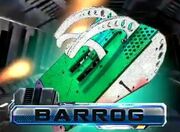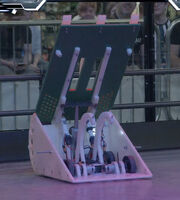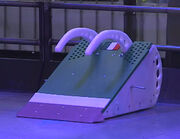 Barróg was a large green and white robot with a wedge-shaped body, a predominantly HDPE-based construction and a four-wheel drive system. Its main weapon was a rear-hinged lifter with two interchangeable configurations, both powered by a linear actuator and fitted with two curved claws at the top for self-righting capabilities. The standard configuration for Barróg's lifter included three HDPE wedgelets and cut-outs for a pair of extra static claws. These claws, attached to the robot's baseplate, were primarily used to clamp down on opponents as Barróg lifted them. The alternative lifter configuration eschewed the extra claws in favour of a flat panel and an angled 1.5kg HARDOX wedge at the base, the latter for deflecting horizontal spinners.[1] In either configuration, Barróg's lifter had a maximum reach of 80cm when fully raised.[1] The total weight for Barróg varied between approximately 13.45kg with its standard lifter, and approximately 13.1kg with the anti-horizontal lifter.[1]
Robot History
King of Bots UK 2018
Barróg's first match was against Utopia, and Bane. This match started off well for Barróg, as Utopia pressed the pit from the start, Barróg went after Bane, immobilizing it almost immediately. However Utopia quickly gained the upper hand, and started shoving it around. More back, and fourth took place before Barróg, pitted both it, and Utopia, as Barróg touched the bottom of the pit first, it controversially lost the match with 2 points.
Results
BARROG - RESULTS
King of Bots UK 2018 (Insomnia 63)
Main Championship
Quarter-Finals
Rumble
vs. Utopia, BANE
Lost (2 points)
Rumble
vs. Raving Luna-Tic, Blunt Force Trauma Remix
Lost (2 points)
Rumble
vs. Apex, Vega
Won via knockout (4 points)
8 Way Melee
vs. Calabash Bros, Blunt Force Trauma Remix, Naughty Snake, Neon, Cobalt, Utopia, Orpheus
Won
Knockout
vs. DB12
Won
Round of 12
vs. DB12
Won
Quarter-Final
vs. DB12
Lost
Gladiator

Gladiator
vs. Crabsolutely Clawful, Take Cover, Impact, Aegis, Meow, Orpheus, Neon, Mini ACE, BANE, Binky, The Claw, DB12, Hedgebot, Sabre20, Satanix, Luna-Tic, Raving Luna-Tic
Lost
Wins/Losses
Series Record
Outside King of Bots
Initially completed in January 2018, Barróg made its robot combat debut at that year's Mechatrons event in Dublin. It appeared in three melee battles throughout the event - including a six-robot rumble on the final day – all of which it fought alongside multiple FRA UK featherweight champion Beauty 2. Despite suffering from recurring issues with its wheels, Barróg was declared victorious in each of its first two melees, and survived to the end of the six-robot rumble, even while taking damage from Red Hot Tilly Pecker's axe and getting flipped by Beauty 2 in the closing moments.[4] Barróg also competed at the 2018 Extreme Robots event in Manchester, its first appearance at a UK live event, where it fought in four featherweight rumbles. Eoin Ó Cionna subsequently repaired and modified Barróg ahead of its 2018 UK International Championship run, carrying out several improvements to the robot following its appearances at those events.
In January 2019, Barróg competed at that month's Robodojo event, picking up a 2-2 win-to-loss record in the main featherweight competition. In the process, it achieved an out-of-the-arena victory over PIP, lifting, clamping and dumping the latter over the side wall. Barróg also fought an additional whiteboard battle against Binky; despite performing strongly and at one point pitting the latter, it would eventually lose after getting thrown over and onto its side by Binky's bar spinner.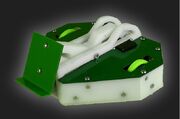 Eoin Ó Cionna also competed in the online web series Bugglebots with Léim, a two-wheel drive beetleweight featuring a spring-powered flipper and a similar color scheme to Barróg. Appearing in Heat 4 of the 2018 series, it endured a difficult run, initially losing its first battle to Claws 2 on a Judges' decision. Léim was relegated to the Redemption round, where it pitted The Berg and again survived to a Judges' decision alongside the beetleweight version of Apex. However, it lost the decision to Chris Danby's machine, and was eliminated from the main competition as a result. Later on in the same series, Léim took part in the ten-way 'Dung Beetle' melee, but was eliminated after getting flipped by The Berg's drum and being left unable to self-right. Léim also took part in the 'UK vs. The World' competition where it represented Ireland against Zero Gravitas and was able to score a win by pitting its opponent in the last ten seconds, despite losing drive to one side.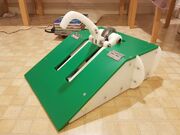 In August 2019, Team Smacht debuted a new version of Barróg named Barróg Doom, armed with an actuated grab-and-lift weapon system. It competed at the FRA Featherweight Championship that month, alongside the original Barróg which was driven by Eoin Ó Cionna's father. The original Barróg enjoyed some success, defeating Drumblebee in one battle, but fell within its group. Barróg Doom, however, went on an undefeated run within its Heat, defeating Nigel Barrage, Luna-Tic, Crabsolutely Clawful, Forge Master II and Mitternacht to top its group. Barróg Doom advanced to the Top 16, and completed a come-from-behind victory to pit Barghest within the Top 8, reaching the semi-finals. There, Barróg Doom itself suffered a shock pitting at the hands of Push-Abili-Tilly, but still earned third place overall after winning the playoff against Captain Jack Spinnah.
References