Blunt Force Trauma Remix was a Scottish featherweight robot which competed in the 2018 King of Bots UK International Championships. Built and entered by Alistair Sutherland, it initially endured a mixed run of success in the qualification rounds, losing two of them and winning one by knockout, after throwing Raving Luna-Tic five meters across and out of the arena.[1] Blunt Force Trauma Remix qualified for the subsequent 8 Way Melee, but lost to Barróg after getting one of its wheels removed mid-battle, initially resulting in its elimination from the 2018 UK International Championships.
However, Blunt Force Trauma Remix would later be reinstated to take Nelly the Ellybot's place in the Knockout Round, securing a quick victory against Saber-X to progress to the Round of 12. There, it lost to fellow Chinese machine Calabash Bros on a Judges' decision, relegating it to one of the Losers' Melees. A further defeat there at the hands of DB12 resulted in Blunt Force Trauma Remix finally being eliminated from the main championship.
Design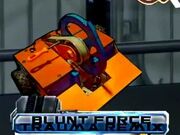 Blunt Force Trauma Remix was a two-wheel drive robot with a black, blue and orange color scheme and a low box wedge-shaped profile. Its main weapons consisted of a selection of interchangeable vertical spinners, including a large single-toothed flywheel and an asymmetrical bar spinner[2], with its statistics card also mentioning a hammer weapon. Neither of these additional weapons were seen in combat, as Suvv Industries elected to use the flywheel for all of Blunt Force Trauma Remix's battles in the 2018 UK International Championships. In addition to this powerful armament, Blunt Force Trauma Remix also featured a range of interchangeable front wedges and attachments, including a wedge with large angled side plates, a wedge with a pair of fur-covered arms and a smaller angled wedge used in its fight against Calabash Bros.
Robot History
King of Bots UK 2018
Blunt Force Trauma Remix's first match was against Binky, and Red Hot Tilly Pecker. This match started off badly for Blunt Force Trauma Remix,as it came out of its starting position, and emitted a puff of smoke. After this it stopped moving entirely, and lost alongside Red Hot Tilly Pecker, which beached itself on Blunt Force Trauma Remix.
Results
BLUNT FORCE TRAUMA REMIX - RESULTS
King of Bots UK 2018
Main Championship
Round of 12
Rumble
vs. Binky, Red Hot Tilly Pecker
Lost (1 point)
Rumble
vs. Raving Luna-Tic, Barróg
Won via knockout (4 points)
Rumble
vs. Broadax 2, Forge Master
Lost (2 points)
8 Way Melee
vs. Calabash Bros, Barróg, Naughty Snake, Neon, Cobalt, Utopia, Orpheus
Lost
NOTE: Blunt Force Trauma Remix was reinstated for the Knockout Round, taking the place of Nelly the Ellybot.
Knockout
vs. Saber-X
Won
Round of 12
vs. Calabash Bros
Lost
Losers' Melee
vs. DB12, Aegis
Lost
Wins/Losses
Series Record
| Series | Blunt Force Trauma Remix Series Record |
| --- | --- |
| Season 1 | Did not enter |
| Season 1.5 | Did not enter |
| Season 2 | Entered with Blunt Force Trauma Remix |
Outside King of Bots
Alasdair Sutherland is known in the featherweight division for the Blunt Force Trauma series of robots. Initially built as a four-wheel drive rammer with a HDPE construction[3], Blunt Force Trauma later adopted a vertical flywheel for its second incarnation[4], which finished sixth overall at the 2017 FRA Featherweight International Championships.[5] In 2018, it underwent a substantial rebuild ahead of that year's Extreme Robots event in Manchester, gaining a new body[6], and would be rebuilt again prior to appearing at the 2018 UK International Championships as Blunt Force Trauma Remix[7].
Following damage sustained to its weapon assembly, Blunt Force Trauma Remix was retired from combat immediately after the 2018 UK International Championships, with Suvv Industries announcing work on a successor, BFT Nitro, for 2019[8]. In August 2019, Alasdair Sutherland completed the robot, now simply known as Blunt Force Trauma 3. It collected wins by default over Amnesia and Virus and defeated Elevate in combat, but lost to Revolver and Plastic Fantastic, finishing its heat in fourth place. Blunt Force Trauma 3 went on to achieve second place in the Annihilator, being defeated by Luna-Tic in the final.
In addition to the Blunt Force Trauma series, Sutherland also built a torque reaction thwackbot called Tantrum[9], often entrusting this to his partner Alice Merriman. In the UK Featherweight Championship 2019, Alice Merriman also competed with Sinister, an invertible drum spinner. However, the drum spinner did not work throughout the event, and Sinister lost all of its fights.
On the heavyweight circuit, Alasdair Sutherland has also competed with Eric, having rebuilt the robot from scratch with permission from the robot's current owner Matt Smith. Sutherland attempted to enter all three series of the Robot Wars reboot with Eric, but was not selected to compete. Prior to its acquisition by Matt Smith, Eric had competed in Series 3 and 4 of the original series, reaching the Heat Final stage in the latter.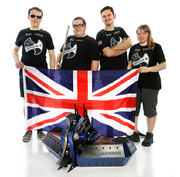 Along with Stephen McCulla, Sutherland provided commentary for the 2018 series of Bugglebots, an online web series dedicated to beetleweight class robots. He also competed in the 2019 season of BattleBots with Monsoon, joining Tom Brewster and Sarah Asplin as well as fellow new teammate Rory Mangles. For more information on the latter, see Straddle 2.
References
External Links