Bonesaw was a robot from Beavercreek, Ohio in the United States of America, which competed in Season 1.5, the debut of This is Fighting Robots. However, after being relegated to the opening rumbles, Bonesaw was flipped over upon contact with Weber, and became the first robot to be knocked out in the series.
Design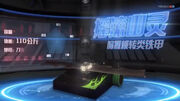 Bonesaw was a black box-shaped robot with two exposed wheels for drive. It was armed with a huge diagonal bar spinner, which covered the entire body of the robot while spinning, and the robot also featured a plow in the rear. The treads of the wheels are green, and the top has a green flame paint-job. The bar itself is heavily CNC milled, but the robot has no way to self-right.
Robot History
This is Fighting Robots (Season 1.5)
Although Bonesaw was initially selected by one of the male presenters of the show during the blind-pick phase, after meeting the builder of Moebius, the presenter elected to remove Bonesaw from his team. This required Bonesaw to fight in a four-way rumble, vying for selection from a celebrity. In the first battle of the series, Bonesaw fought Hunting Wind, Mr Hippo and Weber.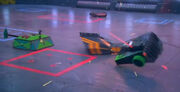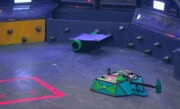 Bonesaw immediately attempted to spin its bar up to speed, but destabilised, and made contact with the floor, with Hunting Wind also slamming into it. Weber and Bonesaw then made weapon-to-weapon contact, and Bonesaw was thrown over, unable to self-right and thus immobilized, before any celebrity even had the chance to choose Bonesaw for their team. The robot remained in one place for the remainder of the bout, with Hunting Wind hovering in its general area - but ultimately, Bonesaw was eliminated at this stage, due to its early knockout.
Results
Series Record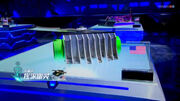 Outside King of Bots
Team Moebius are named after their middleweight, and later heavyweight shell spinner Moebius, which competed in Battlebots Season 4.0, & 5.0 as a middleweight, and ABC Season 2 as a heavyweight where it performed to mixed results. It reached the Round of 64 in Season 5.0, but failed to progress past its first battle in 4.0, and ABC Season 2, where in the latter, it lost to Brutus after releasing its internals due to damage sustained in transportation.
Team Moebius also built an Antweight called MowBee which competed in BattleBots Season 5.0's BattleAnts event, but lost in the first round due to technical issues.