This article's name is a rough translation from Chinese, and the team have yet to specify the robot's official name. As such, the article's title may not be entirely accurate.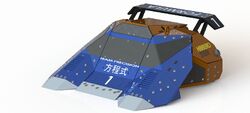 This article/section of article contains SPOILERS about the current season of King of Bots/This is Fighting Robots. If you're unaffected by potential spoilers, then continue to read the article. Otherwise, this article/section of article should not be read before watching the relevant episodes.
中华神盾 (translated as Chinese Aegis or Shield of China) was a robot from Jinzhou, Liaoning, China, which competed in the first season of King of Bots. It was a full body spinner which lost in a quick battle against Grill Judge.
Design
Chinese Aegis was a full-body spinner, meaning that its outer shell, lined with spikes, would rotate at a high speed to prove 360 degrees of offense and defense. The weapon was powerful, but the robot overall suffered from extremely thin armour, a last-minute modification made after the initial version of the machine proved to be overweight.
Robot History
Season 1
Chinese Aegis made its King of Bots debut in Episode 2, where it fought the full-body spinner Grill Judge in the first round. It hesitated in the opening seconds as both robots got their spinning weapons up to speed, before sustaining a charge from Grill Judge which lifted it off the arena floor. Sparks flew as Chinese Aegis was shepherded towards the wall by Grill Judge – a second hit from the latter launched it into the spikes, ripping its shell apart and immobilising it completely. Chinese Aegis was quickly counted out as a result, ending one of the shortest battles in King of Bots history to date.
Results
Wins/Losses
External Links