Line 37:
Line 37:
 

*Losses: 7

 

*Losses: 7

 
 
−

== Outside of King of Bots ==

+

==Outside King of Bots==

 
+

Built in the space of one week, Crabsolutely Clawful initially made its robot combat debut at the ''Extreme Robots'' Portsmouth event in May 2018, taking part in two featherweight rumbles. In each of its battles, it suffered from various issues with its drive and weapon systems, and would ultimately lose its second rumble after being pushed onto the edge of the pit by [[Aegis|Aegis Mk II]] shortly before time ran out.<ref name=CrabsolutelyFWYouTube/> With the improvements made since its appearance at the 2018 UK International Championships, Crabsolutely Clawful returned for the Cheltenham event later that year, surviving to the end of its first rumble, getting pitted in the second and finishing runner-up in the third.<ref name=ExtremeRobotsCheltenham>[https://www.youtube.com/watch?v=NZcXKkbabWI Extreme Robots Cheltenham 2018 with Two-Headed Death Flamingo & Crabsolutely Clawful]</ref>

−

Crabsolutely Clawful competed in a few white boardmatches in the internet show Bugglebots.

 
 
+
 
+

In addition to the featherweight version, two versions of Crabsolutely Clawful were also built for lighter weight categories, sharing the robot's design and weapon. An antweight version debuted in 2017, utilizing a low-profile servo for the grabber mechanism, and competed at various live events with reasonable success.<ref name=CrabsolutelyAWYouTube>[https://www.youtube.com/watch?v=xcZ1lQwNB_0 Building an Antweight Crab Robot - Crabsolutely Clawful]</ref> Following the antweight version's debut, Joe Brown subsequently built a beetleweight incarnation of Crabsolutely Clawful in 2018, which first appeared at that year's ''UWE Beetle Brawl''. There, it won its heat after defeating Shu! and The Circle by knockout, but lost to Bourbon in the Round of 16 after being damaged and flipped against the wall by the latter's drum spinner. The beetleweight Crabsolutely Clawful subsequently fought a losers' melee against Mr Cat's Mouse House, Hyperion and [[Telekinesis#Outside King of Bots|Ion]], where it was eliminated after losing mobility in the later stages.<ref name=CrabsolutelyBWYouTube>[https://www.youtube.com/watch?v=lRKaYbcksrs Building a Beetleweight Crab Robot - Crabsolutely Clawful]</ref>

 
+
 
+

As a member of the BEEES (Bristol Electrical and Electronic Engineering Society), team captain Joe Brown helped form the society's 'Robot Wars' events, focusing on antweight combat. Initially taking on the role as presenter, he competed in the 2014 event with his first robot '''Little Prick''', and would design the antweight version of Crabsolutely Clawful for entry into later events.<ref name=CrabsolutelyAWYouTube/> Other antweight robots built by Brown include '''Sgt Tash''', a tracked robot with a moustache-shaped grabbing arm<ref>[https://www.youtube.com/watch?v=okVIdTVEl0w Sgt Tash - Antweight Tank Grabber Combat Robot]</ref>, an unnamed hammer-wielding robot<ref>[https://www.youtube.com/watch?v=QOimo-n0U8Y UK Antweight Hammer Combat Robot]</ref> and '''Festive Flappyboi''', a Christmas-themed robot armed with two 360-degree rotating candy canes.<ref>[https://www.youtube.com/watch?v=RG9bmYzeqQI Festive Flappyboi - a Christmas Antweight Robot]</ref>

 
+
 
+

Joe Brown also directed the online web-series ''Bugglebots'', dedicated to beetleweight class robots, and brought all three versions of Crabsolutely Clawful along to filming as static displays.<ref>https://www.facebook.com/JoesBots/photos/a.453254918450934/577073409402417/?type=3&theater</ref>

 
 
 

==Trivia==

 

==Trivia==
---
Revision as of 10:38, 17 February 2019
Crabsolutely Clawful is a British featherweight robot which competed in the 2018 King of Bots UK International Championships. Built and entered by Joe Brown, the robot enjoyed limited success in the main championship, where it was eliminated in the qualification rounds after finishing third to Shrapnel and Aegis, and second to Get Shrekt in each of its opening battles. Crabsolutely Clawful also took part in two whiteboard battles, a Tag Team battle (partnered with Take Cover) and the Gladiator, but did not pick up any victories in these either.
Design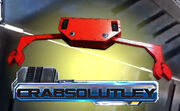 As its name suggested, Crabsolutely Clawful was a red, two-wheel drive robot designed to resemble a crab. Its weapon was a pair of horizontal grabbing arms modelled on a crab's claws, which opened and closed together using a linear actuator. The arms themselves had a reach wider than the robot itself, allowing Crabsolutely Clawful to grab and push even its largest opponents across the arena when they were in use. Crabsolutely Clawful's armor and chassis were entirely made out of 10mm and 20mm HDPE, while the robot's flat top and exposed wheels enabled it to run inverted.[1]
Results
CRABSOLUTELY CLAWFUL - RESULTS
King of Bots UK 2018 (Insomnia 63)
Main Championship
Qualification Rounds
Rumble
vs. Shrapnel, Aegis Mk II
Lost (1 point)
Rumble
vs. Aegis, BANE
Lost (1 point)
Rumble
vs. Get Shrekt, Utopia
Lost (2 points)
Whiteboard Battles

Whiteboard
vs. Satanix, Broadax 2, The Mighty Unicorn, Strix, Meow, Enigma
Lost
Farmageddon
vs. Furious George, Spank the Monkey, Nelly the Ellybot, Hedgebot, Meow
Lost
Tag Team
Paired with Take Cover
Tag Team
vs. Apex & Broadax 2, Orpheus & Meow
Lost
Gladiator

Gladiator
vs. Take Cover, Impact, Aegis, Barróg, Meow, Orpheus, Neon, Mini ACE, BANE, Binky, The Claw, DB12, Hedgebot, Sabre20, Satanix, Luna-Tic, Raving Luna-Tic
Lost



Wins/Losses
Outside King of Bots
Built in the space of one week, Crabsolutely Clawful initially made its robot combat debut at the Extreme Robots Portsmouth event in May 2018, taking part in two featherweight rumbles. In each of its battles, it suffered from various issues with its drive and weapon systems, and would ultimately lose its second rumble after being pushed onto the edge of the pit by Aegis Mk II shortly before time ran out.[2] With the improvements made since its appearance at the 2018 UK International Championships, Crabsolutely Clawful returned for the Cheltenham event later that year, surviving to the end of its first rumble, getting pitted in the second and finishing runner-up in the third.[3]
In addition to the featherweight version, two versions of Crabsolutely Clawful were also built for lighter weight categories, sharing the robot's design and weapon. An antweight version debuted in 2017, utilizing a low-profile servo for the grabber mechanism, and competed at various live events with reasonable success.[4] Following the antweight version's debut, Joe Brown subsequently built a beetleweight incarnation of Crabsolutely Clawful in 2018, which first appeared at that year's UWE Beetle Brawl. There, it won its heat after defeating Shu! and The Circle by knockout, but lost to Bourbon in the Round of 16 after being damaged and flipped against the wall by the latter's drum spinner. The beetleweight Crabsolutely Clawful subsequently fought a losers' melee against Mr Cat's Mouse House, Hyperion and Ion, where it was eliminated after losing mobility in the later stages.[5]
As a member of the BEEES (Bristol Electrical and Electronic Engineering Society), team captain Joe Brown helped form the society's 'Robot Wars' events, focusing on antweight combat. Initially taking on the role as presenter, he competed in the 2014 event with his first robot Little Prick, and would design the antweight version of Crabsolutely Clawful for entry into later events.[4] Other antweight robots built by Brown include Sgt Tash, a tracked robot with a moustache-shaped grabbing arm[6], an unnamed hammer-wielding robot[7] and Festive Flappyboi, a Christmas-themed robot armed with two 360-degree rotating candy canes.[8]
Joe Brown also directed the online web-series Bugglebots, dedicated to beetleweight class robots, and brought all three versions of Crabsolutely Clawful along to filming as static displays.[9]
Trivia
At some point throughout the 2018 UK International Championships, Crabsolutely Clawful's name was misspelt as Crabsolutely Crawful on its battleboard images and statistics cards.
References
External Links
Community content is available under
CC-BY-SA
unless otherwise noted.