DB12 is a British featherweight robot which competed in the 2018 King of Bots UK International Championships. Built by Ed Wallace of Team Asgard, it initially reached the Top 20 of the main competition after winning its first qualification battle via knockout, throwing Vega out of the arena in the process, and second in its other two to Rocket, after getting thrown out itself by the latter. Subsequently, DB12 lost to Barróg in the Knockout round, but redeemed itself by winning its Losers' Melee, only to lose to Barróg again in the Round of 12.
A victory in its second Losers' Melee allowed DB12 to re-enter the championship a second time; in the Quarter-Finals, it avenged its previous losses to Barróg by flipping and eliminating the Irish machine within seconds. In the Semi-Finals, DB12 faced Chinese competitor Calabash Bros, but lost via knockout after the 2018 Wuhan champion ripped its removable link out and pitted it. Therefore, DB12 was relegated to the playoff, and finished the 2018 UK International Championships fourth overall, after being thrown out of the arena by Rocket a third time.
In addition to the main championship, DB12 also took part in the eighteen-way Gladiator battle. Despite starting strongly by throwing Neon out of the arena, it would lose the battle after temporarily losing drive following an attack by Barróg, and driving itself into the pit a few seconds later.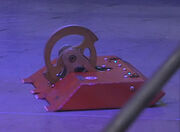 DB12 is a red, box-wedge shaped robot armed with a front-mounted, two-toothed vertical flywheel. The flywheel, painted gold, was capable of spinning at up to 4,000rpm, and enabled the robot to cause significant damage to opponents as well as to flip them over or, occasionally, out of the arena. DB12 employed an unusual six-wheel drive system, where two pairs of wheels could be mounted on either the front or rear axles along with a single pair at either end. Four small wedgelets were welded to the front of the robot's body, in order to breach ground clearances and draw other robots into its flywheel.
DB12 - RESULTS
King of Bots UK 2018 (Insomnia 63)
Main Championship
Fourth Place
Rumble
vs. Vega, Meow
Won via knockout (4 points)
Rumble
vs. Enigma, Rocket
Lost (2 points)
Rumble
vs. Rocket, The Mighty Unicorn
Lost (2 points)
Knockout
vs. Barróg
Lost
Losers' Melee
vs. Utopia, Saber-X, Hell's Angel, Furious George
Won
Round of 12
vs. Barróg
Lost
Losers' Melee
vs. Blunt Force Trauma Remix, Aegis
Won
Quarter-Final
vs. Barróg
Won
Semi-Final
vs. Calabash Bros
Lost
Playoff
vs. Rocket
Lost
Gladiator

Gladiator
vs. Crabsolutely Clawful, Take Cover, Impact, Aegis, Barróg, Meow, Orpheus, Neon, Mini ACE, BANE, Binky, The Claw, Hedgebot, Sabre20, Satanix, Luna-Tic, Raving Luna-Tic
Lost
Wins/Losses
Edit
Community content is available under
CC-BY-SA
unless otherwise noted.