Elevate is a Scottish featherweight robot which competed in the 2018 King of Bots UK International Championships. Entered by Edinburgh-based Team Triforce, it had a very limited run of success, initially forfeiting its first qualification round against Amnesia and Strix after not being ready in time to fight. Elevate managed to compete in its remaining melees, but lost to Nigel Barrage due to issues with its drive belts[1], and Nelly the Ellybot following a knockout blow from Telekinesis, despite landing critical damage to the latter. As a result, it was eliminated from the 2018 UK International Championships.
Elevate also fought in one eight-way whiteboard battle, but suffered more traction issues, resulting in it getting flipped over by Impact in the opening seconds. As a result of not being able to drive upside-down, it was counted out, and later sustained a blow from the drum of X-303 which re-righted it.[2]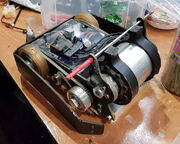 Elevate was a four-wheel drive, box-shaped robot equipped with a front-mounted spinning drum. The drum, weighing 3.5kg, featured two black single-toothed discs and was designed to rotate at 14,000rpm[3], with a maximum of 10,500rpm being recorded during testing.[4] Elevate's design also incorporated a 20mm aluminium chassis, with 4mm HARDOX 500 and 2mm titanium panels being used for armor.[5] The robot's top speed was claimed to be 25mph according to its statistics card, although Elevate was not able to demonstrate this capability due to the issues it faced in combat.
ELEVATE - RESULTS
King of Bots UK 2018 (Insomnia 63)
Main Championship
Qualification Rounds
Rumble
vs. Amnesia, Strix
Forfeited (0 points)
Rumble
vs. Nigel Barrage, The Mighty Unicorn
Lost (1 point)
Rumble
vs. Nelly the Ellybot, Telekinesis
Lost (1 point)
Whiteboard Battles

Whiteboard
vs. The Claw, Impact, Satanix, X-303, Mini ACE, Forge Master, BANE
Lost
NOTE: Although the winner of its whiteboard was not announced, Elevate was counted out and eliminated after being flipped by Impact.
Wins/Losses
Edit
Outside King of Bots
Edit
Prior to building Elevate, Team Triforce constructed a heavyweight full-body spinner, Triforce, which was intended to appear in the rebooted series of Robot Wars. Utilising an invertible design with a rim spinner and an omni-directional drive system with three pairs of wheels, it was initially not selected to compete in Series 9, but successfully entered and attended filming for Series 10. Planned to participate in the fourth heat of the series, Triforce encountered mobility issues while testing in the main arena, and withdrew from Series 10 as a result.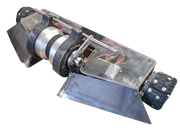 In mid-2019, Team Triforce completed Elevate 2, boasting a large 5kg drum with top speeds of over 10,000rpm. It debuted at Robodojo in July 2019, although issues with its weapon plagued it throughout the event, and it lost its four fights to Drumroll, Get Shrekt, Captain Jack Spinnah and Burnout. Elevate 2 returned for the UK Featherweight Championship in 2019, but lost all four of its fights in its heat to Amnesia, Revolver, Blunt Force Trauma 3 and Plastic Fantastic, only collecting a win by default over Virus. However, it instead managed to win the Tag Team title, alongside Forge Master II.
References
Edit
External Links
Edit
Community content is available under
CC-BY-SA
unless otherwise noted.