Enigma was a featherweight robot built by Team Impact for the 2018 King of Bots UK International Championships, held at Insomnia 63. In the main championship, it was eliminated in the qualification rounds after withdrawing from two of its opening battles and losing its third to Aegis. Enigma also fought an additional whiteboard battle, which it lost to Broadax 2.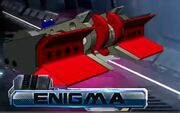 Enigma was an invertible, two-wheel drive robot armed with a vertical spinning drum. The drum featured a pair of two-toothed red discs on either side, and proved capable of damaging and flipping opponents over. Enigma's chassis and armor consisted of various materials, including 10mm and 20mm HDPE for the baseplate and bulkheads[1][2], and 3-4mm HARDOX for side and rear panels.[3]
Robot History
Edit
King of Bots UK 2018
Edit
Enigma's first battle came in the first qualification round, where it was planned to fight a three-way melee with Nelly the Ellybot, and Furious George. However Enigma ultimately withdrew from the match, leaving Nelly The Ellybot and Furious George to fight alone.
Enigma was next due to face Rocket – a miniature version of Robot Wars Series 8 champion Apollo – and DB12. As before, however, it withdrew from the battle, leaving its opponents to fight alone. Enigma scored no further points as a result from having to forfeit once again.
In its third and final qualifier, Enigma fought Beauty 2 and Aegis, appearing in the arena for the first time.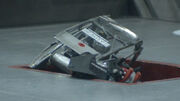 Immediately, it weaved away from its starting position and attempted to line up an attack on its opponents, eventually flicking Aegis upwards when its drum made contact with the latter's scoop. Enigma maneuvered across the arena and into a speeding Beauty 2, before again throwing Aegis off-balance with its drum. However, it drove head-on into Aegis' scoop, and was pushed into the open pit at the same time that Beauty 2 drove itself in. Both robots were eliminated as a result, leaving Aegis victorious. Having touched the bottom of the pit first, Enigma finished third, scoring its first and only point of the qualification rounds. With this, it was eliminated from the main competition.
Enigma also fought an additional whiteboard battle, judged by members of the audience, where it faced Satanix, Broadax 2, The Mighty Unicorn, Strix, Meow and Crabsolutely Clawful.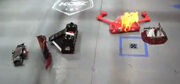 At the start, it pursued a speeding Satanix, only to be collected and rammed at high speed into the corner. Enigma recovered to churn away at the rear and sides of Satanix, before throwing the red and black machine over with a powerful blow. Weaving across the arena, Enigma suddenly ejected a small component from itself, and was left spinning and driving around in circles as a result. It continued to weave around the arena perimeter for some time; by this point, the belt for Enigma's drum had slipped loose and was left dangling from its weapon mount.

Enigma bumped into Satanix a few times shortly after the latter ended up in the pit, and continued to spin and slalom across the arena. During this time, it bumped into an unpitted Satanix and dodged an axe blow from Broadax 2, before nudging an already-stranded Crabsolutely Clawful along the wall. Eventually, Enigma backed over the edge of the pit and got itself stranded, playing no further part in the closing stages of the battle. Broadax 2 was subsequently awarded victory on a Judges' decision, marking Enigma's final defeat in the 2018 UK International Championships.
Wins/Losses
Edit
Outside King of Bots
Edit
Enigma also competed at the FRA UK Featherweight Championship 2019, under the captaincy of various drivers whilst Felix Townsend operated Impact. It collected an opening victory against Fruitcake 2B, but was otherwise soundly defeated in its remaining battles, with its final loss being against TRAC.
References
Edit
↑ https://www.facebook.com/ImpactRobots/photos/pcb.2081533048537525/2081514385206058/?type=3&theater
↑ https://www.facebook.com/ImpactRobots/photos/pcb.2081533048537525/2081514418539388/?type=3&theater
External Links
Edit
Community content is available under
CC-BY-SA
unless otherwise noted.