"I'm in the Three Continent Club! I was honored to be one of the 16 International Teams chosen to fight in China's Super King of Bots II. I've now been paid to fight robots on 3 continents and have appeared on every major televised competition. Not bad for an old circus clown."
— Ed Robinson on competing in King of Bots II[1]
Excelsior, officially Excelsior! (originally known as King Koi), was a heavyweight robot from California in the United States of America which fought in King of Bots II. Built by Team Blaze, Excelsior attempted to join Huang Jian Xiang's team by fighting a head-to-head battle against Deep-Sea Shark, although it was quickly immobilized and did not join the team. In the Redemption Round, Excelsior defeated The Martian and opted to join Emma Dumont's team, but as Emma Dumont's team filled up with too many robots, Dumont was forced to remove Excelsior from her roster, and it was indirectly eliminated from the competition as a result.
Design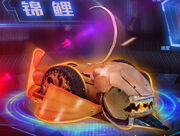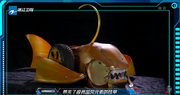 Excelsior is a large robot with aesthetic design as its core principle, constructed to resemble a blend of prehistoric fish, including the Butterfly Koi and the Dunkleosteus. Decorations across the robot include protruding scales, two fins at the sides, a mouth and eyes, and a swinging tail at the rear, with the sacrificial tail also being designed to absorb hits from spinners. It was relatively cylindrical in shape, driven by two large tires, powered by MC160 motors. Excelsior was built at a cost of $16,000.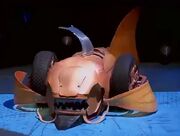 Excelsior's weapon was a pneumatic flipping head, which could also function as a grabbing weapon, as seen in its test footage broadcast prior to its first battle. The robot was somewhat capable of running inverted, albeit without the use of its weaponry, and Excelsior could not self-right. Its decorative shell was fairly brittle in terms of defence, and its flipper reach was narrow, although Excelsior boasted decent speed across the arena. However, it suffered from both of its wheels being connected by a single axle, meaning that damaging one wheel would cause damage across the entire robot.
"Design flaw #1 Triple hung tires. I went with a single dead axle that is suspended inside the bot, just outside the body module and at the outside of the wheel where it attaches to the guards. That means that when the wheel guard deformed it took the axle with it, bent it, and that made the other chain snap off. Design Flaw #2 Axle was too thin and one solid piece. During the build I chose the thinner of the 2 axles I had for weight reasons. One of the bad decisions I made. It was also a one piece axle so anything that happened to one side carried over to the other side."
— Ed Robinson on the flaws of his machine[2]
Etytmology
Excelsior was originally named King Koi, reflecting its fish-based design.[3] Ed Robinson subsequently renamed the robot after the motto of Stan Lee, who became deceased during the time of its construction, as a tribute to the internationally-renowned comic book writer and publisher. The literal meaning of the Latin word 'excelsior' is 'higher'. Ed Robinson had originally used the name Excelsior for a heavyweight robot in the mid-2000's[4].
Robot History
King of Bots II (Season 2)
Excelsior made its King of Bots debut in Episode 3 of Season 2, where it was among twelve international robots attempting to join one of six celebrity teams, which at this point of the competition, had already been filled with three Chinese robots each. Prior to this, Excelsior experienced issues in the test box, failing to move in its first run, before lacking a flipper on its second attempt, but these issues were remedied before its first televised battle.
"Anyway, there is a test box, sweet, we get the bot ready and drop him in. He doesn't work. Great. Flipper works but only one side of the drive runs. All the driving practice and he never had this issue, but the first time in the box and he failed. Of course, now I look like an idiot, in front of all the other builders gathered around. Awesome. Take him back out, take him apart and find out a chain tensioner bolt had actually snapped, probably from me over tightening it. Sweet, easy to fix, not an issue I have to address, pop in another, tension the chain and back to the test box."
— Ed Robinson on testing Excelsior[5]
In its first battle, Excelsior was randomly drawn against Deep-Sea Shark of Huang Jian Xiang's team, affording Excelsior the opportunity to join the team if it could win the fight.
"Well the first thing I noticed was my awesome new Battle Claw Tires don't have enough traction for the current gearing. It's sliding around like a penguin with a polar bear on his ass. Too much power and not enough grab, crap. OK let's try to just keep the weapon aimed at the other bot and "Wait for a good hit". I was just starting to get the hang of it, the flame effects fired in the arena and I looked away for one split second, boom! That's all it took, I lost the other bot behind Excelsior! (one of the problems of having a tall bot) and right as I located it, he slammed into the wheel guard and popped me a good one."
— Ed Robinson summarizes the fight against Deep-Sea Shark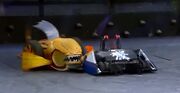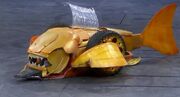 Excelsior was initially cautious of Deep-Sea Shark's vertical spinner, attempting to point its front wedge at Deep-Sea Shark without directly approaching it. This allowed Excelsior to avoid Deep-Sea Shark's first attack, also swinging its decorative tail at Deep-Sea Shark while absorbing the first hit of Deep-Sea Shark successfully, but it was then forced to flee and create space. Deep-Sea Shark was unfazed, and chased Excelsior down, delivering a frontal blow which threw Excelsior into the air. This hit bent the drive axle of Excelsior and the wheel guard, which was a large enough impact for both drive chains to slip from Excelsior's wheels, Excelsior ground to a complete halt. Although it fired its flipper to show signs of movement, Excelsior was counted out, and lost the battle to Deep-Sea Shark, failing to procure a place on Huang Jian Xiang's team.
"Both drive chains popped off in that hit. The wheel guard deformed 1/4" and the axle bent too since it was attached, that was enough to derail both the chains. The fact he's a one hitter quitter, well yeah, yeah, at least he lasted more than 30 seconds!"
— Ed Robinson[6]
In the Redemption Round, Excelsior was chosen to fight The Martian, at the free will of The Martian's builder.
The battle was aired only during a montage with little footage shown, leaving the contents of the fight largely unknown, but Excelsior was seen to get the quicker start over The Martian, which slowly drifted across the arena. After an unseen sequence of events, Excelsior drove The Martian into the arena wall, where the arena hammer came down on The Martian. The arena hazard stopping the momentum of its spinning flails, but also pressed the weapon into Excelsior. Nevertheless, The Martian came to a standstill here, and was counted out, granting the win to Excelsior. Ed Robinson elected to follow the lead of other robots in the same episode, and joined Emma Dumont's team.
However, Excelsior's time on the team was short-lived, as too many robots had opted to join Emma Dumont's team, and she was forced to remove two robots out of Cat King, Storm Cut and Doraemon. Excelsior was one of her two cuts, and had to wait until the end of the round to see if any of the other celebrities would choose Excelsior for their team. Out of the ten remaining robots, only Excelsior and Iron Barbie would fail to be chosen for a celebrity team, and Excelsior was ultimately eliminated from the competition at this stage, despite its victory.
Results
EXCELSIOR - RESULTS
King of Bots II (Season 2)
Main Championship
Removed from Emma Dumont's team
Challenger Round
vs. Deep-Sea Shark
Lost
Redemption Round
vs. The Martian
Won
NOTE: Excelsior then lost its place on Emma Dumont's team due to her roster being too large, and after no other celebrities chose Excelsior for their team, it was eliminated at this stage.
Wins/Losses
Series Record
Series
Excelsior Series Record
Season 1
Did not enter
Season 1.5
Did not enter
Season 2
Eliminated in Redemption Round
(1-1 record)
Outside King of Bots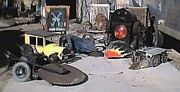 The version of Excelsior seen in King of Bots II was not the first machine that Ed Robinson had named Excelsior, with the original machine being a 220lb robot armed with a horizontal 3-foot saw blade, powered by a lawnmower engine. It ultimately never fought under Ed Robinson's ownership, and was sold to a college team for $150[7].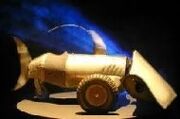 Ed Robinson made his first appearance in a televised robotics competition with Fin-Tastic, which competed in Season 2 of Robotica, armed with a pneumatic flipper much like Excelsior. It was entered into the same heat as the eventual champion Flexy Flyer, and fell prior to the Fight to the Finish within its episode.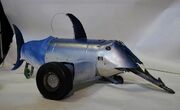 Ed Robinson revised Fin-Tastic to compete in the second season of Robot Wars: Extreme Warriors with Snookums, with new blue colors and a swordfish theme. Snookums was initially unsuccessful, losing in the first round of its heat to Propeller-Head and Psycho Chicken, also losing its first battle of the Tag Team Terror alongside teammate Bang, where the pair were defeated by G-Force and Sir Force A Lot. However, Snookums found unexpected success in the Robot Rebellion tournament, earning back-to-back wins over Medusa Oblongotta and Ninjitsu to earn a battle against the House Robots alongside Snake Bite, but Snookums was overturned by Sir Killalot and left for dead.
Snookums acted as a House Robot called Lone Shark for the 2002 4th annual RoboJoust event in Las Vegas, which was hosted by Ed Robinson. Lone Shark was re-painted black and featured a set of jaws, but it was only used for the first few fights, and remained motionless for all the rest until it was removed from the arena. Lone Shark also competed at the 3rd Steel Conflict in 2003, before it was sold to an art collector in Las Vegas.
The team also entered two versions of the lightweight competitor Robot-X, and also P.T. Bruiser into BattleBots. Robot-X was upgraded once again after Season 5.0, and later became part of the clusterbot Ding Bot X, before finally being converted into Spike, while P.T. Bruiser became a heavyweight while BattleBots was off-air.
For the 2018 season of BattleBots, aired on Discovery Channel and Science Channel, Ed Robinson and John Hoffman built a new machine, Sharkoprion. This carries on the team's theme of shark-based robots, and is an invertible robot armed with a vertical spinning disc, and a decorative swinging tail; the name being inspired by the prehistoric shark Helicoprion. Its first battle was a rumble against fellow sea creature-themed robot Kraken, and Deviled Egg, as part of Episode 1. Sharkoprion emerged victorious after overturning Deviled Egg with a blow, while Kraken lost mobility as a result of a damaged wheel. Sharkoprion did not fight again until Episode 10, where it lost a Judges' decision against Warhead after the rubber from its tyre was bitten away. Its third and final battle was a head-to-head victory against Gemini, where in spite of losing drive on one side halfway through the match, Sharkoprion displayed enough mobility and earned enough points to win the battle via split judges' decision. By not completing four matches, Sharkoprion was not eligible for the Top 16.
An improved version of Sharkoprion returned for the 2019 season of BattleBots. As the team were only present for the second week of filming, Sharkoprion competed in a limited number of battles. Its only televised battle was a loss to Ribbot, where one of Sharkoprion's wheels was quickly torn away. It also fought Bloodsport in an untelevised battle, where it was quickly defeated.
A new version of Sharkoprion, now known simply as Sharko or Sharko 2020, was built in February 2020 to compete in the next season of BattleBots prior to its original postponement. The robot now sported a revised design based on the goblin shark, armed with a combined pneumatic flipper and clamp similar to the weapon of Excelsior. Unfortunately, during the period of the season's postponement, teammate John Hoffman died in June 2020. Because of this, Ed Robinson elected to sell Sharkoprion to a new team and retire from robotic combat[8], but not without first competing in the 2020 season of BattleBots alongside the new owners of the machine under the combined "Team Aquatic Machine Force". In its first battle, Sharko faced SMEEEEEEEEEEEEEEEE and lost on a judges' decision. For its second bout, Sharko fought an entertaining bout against Slap Box but was ultimately immobilised. Within the spin-off show BattleBots: Bounty Hunters, Sharko lost an additional fight to Captain Shrederator.
Adrian "Bunny" Sauriol has competed on a number of robotics teams throughout her long career in the sport, varying from teams such as Team Blaze and Team Bots FC. She entered her own robot Malice into the 2020 season of BattleBots, winning its first fights against Axe Backwards and Shatter! before losing to MadCatter.
Trivia
Excelsior was the first international newcomer to be revealed for King of Bots II, being revealed via its own Facebook page long before filming of the season took place.
References
External Links
Season 2 competitors
Finalists
Team Elimination
Eliminated in Elimination Round
Eliminated in Attrition War
Eliminated in Team Battles
Eliminated in Redemption Round