Get Shrekt is a British featherweight robot which competed in the 2018 King of Bots UK International Championships. Built by Sam Price, it initially had a dominant run in the qualification rounds, winning all three of its opening melees via knockout and scoring the maximum amount of points available to finish joint-first on the leaderboard. In the Knockout round, Get Shrekt achieved another victory over Straddle 2, only to be defeated by fellow vertical spinner Binky in the Round of 12. It redeemed itself by winning a Losers' Melee against Little Devil and Orpheus, securing a place in the Quarter-Finals. Get Shrekt was subsequently eliminated at that stage after being thrown out of the arena by Rocket, finishing the 2018 UK International Championships in the top eight.
In addition to the main competition, Get Shrekt also took part in a single Tag Team battle, partnered with Saber-X, which both robots won via knockout.
The robot's name is a play on the internet slang 'get rekt' ('get wrecked'), as well as the titular character of the Shrek animated film series.
Design
Get Shrekt is a green and black, two-wheel drive robot armed with a set of interchangeable vertical spinners. The spinners include a large single-toothed flywheel and an asymmetrical bar spinner, both of which are capable of throwing and causing significant damage to other competitors. In addition to this armament, Get Shrekt also has a set of optional front wedge configurations, including an anti-horizontal wedge and two HARDOX forks, as well as a set of googly eyes attached on either side of the weapon mount.[4] The robot's construction utilized a wide variety of materials, including RG1000[1][5] and HDPE plastics of varying thicknesses[2][6] and a smaller 3.2mm HARDOX front wedge mounted immediately underneath its vertical spinners.[3]
Results
Wins/Losses
Outside King of Bots
After debuting in Extreme Robots live events, where Get Shrekt would take part in melees full of other featherweight robots, its first competitive appearance was at the 2018 King of Bots UK championship. There, Get Shrekt won all three of its qualification battles by knockout, and advanced to the Top 12 by quickly defeating Straddle 2. At this stage, Get Shrekt was defeated in a battle of vertical spinners, against Binky, but it won its losers' melee against Orpheus and Little Devil to reach the Top 8. Get Shrekt was eliminated at this stage, after getting thrown out of the arena by Rocket.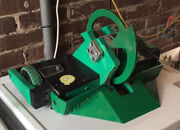 Most recently, Get Shrekt competed at the Robodojo January 2019 featherweight event. Although it collected a knockout victory in its first battle, Get Shrekt took significant damage from the horizontal spinner of Telekinesis, and was unable to compete in its two remaining competitive fights. Nevertheless, Get Shrekt was repaired in time for a whiteboard battle at the end of the event, destroying a robot built from a classic Henry hoover, whose builder had requested the whiteboard fight in order to retire his robot by force. Get Shrekt then became the joint winner of the Robodojo live event in May 2019, defeating Captain Jack Spinner and Forge Master, despite losing to Plastic Fantastic. It returned to Robodojo in July 2019 sporting a new wedge, and won all four of its fights against Graffiti, Elevate 2, Telekinesis and Cpt Jack Spinner, albeit because Telekinesis survived to a Judges' decision, Get Shrekt finished in second place to the undefeated Drumroll.
Get Shrekt competed in the FRA UK Featherweight Championship 2019, and enjoyed a successful run within its Heat, earning victories over Drumroll, Fruitcake 2B, TRAC, Enigma and Aegis Mk II, although it was defeated in the first round of the Top 16 by Satanix. Get Shrekt still took the time to win an explosive victory during the Tag Team competition, filling in for a withdrawal.
Sam Price also competed in the web-series Bugglebots with a new beetleweight, Maximum Ogredrive, armed with a circular saw on an overhead arm, inspired by SawBlaze. It won its first battle against Rev 2 when both wheels fell off its opponent, and then defeated clusterbot Weewoo on a close Judges' decision. In the Heat Final, Maximum Ogredrive once again faced Rev 2, but on this occasion, Maximum Ogredrive lost a wheel after a strong impact, and was rendered immobile, relegating it to the five-way rumble. There, it immobilised Saw Loser by cutting through its speed controllers, but after being pitted by Claws 2, Maximum Ogredrive was eliminated from the competition outright. Maximum Ogredrive also competed in a whiteboard match against fellow saw-bot Nightingale and American rambot Thunderchild, but was pushed into the pit by Thunderchild whilst pitting Nightingale itself, losing the battle.
A rebuilt Maximum Ogredrive returned for the second season of Bugglebots. It received a tough draw against defending champion K2 and lost the use of its saw blade quite early, eventually losing the fight after a wheel came off. Maximum Ogredrive was relegated to the Losers Melee against Sir Lance-A-Frog and Hold My Beer, where it lost reception early on in the battle and was eliminated from the competition altogether.
Sam Price also builds beetleweight and featherweight robots under commission, with more information available on the Team OgreKill Facebook page. The third of his commission builds was Dino, a two-wheel driven wedge built for Kev Baxter, which debuted at the Robodojo event in March 2019. Sam Price also has plans to create beetleweight kits, first creating a blue two-wheel driven wedge under commission.
References
External Links