Giraffe was a Chinese competitor robot which competed in Season 2 of King of Bots. Despite its appealing design, Giraffe was not selected by any celebrities during the first stage of the competition, relegating it to the redemption rounds where it was soundly defeated by Doraemon.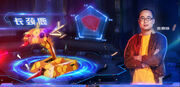 Giraffe was a box-wedge shaped robot designed to resemble a real-world giraffe, being colored in orange with yellow spots, and armed with a hammer weapon resembling the long neck and head of a giraffe, with antlers added for assistance with self-righting, and a large tongue extending out of the head to provide an axe point to the weapon. Giraffe's weapon was reasonably heavy and boasted good reach, especially in combination with its lengthy spiked wedge at the front of the robot, although its damage output was fairly low, its self-righting capabilities were untested. The robot's armor was very resistant, likely consisting of titanium, but the robot was still quickly immobilized in its only battle.
Robot History
Edit
King of Bots II (Season 2)
Edit
Giraffe was among the Chinese robots available for selection in the opening rounds of the competition. However, Giraffe was not taken seriously by the celebrity captains, and ultimately the first round concluded without Giraffe being selected for a celebrity team. As a result, Giraffe was knocked into the redemption rounds, where it was selected to face Doraemon.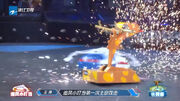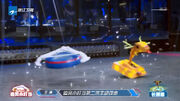 Fearing the horizontal spinner of Doraemon, Giraffe was instantaneous in charging across the arena to drive into Doraemon and attempt to stop its spinning weapon, although it was still smacked into the arena wall by a half-speed Doraemon, which successfully connected with Giraffe's long neck. After the two robots separated, a full-speed Doraemon hit the front of Giraffe powerfully, creating a shower of sparks. In its final move, Giraffe swerved into Doraemon's spinning frame backwards, which sent Doraemon into the air, and Giraffe spiralling across the arena. Although Giraffe was still somewhat mobile, moving back and forth in place, the referee counted it out, and Giraffe was eliminated from King of Bots II after fighting only one battle.
GIRAFFE - RESULTS
King of Bots II (Season 2)
Main Championship
Eliminated in Redemption Rounds
Redemption Round
vs. Doraemon
Lost
Wins/Losses
Edit
Series Record
Edit
NOTE: Some of Zhang Chongbing's former teammates on Nuclear Bomb and Wall Breaker competed in Season 2 with The Martian.
Zhang Chongbing is one of the first Chinese competitors to take part in previous seasons under another team member's captaincy, and then enter a later season as the captain of his own team.
Season 2 competitors
Finalists
Team Elimination
Eliminated in Elimination Round
Eliminated in Attrition War
Eliminated in Team Battles
Eliminated in Redemption Round
Community content is available under
CC-BY-SA
unless otherwise noted.