Hell's Angel is a British featherweight robot which competed in the 2018 King of Bots UK International Championships. Captained by David Weston of Team Hell, it enjoyed a commanding run in the qualification rounds, winning all three of its battles by knockout and scoring the maximum number of points available. This enabled Hell's Angel to finish that stage joint-first with Amnesia, Binky and Get Shrekt, and to comfortably qualify for the Knockout Round. However, it was subsequently defeated by Shrapnel after having its front end ripped off by the latter's flywheel, with Hell's Angel tapping out of the battle to avoid sustaining more damage. Hell's Angel subsequently withdrew from its Losers' Melee, bringing its UK International Championship run to an early end.
Design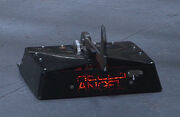 Hell's Angel was a black and gray robot with a box-shaped chassis, angled sides and a large gear-driven axe as its main weapon. The axe had a spiked head and was capable of striking opponents rapidly, allowing Hell's Angel to cause considerable damage as well as drag and push them across the arena in tandem with its powerful drive system. Hell's Angel's design incorporated a broad front wedge with an elongated lower lip, enabling it to breach ground clearances with ease, as well as a set of red LED lights which illuminated the robot's name through its rear panel.
Robot History
Hell's Angel's first match was supposed to be against Wipeout, and Hedgebot. However Wipeout's team encountered car issues on the way to the event, and had to forfeit their day 1 match leaving Hedgebot and Hell's Angel to fight alone.
The match started poorly for Hedgebot as Hell's Angel charged right into it, popping it into the air, and ripping pieces off it. Hell's Angel then cornered Hedgebot, and delivered an axe blow on its lifting nose.
Hell's Angel then slammed into the rear of Hedgebot, and delivered another axe blow before backing off, and triggering the pit release, Hedgebot then narrowly avoided driving into the descending pit. Unfortunately for it Hell's Angel did not relent, and slammed it into the wall again, causing a whole side panel to come partially off.
Hell's Angel then attempted to pit Hedgebot, but this failed as the two were now stuck together, and abandoned the attempt. After 30 seconds of the two being stuck together, the fight was paused to seperate them. However upon the fight being resumed Hedgebot was immobilized, and lost by KO.
Results
HELL'S ANGEL - RESULTS
King of Bots UK 2018 (Insomnia 63)
Main Championship
Knockout Round
Rumble
vs. Wipeout, Hedgebot
Won via knockout (4 points)
NOTE: Wipeout withdrew from this battle due to transport issues.
Rumble
vs. Hedgebot, Aegis Mk II
Won via knockout (4 points)
Rumble
vs. Microswitch, Wipeout
Won via knockout (4 points)
Knockout
vs. Shrapnel
Lost
Losers' Melee
vs. Utopia, Saber-X, Furious George, DB12
Withdrew
NOTE: Hell's Angel withdrew from its Losers' Melee, likely as a result of damage sustained in its Knockout battle.
Wins/Losses
NOTE: Hell's Angel's withdrawal from its Losers' Melee is not included in the tally.
Series Record