给我顶住 (translated as Hold Me Back[1]) was a Chinese heavyweight robot which competed in the King of Bots 2019 Opening Battle and subsequently King of Bots II.
In the 2019 Opening Battle, it participated as a member of the blue team, and fought one head-to-head battle against British entry Vulcan; despite landing some effective blows on Vulcan, Hold Me Back would lose the battle on a Judges' decision after suffering intermittent mobility issues in the later stages.
In Season 2, the design of Hold Me Back impressed the celebrity captain Emma Dumont, and she selected it to battle Black Rabbit in a head-to-head, but it lost the Judges' decision and did not join Dumont's team. It performed well in its following four-way rumble, but after getting its forks stuck under the arena saw slots, Hold Me Back lost its redemption round to Thunder, and was eliminated from the competition at the earliest stage.
The team who built Hold Me Back also competed in various featherweight competitions held by King of Bots, earning a reasonable amount of success with a two-wheeled vertical spinner.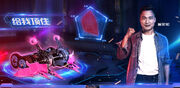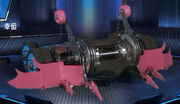 Hold Me Back was a blue and pink, four-wheel drive robot armed with an eggbeater spinner. The spinner consisted of a three-toothed bar with a center cut-out, functioning similarly to a drum, which proved capable of damaging and flipping opponents over. Hold Me Back's design incorporated a set of four front forks and two angled front plates, with the aim of getting underneath other robots and protecting its front wheels. The top sections of Hold Me Back's weapon mount also featured a set of large castor wheels, with the intention of allowing the robot to drive upside-down when flipped over. Its lengthy forks, while low the the ground for expertly breaching and hooking other robot's wedges, also posed a curious weakness in that Hold Me Back could get itself stuck under gaps in the arena floor, such as the saw slots, which led to its second loss in Season 2.
Robot History
Edit
2019 Opening Battle
Edit
Hold Me Back was one of ten heavyweight robots present for the 2019 Opening Battle, held to promote the upcoming second season. There, it was chosen to represent the blue team, and faced seasoned UK competitor Vulcan in its solitary head-to-head battle.
Hold Me Back started the fight strongly, immediately weaving towards and flipping Vulcan over with its eggbeater. It approached Vulcan as the Team Robots Live! machine self-righted, before slaloming its way towards the center of the arena and landing two more hits on Vulcan's wedge. Hold Me Back sustained an axe blow from Vulcan as it kept chipping the British machine's front, but survived, maneuvering itself over the pit and spinning around in circles.
As it met Vulcan again in the red corner, Hold Me Back hit its opponent's front again, and dodged another axe blow as the two competitors moved along the arena perimeter. Hold Me Back bumped into the front of Vulcan, before both robots pushed and circled each other in the center. At that moment, Hold Me Back's eggbeater clipped Vulcan's axe head, allowing Hold Me Back to throw Vulcan over a second time while hitting its underside.
Hold Me Back reversed and spun over the pit, only to suddenly stop moving altogether for a few seconds. Eventually, it drove into and spun Vulcan away with another hit from its spinner, only to stop moving again as Vulcan pursued and pushed it forwards over the pit. Hold Me Back escaped as Vulcan caught a gap between the pit and the arena floor, driving in pursuit of its British opponent. However, it struggled to turn round for an attack, allowing Vulcan to push Hold Me Back towards the floor rods. Hold Me Back was axed and pushed into the corner by Vulcan, but quickly escaped, landing another blow on Vulcan's wedge in the process. It pirouetted its way across the arena for some time, approaching and dodging Vulcan as it did so.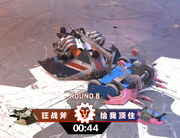 Hold Me Back slammed into the front of Vulcan once more, sustaining an axe blow to its eggbeater in return. For some time, Hold Me Back lured Vulcan across the arena, eventually resulting in the two robots slamming head-on into each other again. Hold Me Back dodged another axe blow from Vulcan and clipped the latter's side, but continued to struggle for mobility as Vulcan rammed it in response. Suddenly, Hold Me Back lost mobility again, enabling Vulcan to axe its top armor several times before reversing. Hold Me Back twitched and circled away, only to sustain another axe blow from Vulcan. In turn, Hold Me Back hit Vulcan once more with the eggbeater, knocking the British machine back; as it tried to move away, it became clear that Hold Me Back had fully lost movement on one side.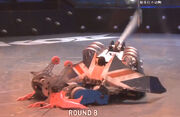 Hold Me Back was left vulnerable as Vulcan drove up its rear armor, but pushed Vulcan back in response. In the closing seconds, Hold Me Back sustained a few more axe blows from Vulcan, which pushed it into one of the grinder mounts just after time ran out. As it had not been fully counted out, Hold Me Back would survive to the subsequent Judges' decision; however, the decision went in Vulcan's favor, cementing a loss for Hold Me Back despite its strong start.
King of Bots II (Season 2)
Edit
Hold Me Back competed in Season 2, where its design impressed the celebrity captain Emma Dumont, who selected it for battle. Hold Me Back then faced Black Rabbit to earn a place on her team.
Both robots moved towards each other, but Hold Me Back immediately wedged its forks into the arena saw slots. Although this would generally be disadvantageous, Hold Me Back freed itself just in time to swing Black Rabbit into the corner of the arena, and afterwards, deliver a weapon-to-weapon blow where Hold Me Back threw Black Rabbit into the air. Black Rabbit responded well, and drove around the back of Hold Me Back to charge it straight into the arena wall, where the spikes were lined.
Both spinning weapons had ground to a halt during this sequence of attacks, and the robots circled around each other to spin up their blades, until Black Rabbit broke the silence and struck Hold Me Back into the air. These previous attacks had also damaged Hold Me Back's forked wedges, as Hold Me Back no longer had the ground clearance advantage, charging at the front of Black Rabbit only to be thrown into the air again. This also allowed Black Rabbit to charge into the side of Hold Me Back twice in succession, although its drum was powered down at the time, limiting its damage output. Black Rabbit attempted to power up its drum, but a burst of smoke emerged from the robot, signalling weapon motor issues. However, Hold Me Back made a tactical error and showed its backside to Black Rabbit whilst it was smoking, and Black Rabbit capitalized by ramming into the back of Hold Me Back to drive it across the arena.
Black Rabbit missed its next two charges, and still posed little threat when it did ram into the wheels of Hold Me Back due to its broken weaponry, but at this stage, Hold Me Back had not launched an attack in a long time. Black Rabbit quickly drifted around the arena while Hold Me Back remained somewhat stationary, and Black Rabbit bumped it again, managing to scoop up the back end of Hold Me Back in order to box-rush it into the Grinder mount. Another slam into the Grinders also completely overturned Hold Me Back. Quick to respond, Hold Me Back struck the grinder with its eggbeater spinner in order to self-right, but Black Rabbit continued to pressure it, until Black Rabbit suddenly drove over the floor flipper with only 35 seconds left on the clocks. Hold Me Back was not spinning its eggbeater, and it was struggling to drive with half of its drive system no longer working, so Black Rabbit was left alone until it had used a Grinder to self-right.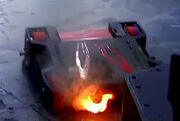 The passive Hold Me Back had stuck one of its forks into the arena floor, which allowed Black Rabbit to hit it from behind and carry it to the arena saws, although another plume of smoke suddenly started to pour out of Black Rabbit. Indeed, Black Rabbit's drum was once again spinning, likely causing the fire, but Black Rabbit still chipped the back of Hold Me Back, which was also spinning its eggbeater once again. Black Rabbit then drove Hold Me Back into the arena spikes, and released its foe when time expired on the battle at the end of three minutes. After the battle had ended, both robots were required to drive back to the arena corners, and as Hold Me Back could only use half of its working drive system, Black Rabbit assisted by shoving Hold Me Back towards the corner of the arena. This had no bearing on the Judges' decision, which was won by Black Rabbit, meaning that Hold Me Back did not join Emma Dumont's team.
Hold Me Back was relegated to the redemption round, where it would need to win a four-way rumble against Huntsman, The Magical Windmill and Thunder in order to join a celebrity team of its choosing, and remain in the competition.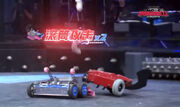 Hold Me Back displayed the most movement in the opening seconds, swerving around the arena while The Magical Windmill attempted to power up its spinner, although the disc was not working. Both Thunder and Hold Me Back swarmed around Huntsman, which fired its hammer into the egg beater spinner of Hold Me Back, and was thrown over in the process. Thunder slid the overturned Huntsman across the arena, although it quickly self-righted. Thunder quietly drove The Magical Windmill into the wall, while Hold Me Back tossed Huntsman over again, and clipped one of its tyres in the process, which led to its immobilization. However, Hold Me Back did not last much longer, as Hold Me Back soon drove over the arena saws. Its front forks were so long and low to the floor that Hold Me Back got stuck in the arena saws via its own forks, and it would not be freed during the battle, leading to it being counted out. The battle would ultimately be won by Thunder, and Hold Me Back was eliminated from the competition.
Wins/Losses
Edit
Series Record
Edit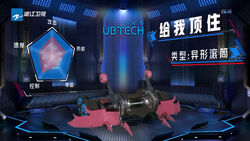 Series
Hold Me Back Series Record
Season 1
Did not enter
Season 1.5
Did not enter
Season 2
Eliminated in Redemption Round
(0-2 record)
NOTE: Hold Me Back also competed in the King of Bots 2019 Opening Battle.
Hold Me Back was the last robot to fight Vulcan in King of Bots when it still used an axe weapon, before becoming a full-pressure flipper.
References
Edit
Season 2 competitors
Finalists
Team Elimination
Eliminated in Elimination Round
Eliminated in Attrition War
Eliminated in Team Battles
Eliminated in Redemption Round
Community content is available under
CC-BY-SA
unless otherwise noted.