Hunstman was a Chinese-Australian competitor robot which fought in King of Bots II. Entering the competition with past experience from RoboGames, Huntsman was not selected by any celebrity captains in Round 1, but it still fought a whiteboard battle with Shrederator Tiger Claw during the filming. Huntsman's only televised battle was its rumble against Hold Me Back, The Magical Windmill and Thunder in the Redemption Round, but it was immobilized by Hold Me Back and lost the battle overall to Thunder.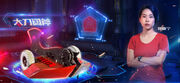 Huntsman was a two-wheel driven robot using two large tires for movement, which were exposed at the side of the machine. Huntsman's weapon was a chain-driven bladed axe, powered electrically for unlimited usage during battle, also providing self-righting capabilities from certain angles. The axe head weighed 20kg, and was rounded in an effort to pin spinners into the arena floor, although it was very slow in firing. Critically, Huntsman lacked any sort of wedge, with the front of the robot being sloped upwards, providing it with a large ground clearance, although this front armor was still very thick, consisting of 10mm AR450[1].
"I use the curved hammer for pushing spinners into the floor and for shaking internal components. It is not sharp and weighs 20kg."
— The team on their curved axe[2]
Robot History
Edit
King of Bots II (Season 2)
Edit
Mid-way through the filming of the main series, Huntsman voluntarily fought the Season 1.5 fourth-place finisher Shrederator Tiger Claw in a whiteboard battle, to help the American team test their new brushless electronics.
Huntsman was hesitant in its approach, and sustained a full-power blow from Shrederator Tiger Claw, with metal being torn from it in the process and breaking Shrederator's shell. Huntsman drove near to Shrederator Tiger Claw and lowered its axe into the floor, which Shrederator Tiger Claw struck, but Huntsman did not relent, and charged into Shrederator Tiger Claw, barging it into the arena corner. Huntsman caught up to its ailing foe, and brought its large axe down onto Shrederator Tiger Claw, which was able to immobilize the full-body spinner, but Huntsman also received a blow at the same time which caused the drive batteries to become unplugged. The battle resulted in a double-knockout, with Huntsman declared the winner by the audience[3], however team Shrederator claim a draw.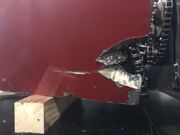 "The first part of the fight is gauging how well the spinner drives. Don't charge in are you may over shot and get hit from behind. You may need to absorb a few hits first. A good spinner driver doesn't want to hit your armour and will try to drive around behind you. Then you try to push or deflect it toward a corner. Use the corner to help contain its location and make it easier to hit. Then try to hit it. Use the hammer to cause sudden stops for its weapon. This will break something internally inside their robot. In this case it caused a fire in the drive speed controllers. External damage is a bonus."
— The team on fighting spinners[4]
In the main competition, Huntsman was among the Chinese robots available for the celebrity team captains to select for their teams in the first two episodes, although Huntsman was never nominated and did not participate in this round. Its first and only televised fight was a four-way rumble against Hold Me Back, The Magical Windmill and Thunder, which Huntsman needed to win outright in order to remain in the competition.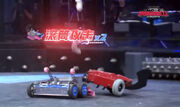 Huntsman was hesistant in the opening stages, and both Thunder and Hold Me Back swarmed around Huntsman, which fired its hammer into the egg beater spinner of Hold Me Back, and was thrown over in the process. Thunder slid the overturned Huntsman across the arena, although it quickly self-righted. Thunder quietly drove The Magical Windmill into the wall, while Hold Me Back tossed Huntsman over again, and clipped one of its tyres in the process. Huntsman bounced back onto its right-side up after colliding with the Grinder, but with a wheel missing, it could not move and was counted out. The battle would ultimately be won by Thunder, while Huntsman was eliminated from the main competition.
Wins/Losses
Edit
NOTE: Huntsman's whiteboard battle with Shrederator Tiger Claw is not included.
Series Record
Edit
Outside King of Bots
Edit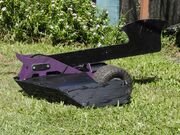 Although the version of Huntsman seen in King of Bots II was an updated robot, the original version of Huntsman dates back to 2012, where it competed in the USA at RoboGames under its original team Hellfire Labs, defeating The Wasp[5] before losing to Last Rites[6] and Kick Me[7]. It was then sold to Team Death by Monkeys for $400 after the event, who renamed it to Big Monkey for the 2013 RoboGames competition, but Big Monkey lost both of its battles, to Sewer Snake and Prometheus.
Huntsman is one of only two Chinese robots in Season 2 to be armed with a bladed axe weapon, alongside Fat-Head Fish, and one of only four Chinese robots in the season to use an axe or hammer, alongside Emerald, and Giraffe.
References
Edit
External Links
Edit
Season 2 competitors
Finalists
Team Elimination
Eliminated in Elimination Round
Eliminated in Attrition War
Eliminated in Team Battles
Eliminated in Redemption Round
Community content is available under
CC-BY-SA
unless otherwise noted.