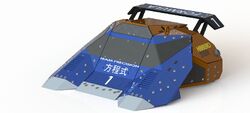 This article/section of article contains SPOILERS about the current season of King of Bots/This is Fighting Robots. If you're unaffected by potential spoilers, then continue to read the article. Otherwise, this article/section of article should not be read before watching the relevant episodes.
King of Bots is a Chinese television game show that began broadcasting in 2018. Produced by TheMakers, it is the first large-scale robot combat competition to be held in China, following a similar concept to the British Robot Wars and the North American BattleBots and owing particular inspiration to the latter. The inaugural season of King of Bots was first shown on 8th January 2018 on Zhejiang TV and the Chinese streaming service Douyu, with a run of eight episodes. A second season began airing on 14th July 2019, with a run of twelve episodes.[1]
King of Bots is a separate show to This is Fighting Robots, although is made by the same producers, and largely features the same competing teams, creating an association between the two shows.
Much like its sister shows, the principle of King of Bots is for competitor robots built by amateur builders and engineers to fight each other in combat. While attempting to win battles, robots must also dodge the hazards of the King of Bots Arena. Winning battles brings competitors closer to their goal of becoming King of Bots Champion, in the knockout tournament format. The show features a live studio audience.
Competing robots are required to weigh between 60kg and 110kg, and to be equipped with an active weapon powerful enough to damage or immobilize opponents in various ways.[2] Eligible weapons include high-powered spinners, flippers, axes, crushers, retracting spikes and flame weapons. Robots featuring multiple parts - including 'multibots' and drones - are also able to compete, as long as the combined weight of all parts remains within the maximum weight limit.
While maintaining the same ethos and competitor requirements, the second season featured a celebrity-based format sharing elements with the spin-off This is Fighting Robots. Six celebrities would select robots to compete in a series of battles, with winning robots initially joining their teams for later stages of the competition.
"Fighting robot sports events first originated in 1994, California. Now the world's most famous two events are: the United States' BattleBots and the British Robot Arena (Robot Wars). With the development of the economy in our country, robot competition has drawn more and more attention and pursuit from more and more enthusiasts. "BATTLEBOTS" and "ROBOTWARS" already have a high reputation in the country. The "China Fighting Robot Alliance" organized spontaneously by folk fans attract nearly a thousand members to participate, and do not hold regular exchange activities."
— King of Bots website[3] (translated from Chinese)
King of Bots was launched in May 2017, with the 'Global Recruitment' process for prospective Season 1 competitors commencing the same month.[4] Information on rules for robots and competing teams, prize funds and methods of entering the show were released. Prospective teams could apply for the series via an online application, or by attending recruitment displays at various conventions held across China. The recruitment process coincided with a series of promotional videos featuring Jet Li and several competitors from international robot combat competitions, including RoboGames founder David Calkins and Ray Billings, builder of 2016 BattleBots champion Tombstone.
In July 2017, it was revealed that over 200 teams had signed up for the first season, of which 30 from China and 12 from international territories had already been chosen to take part.[5]
In September 2017, a broadcasting deal with Zhejiang TV was confirmed by the King of Bots Facebook page, with a planned start date of November that year.[6] Filming of the first season took place in October, during which time the first images of the Season 1 competitors and arena were revealed.[7]
The first season of King of Bots premiered on Zhejiang TV and Douyu on January 8th 2018, with complete episodes also being made available to watch on the official Zhejiang TV YouTube channel on the date of broadcast. Season 1 concluded on March 5th 2018, with a run of eight episodes.
In May 2018, the official King of Bots Facebook page confirmed that a second season of the show would be taking place, sharing a registration link for potential participants.[8] In September, the selection process for Season 2 was revealed[9], with a separate post also confirming an initial filming date of January 2019.[10] On 9th November, it was officially announced that Season 2 would begin broadcasting on Zhejiang TV during the third quarter of 2019.[11] Filming for the new series was expected to commence in April 2019[12], but was later pushed back to 10th-25th May.[13]
A trailer for Season 2 was released on 11th June 2019 by the official King of Bots Weibo feed, confirming that the season would premiere on 14th July.[1] The season, officially promoted as King of Bots II, ran for twelve episodes, with similar broadcasting arrangements to Season 1.
On 4th January 2019, the first King of Bots event of the year was officially announced to be taking place in Shanghai, China, on 12th January. The event, known simply as the 2019 Opening Battle, was broadcast live on various streaming services, such as Panda TV and bilibili, and featured one-on-one matches between heavyweight and featherweight competitors from both the televised show and the accompanying live events.[14]
Presenters
Edit
The overall show of King of Bots is presented by Jet Li, a well-known Chinese martial artist and actor who also featured heavily in the show's initial promotional campaigns.
In Season 1, three panelists would also appear before fights to provide analysis, those being Lou Xi (professionally known as Roach), Huang Jian Xiang and Wu Day Wei (alternatively Wu Daye). The latter two would also commentate and react to every fight throughout this season. Huang Jian Xiang would also take part in Season 2 as one of the six celebrity team captains.
Season 1 matches were introduced by Ling Zhou, who would also interview the competitors after each battle.
In the 2019 Opening Battle, a male-and-female duo would present and provide commentary for each battle, with their roles expanding to introducing the pits area, the judges and the competing teams at the start of the event. Both presenters also joined the teams in the arena at the end of the event, announcing the winning side and signing off the live stream.
The first season of King of Bots featured a simple knockout tournament consisting of one-on-one battles between 48 robots which weighed up to 110kg. Winning competitors would progress to later rounds, with victory in the final round enabling one to emerge as overall champion. When only 12 robots remained in the third round, four robots were reinstated via the wildcard, regardless of whether the robot lost in the first or second round.
The following prizes were given at the end of Season 1:
1st place: 200,000 RMB + trophy
2nd place: 100,000 RMB
3rd place: 50,000 RMB
In addition to the above prizes, the following awards were offered to two eligible teams throughout the first season:
Creativity Award – 25,000 RMB each.
Technological Innovation Award – 25,000 RMB each.
Popularity Award - 25,000 RMB each.
Various 'excellent participating team bonuses' were also offered, depending on the entry numbers for the first season.[15]
Main article: Judges
Whenever a battle lasted the whole three-minute duration without any clear winner, a panel of three Judges would decide on the outcome. Each of the Judges gave competitors scores based on the following criteria:
Aggressiveness.
Controllability.
Damage effect.
Once the scores were collected, the robot which earned the most votes from the judging panel would be declared the winner.[16] One of the Judges in the first season was Ian Lewis, a British roboteer known for building the former Robot Wars UK and World Champion Razer.
International Robot Combat Competitions
Edit
In May 2018, following the initial airing of Season 1, King of Bots began running the International Robot Combat Competitions, a series of live tournaments featuring featherweight robots weighing no more than 13.6kg. These competitions featured various domestic and international teams - including those which had previously competed in Season 1 - and were also used to determine potential places for the upcoming second season.[17] The first King of Bots featherweight competition took place in Wuhan between April 28th and May 1st 2018, won by Calabash Bros[18]. This was followed by another event between 15th August and 19th August 2018 at the World Robot Conference in Beijing[19], which was won by Saber-X.[20]
A third King of Bots featherweight competition took place in the United Kingdom between 24th August and 27th August 2018, hosted at the Insomnia 63 gaming festival in Birmingham. Co-hosted with Robo Challenge, the UK event featured a variety of local and international teams, including some from China, and was won by UK competitor Amnesia. Two more Chinese events - in Hangzhou and Qingdao - followed, with winners including Team Knock Together, Team Two Barbecue and Team Cybermark.[21][22]
References
Edit
↑ https://en-gb.facebook.com/notes/king-of-bots/king-of-bots-global-recruitment-is-beginning/174713279724639/
↑

Correspondence with Adam Hamilton, 18th January 2019.
External Links
Edit
Community content is available under
CC-BY-SA
unless otherwise noted.