The second episode of King of Bots Season 2 aired on 21st July 2019. It followed on from the season premiere, where two groups of celebrities selected robots for their representative teams, ahead of a series of one-on-one battles.
The end of the episode also featured Robo Genius, an educational segment exploring different aspects of robot building and combat.
Competing robots
Edit
NOTE: Earth Mover was also highlighted and added to Tu Ziya's team without it fighting a battle
Continuing from the previous episode, six celebrities - Huang Jian Xiang, Zhu Zheng Ting, Di Yang, Tu Ziya, Emma Dumont and Tao Shen - remained in their groups of three, and would each select one robot for battle. Once the selection process was completed, the chosen robots would be randomly drawn to fight each other in a series of one-on-one battles (first half of the episode), or three-way rumbles (second half of the episode). Winning robots at this stage would automatically earn a place on their respective celebrity's team. The selection process would then be repeated for the second and third rounds, each with different robots.
By the end of the episode, every celebrity except Tu Ziya had completed their teams, each consisting of three robots. Ziya was required to select a third robot from the pits - Earth Mover - to join her team, without it taking part in a single battle.
In addition to the main competition, the six celebrity captains also took part in a mini-soccer tournament as part of a promotional segment for sponsor UBTECH Robotics. Shown between the two three-way melees, this required celebrities to compete against each other in a series of one-on-one rounds while controlling custom tracked JIMO Robots construction kits. Di Yang emerged as the eventual winner of the soccer competition, defeating Emma Dumont in the final round.
Medusa vs Ouch Ouch
Edit
"No offence against multibots, but I don't think those two could take Medusa!"
— Emma Dumont
Ouch Ouch was conscious of Medusa's spinning bar, and the larger segment of the multibot rushed straight into the bar spinner to stop it from spinning up to speed. Although Medusa managed to get its weapon up to speed out after this, it was indecisive in choosing a target, which allowed Ouch Ouch to catch Medusa from behind and throw it into the air.
"It doesn't matter, pick one and go after it!"
— Emma Dumont's advice for Medusa's driver
Medusa did not heed the advice of Emma Dumont, and continued to fight passively, and Ouch Ouch once again flipped Medusa from behind, throwing the bar spinner into the floor and also catching the smaller multibot of Ouch Ouch in the process, which had not been able to spin up its own vertical blade during the battle. Seemingly, the smaller half of Ouch Ouch had been completely immobilized by this hit, but the main body of Ouch Ouch continued to attack, driving under the front of Medusa to flip it over.
Ouch Ouch continued to execute its strategy, using its flipper surface to knock Medusa into the air through recoil, although it did fire its flipper at thin air shortly afterwards, and Medusa turned in place to swing its blade into Ouch Ouch's flipper, throwing sparks. Although Ouch Ouch was punted into the wall, it remained mobile, and rammed into Medusa again, but then the battle started to turn in Medusa's favor.
Cleverly, Medusa made use of the immobile half of Ouch Ouch, and drew near to it with its blade at top speed, also exposing its backside to the flipper of Ouch Ouch in the process - however, Medusa did not attack the smaller half of Ouch Ouch, and instead turned 180 degrees to slash into the charging flipper of Ouch Ouch, throwing it aside and ripping off its side armor panel. Ouch Ouch did then land a glancing blow on the smaller multibot of Ouch Ouch, and mostly turned in circles until Ouch Ouch drove in to sustain more damage.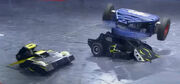 The flipper of Ouch Ouch nudged its smaller compatriot to see if it could still move, but it was still completely immobile, so Ouch Ouch instead drove straight under Medusa and drove it across the arena. However, Ouch Ouch bumped into the arena saws, allowing Medusa to rip away more armor, and although Ouch Ouch briefly escaped, it returned to the same gap in the floor to completely wedge one of its forks underneath it. Medusa kept its distance, perhaps awaiting a count-out from the referee, but Ouch Ouch eventually reversed away and continued to drive around the arena.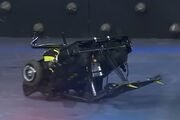 With less than one minute on the clock, Ouch Ouch slammed straight into Medusa's bar spinner and was cast into the arena wall, but it responded well by driving straight under Medusa's spinner again, completely stopping the momentum of the bar and forcing it to spin up again. Ouch Ouch took advantage of this relatively slow spin-up time and wedged under Medusa's wheel, before launching another attack, flipping Medusa over, but also overturning itself with the same flip. Due to the damage it had sustained in the battle, and the amount of gas supply that it had already used in the battle, Ouch Ouch's efforts to self-right were in vain, and after a number of failed attempts to right itself, Ouch Ouch was counted out by the referee. Although Medusa's drive and weaponry had also completely stopped moving, and smoke was now venting out of Medusa's top armor, it had remained mobile slightly longer, and won the battle by knockout to join Emma Dumont's team.
Winner: Medusa
Flaming Wheel vs TUZI
Edit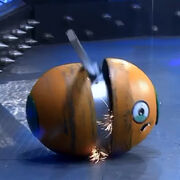 The battle began tentatively for both robots, as Flaming Wheel got its shell up to speed and TUZI suffered grip issues while driving out of the red corner. Eventually, Flaming Wheel hit one of TUZI's wheelhubs, splitting the axlebot and sending it flying into a grinder. TUZI skidded and spun across the arena upon landing, its internals now partially-exposed, and swung aimlessly while Flaming Wheel powered its weapon down and rammed it.
Flaming Wheel retreated while TUZI continued to amble along the floor. The former got its shell spinning once more, but landed no further attacks while TUZI was being counted out by the referee. Eventually, TUZI's electronics shorted out, resulting in it becoming fully immobilized. Flaming Wheel secured its first victory by knockout, as well as the third and final place on Huang Jian Xiang's team.
Winner: Flaming Wheel
Reaper vs Silver Scorpion
Edit
Both robots quickly left their corners, with Reaper slamming into the left side of Silver Scorpion as the latter turned round and tried to retreat. Sparks and pieces of rubber flew as Reaper's undercutter targeted Silver Scorpion's right tire. Reaper followed this up with another side-on attack, only to drive itself into the clutches of Silver Scorpion as it next tried to attack its opponent's front end. Silver Scorpion was unable to use its pincers to good effect, however, as Reaper pushed it back a short distance before breaking its right pincer entirely. Moments later, Reaper ripped several pieces out of Silver Scorpion's left side while shoving it into the wall spikes. Another sizeable blow sent Silver Scorpion spinning towards a grinder mount and caused one of its decorative top plates to detach.
Silver Scorpion reversed slowly from the grinders, evidently hampered by Reaper's blows. Reaper charged into Silver Scorpion again from the other side of the arena, throwing Silver Scorpion upwards and dislodging its remaining decorative pieces. Silver Scorpion initially appeared to stop moving following this attack; with its spinner powered down, Reaper rammed Silver Scorpion again. However, Silver Scorpion later regained mobility, and it became clear that Reaper's undercutter had stopped working completely as both robots rammed each other near the circular saws.
Despite being rendered weaponless at this point, Reaper pushed a battered Silver Scorpion a short distance back, before using its drive power to ram Silver Scorpion into a grinder and under one of the hammers. Both robots survived the full three minutes, with the Judges' decision going to Reaper, with Reaper's victory ensuring that it would join Cracked Sword on Zhu Zheng Ting's team roster.
Winner: Reaper
Black Rabbit vs Hold Me Back
Edit
Both robots moved towards each other, but Hold Me Back immediately wedged its forks into the arena saw slots. Although this would generally be disadvantageous, Hold Me Back freed itself just in time to swing Black Rabbit into the corner of the arena, and afterwards, deliver a weapon-to-weapon blow where Hold Me Back threw Black Rabbit into the air. Black Rabbit responded well, and drove around the back of Hold Me Back to charge it straight into the arena wall, where the spikes were lined.
Both spinning weapons had ground to a halt during this sequence of attacks, and the robots circled around each other to spin up their blades, until Black Rabbit broke the silence and struck Hold Me Back into the air. These previous attacks had also damaged Hold Me Back's forked wedges, as Hold Me Back no longer had the ground clearance advantage, charging at the front of Black Rabbit only to be thrown into the air again. This also allowed Black Rabbit to charge into the side of Hold Me Back twice in succession, although its drum was powered down at the time, limiting its damage output. Black Rabbit attempted to power up its drum, but a burst of smoke emerged from the robot, signalling weapon motor issues. Nevertheless, Black Rabbit took advantage of this by feigning immobility until Hold Me Back exposed its backside, and Black Rabbit charged in to deliver a powerful slam.
Black Rabbit missed its next two charges, and still posed little threat when it did ram into the wheels of Hold Me Back due to its broken weaponry, but at this stage, Hold Me Back had not launched an attack in a long time. Black Rabbit quickly drifted around the arena while Hold Me Back remained somewhat stationary, and Black Rabbit bumped it again, managing to scoop up the back end of Hold Me Back in order to box-rush it into the Grinder mount. Another slam into the Grinders also completely overturned Hold Me Back. Quick to respond, Hold Me Back struck the grinder with its eggbeater spinner in order to self-right, but Black Rabbit continued to pressure it, until Black Rabbit suddenly drove over the floor flipper with only 35 seconds left on the clocks.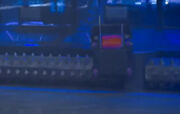 Hold Me Back was not spinning its eggbeater, and it was struggling to drive with half of its drive system no longer working, so Black Rabbit was left alone in its efforts to self-right, driving into a Grinder to almost flip itself back over, and was unsuccessful in its next attempt, moving into the mount between the two Grinders, potentially taking damage in the process. Nevertheless, Black Rabbit reversed and then drove into the Grinder again, righting itself on its third attempt. The passive Hold Me Back had stuck one of its forks into the arena floor, which allowed Black Rabbit to hit it from behind and carry it to the arena saws, although another plume of smoke suddenly started to pour out of Black Rabbit. Indeed, Black Rabbit's drum was once again spinning, likely causing the fire, but Black Rabbit still chipped the back of Hold Me Back, which was also spinning its eggbeater once again. Black Rabbit then drove Hold Me Back into the arena spikes, and released its foe when time expired on the battle at the end of three minutes.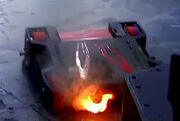 After the battle had ended, both robots were required to drive back to the arena corners, and as Hold Me Back could only use half of its working drive system, Black Rabbit assisted by shoving Hold Me Back towards the corner of the arena. This had no bearing on the Judges' decision, which favored Black Rabbit and allowed it to join Zhu Zheng Ting's team.
Winner: Black Rabbit
Iron Rooster vs Little Qinglong vs Red River Bull
Edit
At the very start of the battle, Red River Bull proved to be at a disadvantage, as its drum spinner completely failed to spin - meanwhile, Little Qinglong accelerated its own drum up to full speed, and Iron Rooster charged in to attack the evasive Red River Bull, and after reaching its target, Iron Rooster delivered the first blow of the battle, striking the top of Red River Bull. The robots separated, and then Little Qinglong attempted to launch its first attack of the battle, charging towards Iron Rooster, but suffered a glancing blow to its top armor from the thwackbot, which had built up an early lead.
"How are they doing that?"
— Emma Dumont on Iron Rooster's attacks
Iron Rooster continued to attack Little Qinglong, missing its initial hit, but retracted its weapon to hit Little Qinglong on the retract. Iron Rooster then made a mistake, driving over the floor flipper where it was lifted up, while Red River Bull slowly crashed into the spikes on the arena wall. Little Qinglong and Red River Bull closed in on each other, while Iron Rooster circled the arena until it found an opportunity to attack, swinging its blade down onto Little Qinglong. Although this blow accurately struck the gap between Little Qinglong's drum and body, Iron Rooster came off worse from this attack, with Little Qinglong's drum tearing a shard out of its blade.
Little Qinglong escaped the situation with its drum at full speed, when Red River Bull charged in to ram the side of Iron Rooster. On a second ram, Red River Bull drove directly under Iron Rooster and avoided its weapon swing, although it landed on the arena saws at the end of its drive. Little Qinglong then drove in to hit the front of Iron Rooster's wheel tread, but only lifted the robot lightly, and Little Qinglong crashed into a grinder - meanwhile, the more composed Red River Bull drove into the side of Iron Rooster and knocked it back, despite lacking an active drum. This attack was continued when Iron Rooster slipped back towards the arena wall, and Red River Bull swept in to ram Iron Rooster's weapon, and knocked Iron Rooster into the air, but also crashed into the arena spikes in the process.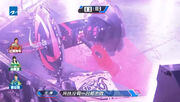 At this stage, the two drum spinners seemed to team up on Iron Rooster, with a strong ram from Red River Bull flipping Iron Rooster over, and causing it to slide into the spikes on the arena wall. Red River Bull then broadsided Iron Rooster again, delivering it to the arena spikes and then separately tripping it up with a drive into Iron Rooster's wheel. Meanwhile, Little Qinglong had not landed an attack for a long period of time, and then drove into the arena wall to rip a spike away from the arena. Iron Rooster swerved back into the action, crashing into the arena corner, but Red River Bull was already there, allowing Iron Rooster to take one last swing, although it narrowly missed, and returned to the center of the arena when time expired on the three-minute bout.
The Judges were required to choose between all three active machines, and even though it had lacked a functional weapon for the entire battle, the Judges rewarded Red River Bull for its total of six charges on Iron Rooster (according to the on-screen counter), over Iron Rooster, the focus of both robots' attacks, and the relatively passive Little Qinglong. As a result, Red River Bull joined Di Yang's team.
Winner: Red River Bull
Iron Barbie vs Twin Panthers vs White Tiger Guardian
Edit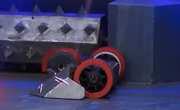 At the start of the battle, White Tiger Guardian and Iron Barbie moved off the mark, as did the smaller half of Twin Panthers - the main body of Twin Panthers, meanwhile, did not move at all. The opening ram from White Tiger Guardian overturned the smaller half of Twin Panthers, which also left it essentially immobile for a period, and White Tiger Guardian landed a blow on the wedge of Twin Panthers' larger half, to the discouragement of its celebrity representative Emma Dumont.
"Be nice! Be nice! Be nice!"
— Emma Dumont to White Tiger Guardian as it attacks the immobile Twin Panthers
The referee proceeded to count Twin Panthers out, and White Tiger Guardian focused its attacks on Iron Barbie, which flailed its flipper about in response to the first blow. Strangely, the next time White Tiger Guardian was seen, it had ground to a halt in the center of the arena, and Iron Barbie charged into it, as did the recovered smaller half of Twin Panthers, but Iron Barbie missed with its lift, and White Tiger Guardian launched another sequence of attacks on Iron Barbie.
"Come on girls, flip 'em!"
— Emma Dumont encourages her opponent Iron Barbie to self-right
By the end of its barrage, White Tiger Guardian had thrown Iron Barbie onto its back, and Iron Barbie slid into the Grinders, which were not currently active. Although the Grinders turned on after this, Iron Barbie managed to self-right, with some encouragement from Emma Dumont. However, Iron Barbie opened its flipper again immediately after self-righting, which afforded White Tiger Guardian another opportunity to attack the side of Iron Barbie, hitting it into the side of the arena, where the spikes were lined.
"Ooh, danger, danger!"
— Emma Dumont
Iron Barbie struggled to recover from this attack, and only made small movements, while White Tiger Guardian's driver held back and waited to see if it was immobile. However, Iron Barbie was still capable of controlled movement, so White Tiger Guardian struck it from behind, causing a gas bottle and more to fall loose from Iron Barbie. This attack also caused Iron Barbie to lose drive on one side, and it could only turn in circles with its gas bottle hanging loose, until Iron Barbie spun so fast that its own damaged drive motor fell out of the machine. The referee completed his count, and White Tiger Guardian won the battle by knockout, claiming the third space on Emma Dumont's team.
"My robot won, so I'm really happy with it! He's stable, and sturdy, and everything I'm looking for, which I'm so excited about!"
— Emma Dumont
Winner: White Tiger Guardian
Earth Shovel vs Pot of Love
Edit
Immediately, Earth Shovel charged across the arena towards Pot of Love, which spent a considerable amount of time getting its shell spinner rotating. Pot of Love darted a short distance out of the red corner, but was briefly lifted into the air by Earth Shovel. Upon landing, Pot of Love hit the side of Earth Shovel, causing Earth Shovel to spin and itself to recoil into a grinder. A piece of debris flew as Pot of Love bounced off the grinder and flipped violently onto its side; Pot of Love stabilized itself and landed upright, before being launched into the air via another deflection from Earth Shovel.
Earth Shovel attempted to ram Pot of Love once more; this time, Pot of Love clipped the side of To The Future's machine and sent it spinning violently into the wall spikes. At this point, Pot of Love's shell stopped spinning, leaving it vulnerable as Earth Shovel flipped it a complete 360 degrees.
Earth Shovel then threw Pot of Love onto one of the grinder mounts; with its shell now rotating again, Pot of Love drove off and wobbled on its side to escape, eventually landing on its wheels once more. Seconds lapsed before Earth Shovel rammed Pot of Love a few more times, deflecting Pot of Love into the air and the wall spikes in the red corner.
These impacts caused a few components to shear off the top of Pot of Love's shell – including the position indicator – and the shell itself to stop working. Despite this, Pot of Love rammed Earth Shovel, only for the shell to come loose and be left dangling on top of its now-exposed chassis. Pot of Love continued driving around in this state, to the amusement of the audience and celebrities, surviving a few rams from Earth Shovel in the process. After narrowly avoiding a grinder, Pot of Love shot towards the blue corner, causing the shell to detach completely and be left sliding along the floor. This prompted more laughter as Pot of Love bravely rammed Earth Shovel a few more times.
Both robots survived for the full three minutes, with the resulting Judges' decision ruling Earth Shovel as the winner. Earth Shovel therefore secured the second place on Tao Shen's team, alongside Pixel Hunter.
Winner: Earth Shovel
Green Goblin vs Storm Cut
Edit
Initially, both competitors met each other in the center of the arena, before Storm Cut turned around and clipped the front of Green Goblin with its bar. Green Goblin recovered to drive disc-first into Storm Cut, only to sustain another blow which sent it spinning away. This hit caused Green Goblin to encounter drive issues; nevertheless, it spun round and steadily approached Storm Cut once more. As the two robots drew alongside each other, Storm Cut cleaved Green Goblin's front-left wheel off, destroying the wheel in the process.
Storm Cut spun round and bumped into Green Goblin again; the collision was enough to immobilize Green Goblin completely. Through its resulting knockout win, Storm Cut secured the last place on Tao Shen's team, in what would become the final battle of the opening rounds.
Winner: Storm Cut
Final Selection
Edit
With five of the six celebrity teams complete, Tu Ziya was required to choose from the seven remaining robots which had not fought, and instantly add one to her team. After walking around the pit tables, Tu Ziya chose Earth Mover to join her team, completing all six of the celebrity team rosters.
Selected: Earth Mover
Celebrity Teams
Edit
| Celebrity | Robots |
| --- | --- |
| Emma Dumont | Drift, Medusa, White Tiger Guardian |
| Zhu Zheng Ting | Cracked Sword, Reaper, Black Rabbit |
| Tao Shen | Pixel Hunter, Earth Shovel, Storm Cut |
| Di Yang | Mist Lion, Saber, Red River Bull |
| Huang Jian Xiang | Xiake, Deep-Sea Shark, Flaming Wheel |
| Tu Ziya | Iron Scrap, Emerald, Earth Mover |
External Links
Edit
Community content is available under
CC-BY-SA
unless otherwise noted.