This article's name is a rough translation from Chinese, and the team have yet to specify the robot's official name. As such, the article's title may not be entirely accurate.
Land Dragon, or Ground Dragon, was a Chinese competitor robot which competed in Season 2 of King of Bots. Despite its unique weaponry, Land Dragon was not selected by any celebrities during the first stage of the competition, relegating it to the redemption rounds. There, in a four-way rumble against Yesaji, Bullseye and Iron Rooster, Land Dragon could not even move, and lost its place in the competition here.
The robot is based upon a featherweight (13.6kg / 12lb) design built by the team.
Design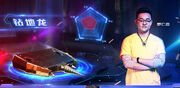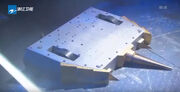 Land Dragon was a somewhat wedge-shaped invertible robot, driven by two wheels. It was armed with a unique rotating weapon, in the form of a large drill. This uncommon weapon brings a surprise factor to Land Dragon, although the robot must maintain contact with its opponent for a lengthy amount of time in order to cause meaningful damage, and Land Dragon has no way to hold robots in place other than by ramming them into the wall. Nevertheless, Land Dragon's side armor provided good protection, and its weapon was not affected by the robot being inverted. A thin rear wedge was also present at the back of the robot, serving as a kickstand. Ultimately, however, Land Dragon failed to move in its only battle.
Robot History
King of Bots II (Season 2)
Land Dragon was among the Chinese robots available for selection in the opening rounds of the competition. However, Land Dragon was largely ignored by the celebrity captains, and ultimately the first round concluded without Land Dragon participating in a battle. As a result, Land Dragon was knocked into the redemption round, where it was drawn into a four-way rumble against Yesaji, Bullseye and Iron Rooster.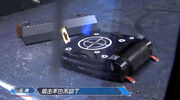 However, Land Dragon completely failed to move from the outset of this battle, and never left the corner it started in. The referee did not hesitate to count Land Dragon out, and its only involvement took place when Yesaji rammed Bullseye into the same corner to KO it, with both immobile machines sitting beside each other for most of the fight. Ultimately Yesaji won the battle over Iron Rooster on a Judges' decision, while Land Dragon was eliminated from King of Bots II without even managing to move.
Results
Wins/Losses
Series Record
Series
Land Dragon Series Record
Season 1
Did not enter
Season 1.5
Did not enter
Season 2
Eliminated in Redemption Round
(0-1 record)
Trivia
Land Dragon was the only robot in a televised King of Bots competition to use a drill weapon.
Land Dragon was the only robot in Season 2 which never moved in any of its battles.
Season 2 competitors
Finalists
Team Elimination
Eliminated in Elimination Round
Eliminated in Attrition War
Eliminated in Team Battles
Eliminated in Redemption Round