Mr Hippo was a robot from Hangzhou, Zhejiang, which competed in King of Bots II and This is Fighting Robots, and was the successor to the similar Rust Boar.
In Season 1.5, it impressed celebrity team captain Wu Chun enough to advance beyond its preliminary rumble, despite catching fire after the battle was completed. However, it would subsequently lose its first main rumble to Lieutenant Bam after becoming immobilized during the battle, and was eliminated from Wu Chun's Red team at the end of the first round.
Mr Hippo returned for Season 2 of King of Bots, although it did not participate in the opening round after being overlooked by the celebrity captains. Nevertheless, Mr Hippo won a four-way rumble over White Tiger Guardian, Stalker and Ouch Ouch to join Tao Shen's team, although under this captaincy, it was defeated by Tánshè and Snake during a two-versus-two battle, leading to it being cut from the team.
Design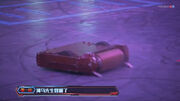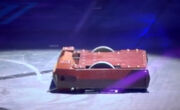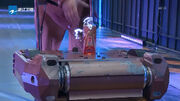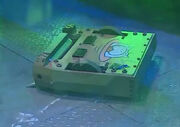 Mr Hippo used a tried-and-tested design popularised by robots such as the Brazilian Touro Maximus and its BattleBots equivalent Minotaur, alongside its own predecessor Rust Boar. Roughly square-shaped in design, Mr Hippo runs on a two-wheel drive, and is armed with a powerful drum spinner at the front. The drum was balanced in a way that its single tooth carries a huge weight. The robot was also quick, with the ability to turn quickly despite the force of its weapon, and it can also 'gyro-dance' through the use of the weapon's gyroscopic forces. However, just like Rust Boar, the robot was prone to suffering from internal fires.
The robot was structurally very similar when it returned for King of Bots II, but boasted more aesthetic details including a hippo mascot.
Robot History
This is Fighting Robots (Season 1.5)
After not being selected by the celebrities to advance straight to the bracket, Mr Hippo fought in the first rumble of the series, in order to impress the team captains. There, it fought Bonesaw, Hunting Wind and Weber.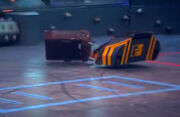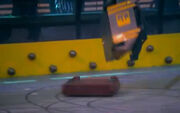 Bonesaw had already been flipped over before Mr Hippo could become involved, but it slammed directly into Weber, and also collided with the side of Hunting Wind. Mr Hippo drifted around the arena, leaving skid marks behind it, and it bumped the back of Weber while not utilizing its weapon. After getting its drum up to speed, Mr Hippo charged into the back of Weber, throwing it into the air powerfully. This impressive attack led to Wu Chun adding Mr Hippo to his team, meaning it would participate in the main competition.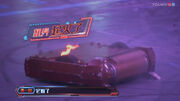 Time expired on the match, and Mr Hippo celebrated by gyro-dancing. Although the three robots had advanced to the next stage, with only Bonesaw falling, Mr Hippo dramatically caught fire after the battle had ended, requiring immediate attention. This came to the amusement of one of the other celebrity captains, who mocked Wu Chun for selecting a robot which had promptly caught fire.
Neverthless, Mr Hippo was repaired in time for its first main competition battle, against Tungsten, Greedy Snake and Lieutenant Bam.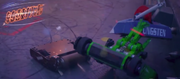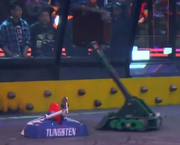 Immediately, it bumped into Tungsten, before turning sharply and reversing into the British vertical spinner. A few moments later, Mr Hippo and Tungsten were both pushed into the wall spikes by Greedy Snake, which was in the process of grabbing and trying to throw Tungsten over using its snatch weapon. Mr Hippo swerved away and drove into the side of Greedy Snake, jostling it onto the spikes using its drum.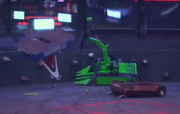 With Greedy Snake stranded and eliminated as a result, Mr Hippo retreated to the other side of the arena, momentarily bumping into Lieutenant Bam. It was then catapulted across the arena by Tungsten, hitting one of the bulletproof screens in the process, but quickly retaliated by flipping Tungsten into the wall spikes. However, it suddenly stopped moving, and sustained several more hits from Tungsten's flywheel as the latter pushed it against another set of spikes. Mr Hippo was then pushed and hammered repeatedly by Lieutenant Bam – in the main show, the UK machine's attacks were considered crucial to Mr Hippo being eliminated from the battle via knockout. As a result, Mr Hippo scored no points for Wu Chun and the Red team, and would become one of three robots eliminated from Chun's team at the end of the first round, alongside two more British entries Bonfire and Eater.
King of Bots II (Season 2)
Prior to the main series being filmed, Mr Hippo fought in a "warm-up battle" alongside Earth Shovel, taking on the team of Vulcan and Xiake in a two-on-two battle which was not included in the main series. Most of the roboteers in the battle refused to use their weaponry, protesting the idea of untelevised "warm-up fights", creating a largely passive battle until Earth Shovel launched an attack on Vulcan, leading Vulcan to throw it out of the arena in response[1] Mr Hippo and Earth Shovel therefore lost the battle.
This may explain why for the entirety of the competition's first round, Mr Hippo never fought due to the six celebrity captains favoring other drum spinners over it. As a result, Mr Hippo was relegated to a four-way rumble against Ouch Ouch, Stalker, and White Tiger Guardian, with only one robot able to win the battle and join a celebrity team.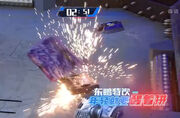 The first collision of the match occurred in the first two seconds, with Ouch Ouch slamming into Mr Hippo before it could spin up its drum fully, although a second hit from Mr Hippo threw sparks from the flipper of Ouch Ouch, and Mr Hippo then pelted Ouch Ouch's smaller half into the arena wall at full speed. Stalker had also driven behind the back of Ouch Ouch and was using its lifter, but instead threw itself over, and Mr Hippo charged into it with its drum at full pelt, throwing sparks and flipping Stalker over, while White Tiger Guardian pursued Ouch Ouch. After this, White Tiger Guardian finished off Stalker and the Ouch Ouch minibot, leaving only three robots active.
Ouch Ouch and White Tiger Guardian both rammed into Mr Hippo, pausing its drum spinner, but Mr Hippo then ground at the side of Ouch Ouch. The flipper of Ouch Ouch charged into Mr Hippo again, but Mr Hippo drove it towards the Grinder while throwing sparks. At this stage, White Tiger Guardian sped into both robots, knocking Ouch Ouch into the Grinder and connecting with its vertical spinner to chuck Ouch Ouch high into the air, and causing it to land next to some of its lost armor, upside-down and immobile. With only two robots left in the fight, Mr Hippo turned its drum into the side of White Tiger Guardian, tearing away its side panel in a shower of sparks, also grinding at its wedgelets.
A follow-up hit from Mr Hippo also knocked White Tiger Guardian backwards across the arena floor, although Mr Hippo carried on forwards and broke a spike off the arena wall, also slowly killing the momentum in its drum. White Tiger Guardian was slow to escape, and Mr Hippo hit its exposed side before both robots got away, albeit without any significant bite. Upon separating, White Tiger Guardian delivered a weapon-to-weapon hit, but Mr Hippo's drum had already subsided, and White Tiger Guardian won the interaction. only for Mr Hippo to return and catch White Tiger Guardian side-on, driving it in circles by pushing at its side, until it could press White Tiger Guardian into the corner of the arena. The fight ended with Mr Hippo spinning in place to knock White Tiger Guardian aside, with White Tiger Guardian never escaping its corner of the arena due to a broken drive system. Mr Hippo moved to the center of the arena to display its mobility to the judges, who rewarded it with the victory. Mr Hippo would later join Tao Shen's team, thanks to this win.
As a member of Tao Shen's team, Mr Hippo teamed up with Pixel Hunter to fight against Tánshè and Snake in a two-on-two battle, with a victory being required to prevent Zhu Zheng Ting's team from taking an overall victory over Tao Shen.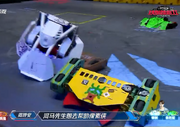 All four robots drove into each other in the opening seconds, with Mr Hippo being collected by Snake, and Pixel Hunter thrown by Tánshè. Mr Hippo was pushed around again until it was freed, and waited for Tánshè to focus on Pixel Hunter. Here, Mr Hippo charged into the rear of Tánshè, throwing it forwards into a grinder. Tánshè bounced off the grinder, landed on its wheels and drove away, while Snake simultaneously scooped up and pressed Pixel Hunter and Mr Hippo against the grinder mount. As the three robots became separated, Tánshè returned to flip Mr Hippo over, and pressured Mr Hippo further as the brown machine flicked itself up against the wall spikes.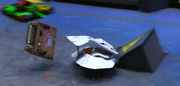 Later into the match, Tánshè slammed into the front of Mr Hippo, before chasing, getting underneath and throwing the drum spinner over mid-charge. Snake and Tánshè continued to assert dominance over Tao Shen's machines, again pushing Pixel Hunter and Mr Hippo against the spikes. While Tánshè proceeded to push Mr Hippo away from the spikes and towards the red corner, Pixel Hunter sustained a blow from one of the hammers, right on top of one of its drive systems. A light ram from Snake appeared to stun Pixel Hunter, just before Mr Hippo drove into it while dodging a pincer attack from Snake and Tánshè. All four robots gathered in the red corner, before Tánshè pushed Pixel Hunter under the hammer, and Mr Hippo immobilized itself against the spikes. Tánshè proceeded to flip Pixel Hunter and Mr Hippo simultaneously, leaving the former stranded against the wall in the process. Mr Hippo was counted out, and lost the battle, causing Tao Shen's team to be soundly defeated by Zhu Zheng Ting's representatives.
Although Mr Hippo was able to survive this particular phase, it would not get the chance to fight another battle. In the next phase against Emma Dumont's team, Tao Shen nominated Mr Hippo as one of the robots to be eliminated should his team lose alongside Earth Shovel and the two were drawn against Spectre and Cat King. However, Tao Shen's team lost their first two battles, losing the round overall and forcing Tao Shen to eliminate one of his chosen robots. He eventually decided to eliminate Mr Hippo, removing it from the competition.
Results
Wins/Losses
NOTE: Mr Hippo's preliminary rumble in Season 1.5 is not considered a win or a loss, and its Warm-Up Battle in Season 2 is excluded.
Series Record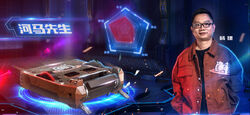 Trivia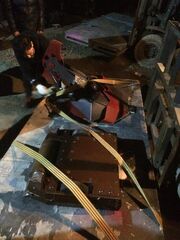 Mr Hippo competed in the first battle of This is Fighting Robots, and was the second to be chosen by a celebrity during this stage of the competition.
Mr Hippo catching fire in its first battle was reminiscent of its predecessor Rust Boar catching fire in its final battle.
References
Season 2 competitors
Finalists
Team Elimination
Eliminated in Elimination Round
Eliminated in Attrition War
Eliminated in Team Battles
Eliminated in Redemption Round