七拼八凑 (translated as Patchwork), otherwise known as 废铁3 (translated as Iron Scrap 3[1]) is a Chinese featherweight robot built by Team Knock Together which competed in various events organized by King of Bots. It initially debuted at the 2018 Beijing event[2], and achieved outstanding success thereafter, enabling Team Knock Together to become the 2018 Hangzhou champions[3] and finish the subsequent Qingdao event in the top three, alongside Team Cybermark and Team Two BBQ.[4]
Following this, Patchwork competed in the 2019 Opening Battle, where it represented the red team and fought a one-on-one battle against Amnesia. However, despite performing well, it would lose the battle to Amnesia after getting flipped and wedged onto the wall spikes by the 2018 UK International Champion.
Team Knock Together would later compete in King of Bots II with a heavyweight version of the machine, using the name Iron Scrap as they entered the season with relative success.
Design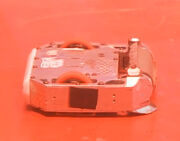 Patchwork is an invertible, two-wheel drive robot with a low octagonal-shaped chassis and a powerful drum spinner. The drum itself was capable of damaging and throwing opponents over great distances, as vividly demonstrated throughout its appearances at King of Bots and Fighting My Bots events. In addition, the gyroscopic forces acting on Patchwork's drum allowed the robot to lift and turn itself over when the weapon spun. Patchwork featured a plain silver color scheme with orange wheels and a pale brown drum, although the robot's official profile image showed it with an orange drum, as used in live events.
Robot History
2019 Opening Battle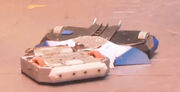 Patchwork was one of eight featherweight robots attending the 2019 Opening Battle, held to promote the upcoming second season. There, it represented the red team, and faced 2018 UK International Champion Amnesia in its solitary head-to-head battle. Both robots immediately darted from their corners, with Patchwork weaving and slamming into Amnesia. As its drum grazed the British machine's flipper, Patchwork was pushed back by Amnesia, but turned and retreated towards the wall spikes before driving into the front of Amnesia again. Seconds later, Patchwork drove around, turned and charged into the side of Amnesia, sending Amnesia spinning into the air towards the red corner. Another succession of drum blows allowed Patchwork to rip one of Amnesia's wedgelets off, although it momentarily clipped one of the wall spikes as it tried to drive away from the corner.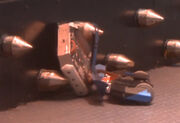 With another head-on slam, Patchwork tore off Amnesia's remaining wedgelet, before lunging, pursuing and charging into the black and blue machine again. This time, Patchwork threw itself upwards, landing on its side as Amnesia was sent recoiling towards the wall spikes. Patchwork dropped back onto its wheels, and hopped forwards as Amnesia tried to push it back. Gyro-dancing towards the center of the arena, it grazed Amnesia's flipper again, and threw itself over again as Amnesia tried to push it sideways. Patchwork gyro-danced over the top of Amensia as it maneuvered towards the wall spikes once again. However, it was collected by Amnesia, which proceeded to push, wedge and flip Patchwork against the spikes. Patchwork's drum churned away at the top spike as Team Knock Together tried unsuccessfully to free it; soon, Patchwork was counted out, and lost the battle to Amnesia via knockout.
Results
Wins/Losses
Series Record
Outside King of Bots
Under the name Iron Scrap, at least four versions of Patchwork have competed in live events across China, each achieving significant success in featherweight competitions. In 2017, the original version won the second Fighting My Bots 15kg championship, defeating Panther in the final round.[5] Iron Scrap 2 would follow on from this by finishing third at the 2018 FMB World Cup final[6], while Iron Scrap 2S and Iron Scrap 3 itself both reached the final round of the inaugural FMB World Cup All-Stars championship later that year. In the latter, Iron Scrap 2S emerged victorious, emulating the original robot's 2017 title victory.[7]
Team Knock Together also competed in Clash Bots with Soul Reaper, a four-wheel drive robot armed with interchangeable horizontal or vertical bar spinners.
References