Raging Moustache, alternatively Raging Mustache, was a robot from Turkey which competed in Season 1.5, the debut season of This is Fighting Robots. One celebrity took an immediate liking to the machine and selected it for his team, but Raging Moustache was subsequently destroyed by Zen Oh, and withdrew from the competition, having burst into flames.
Design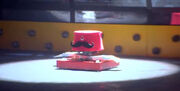 Raging Moustache uses a design popularized by robots such as the American competitor Icewave, featuring a low-profile wedge leading into a large horizontal bar spinner, which covers the entire surface area of the machine. A large fez bearing a moustache is positioned above the robot's bar spinner. Raging Moustache is driven by four wheels, which are exposed above the machine, but are protected by the bar spinner.
Robot History
This is Fighting Robots (Season 1.5)
Having not initially been selected by any of the celebrity team captains, Raging Moustache competed in a preliminary four-way melee to impress the celebrities and secure a place in the main competition. There, it fought three fellow spinners, Firefox, Stealth and Zen Oh.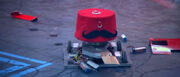 As the fight started and Raging Moustache was getting its weapon up to speed, the robot immediately appealed to Sa Beining, who chose the robot for his team. Seconds later, however, Raging Moustache was hit by Zen Oh and all of Raging Moustache's armor flew off, with many of its internals also hanging loose, immobilizing Raging Moustache for the rest of the fight. Curiously, Raging Moustache's weapon still functioned, but it was mainly ignored for the remainder of the fight, which it had successfully qualified from.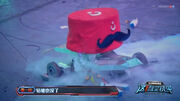 However, after the battle had concluded, Raging Moustache burst into flames after the battle, to the dismay of Beining.Raging Moustache's team admitted that they would be unable to fix their robot in time for the next round, and forfeited from the competition. As a result, Sa Beining was forced to pick another eliminated robot to replace it, choosing 008 as Raging Moustache's replacement.
Results
RAGING MOUSTACHE - RESULTS
This is Fighting Robots (Season 1.5)
Main Championship

Preliminary Rumble
vs. Firefox, Stealth, Zen Oh
Selected
NOTE: After being selected by a celebrity, Raging Moustache then withdrew from the competition due to irreparable damage
Series Record
Trivia
Across all of the preliminary rumbles, Raging Moustache was chosen by a celebrity in the quickest time.
Raging Moustache was also the only robot to withdraw from the competition after being chosen by a celebrity.