Raving Luna-Tic (alternately spelt as Ravin Lunatic and originally known as Luna-Tic Mk2 during construction[2]) was a British featherweight robot built by Team Luna which competed in the 2018 UK King of Bots International Championships. Built as a successor to the team's original version of Luna-Tic, it enjoyed limited success in the main competition, being eliminated in the qualification rounds after finishing second to Take Cover, Blunt Force Trauma Remix and Cobalt respectively. In addition to the main UK International Championships, Raving Luna-Tic also fought in the Gladiator battle and a whiteboard match against Luna-Tic itself, but lost both times.
Design
"Basically Luna-Tic mk2, with lessons directly taken from the FRA International Championships 2017. Raving Luna-Tic was quickly drawn out, with improvements across the board. More power to the drive and better armour and protection form [sic] devastating spinning weapons."
— Official Team Luna website[3]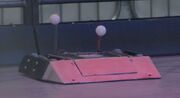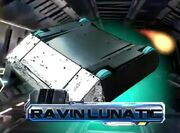 As with its predecessor, Raving Luna-Tic was a four-wheel drive, box-shaped robot with an electric rear-hinged lifter, albeit with angled sides, the absence of interchangeable weapon configurations and a sleeker and more compact profile. The robot's lifter (referred to as a 'flipper' on its statistics card) operated using a linear actuator, and had a lower lip sitting flush within its front wedge, in order to prevent it from being damaged easily by spinning weapons. Raving Luna-Tic's construction consisted of a HDPE center bulkhead with a 6mm HARDOX wedge and 3mm HARDOX sides plasma-cut by John Findlay[4], as well as a 2mm aluminium top panel. An optional 5mm HDPE top panel was also made, in order to offer Raving Luna-Tic greater protection against opponents armed with axe weapons.[5] Drive power came from a pair of Propdrive 5060 motors, which sent power to all four wheels through chain drive on each side.[6] Raving Luna-Tic was painted black with a light grey wedge and lifter lip, and featured a pair of flexible antennae attached to the rear. Decals of the robot's logo and one of Team Luna's mascots, 'Vince'[7], were also present on the lifter's top panel.
Robot History
King of Bots UK 2018
Raving Luna-Tic first fought in the inaugural qualification round of the 2018 UK International Championships, where it faced axlebot The Claw and translational drift spinner Take Cover. Immediately, it drove straight underneath Take Cover and into the bottom-right hand corner, where it turned round and withstood a blow from Take Cover's hammers. With The Claw suffering from mobility issues, Raving Luna-Tic continued its assault on Take Cover, deflecting Gareth Barnaby's machine towards the closed pit. Raving Luna-Tic drove to the far side of the arena, before scooping and pushing Take Cover into the wall. It retreated to press the pit release button, and weathered another hit from Take Cover as it drove towards the center of the arena. All three competitors briefly converged as Raving Luna-Tic tried to push and deflect Take Cover towards the pit, but without success; Raving Luna-Tic pursued and pushed Take Cover a few more times, before briefly nudging a now-immobile The Claw.
Raving Luna-Tic resumed its attacks on Take Cover, driving into and absorbing two more hits from the Bristol machine. Another hit sent Raving Luna-Tic spinning and dislodged its top cover; Raving Luna-Tic recovered by reversing, turning and driving towards Take Cover again, but swerved away from Take Cover to line itself up for another charge. Raving Luna-Tic launched Take Cover into the air with two successive rams; however, on the second ram, Take Cover landed on its lifter, ripping off Raving Luna-Tic's top panel in the process. Raving Luna-Tic responded by driving into Take Cover again, causing both competitors to recoil. This charge immobilized Raving Luna-Tic instantly, awarding Take Cover a knockout victory. However, as The Claw had been immobilized earlier, Raving Luna-Tic finished the battle in second place, scoring its first two points of the competition.
Next, Raving Luna-Tic fought the vertical spinner of Blunt Force Trauma Remix and the Irish entry Barróg. In the opening seconds, it drove towards and attempted to attack Blunt Force Trauma Remix, momentarily succeeding in driving underneath the Suvv Industries machine. Raving Luna-Tic darted towards and swerved past Barróg, before driving towards and sustaining a side-on hit from Blunt Force Trauma Remix's disc. Undeterred, Raving Luna-Tic drove around and pushed Blunt Force Trauma Remix into the wall, before reversing and making its way towards the other side of the arena. Raving Luna-Tic approached Blunt Force Trauma Remix once more, only to reverse into Barróg and over the flame jet. Seconds later, it charged head-on into Blunt Force Trauma Remix again, only to spin and expose its right-hand side to Blunt Force Trauma Remix's flywheel.
The resulting impact dislodged one of Raving Luna-Tic's drive chains, leaving it immobile on one side as it sustained another attack from Blunt Force Trauma Remix. Raving Luna-Tic weaved across the arena on its remaining drive wheels, but kept out of the reach of its opponents before Barróg pushed Blunt Force Trauma Remix over its wedge. Raving Luna-Tic dodged another high-speed ram from Barróg, resulting in Barróg accidentally driving itself into the pit; however, it was quickly approached by Blunt Force Trauma Remix, which proceeded to throw Raving Luna-Tic five meters across[3] and out of the arena with its flywheel. As Barróg had touched the bottom of the pit first, Raving Luna-Tic again finished second, scoring two more points, although the out of the arena flip had also resulted in Blunt Force Trauma Remix becoming immobilized.[3]
For its third and final qualification round, Raving Luna-Tic was drawn against the crusher of Cobalt and Tim Rackley's vertical spinner Furious George. Initially, it shuffled back and forth from its starting position, before briefly charging underneath Cobalt and attempting to simultaneously lift and push it into the pit. However, as it continued to maneuver around the arena, Raving Luna-Tic's left-hand drive chain broke and fell out, leaving the robot vulnerable as it was pushed into the wall by Cobalt. Raving Luna-Tic initially escaped as Cobalt took a hit from a charging Furious George, only to be thrown backwards when it took blow from Furious George's spinner itself. Raving Luna-Tic crept forwards towards the pit, and continued to dodge its opponents as Cobalt eventually pushed Furious George up against the wall.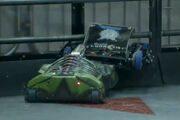 From there, Raving Luna-Tic was grabbed and pushed into the left-hand wall by Cobalt, where it was propped up against the gap between the lower wall and the railings. Cobalt simultaneously lifted and crushed the rear of Raving Luna-Tic, before leaving the Team Luna machine stranded for a dominant knockout victory. Once again, Raving Luna-Tic finished second, scoring two points for an overall score of six points. This was enough for it to finish joint twenty-eighth overall by the end of the qualification rounds, although this was not enough for Raving Luna-Tic to progress any further in the 2018 UK International Championships.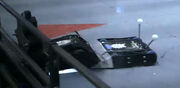 In addition to the main championship, Raving Luna-Tic fought in two side events held on the final day of the event. Firstly, it took part in a whiteboard battle against its predecessor, Luna-Tic, which was driven by Chris Sowry's daughter, Felicity. Initially, Raving Luna-Tic drove towards and around the side of Luna-Tic, struggling to get underneath Luna-Tic before reversing at high speed into it. Raving Luna-Tic retreated towards the corner, only to drive underneath and attempt to lift Luna-Tic, albeit without success. This allowed Luna-Tic to slowly push Raving Luna-Tic sideways across the arena; Raving Luna-Tic broke free and briefly rammed the front of Luna-Tic, only to be pushed again into the wall by its predecessor.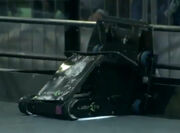 The collision with the wall caused one of Raving Luna-Tic's drive chains to break; the chain trailed behind and fell out completely as Luna-Tic pushed Raving Luna-Tic across the arena again. Raving Luna-Tic struggled to move forwards as its other drive chain came loose, and stopped completely before reversing away from Luna-Tic. In doing so, Raving Luna-Tic accidentally drove over its discarded chain and got stuck, raising its lifter before being nudged and bumped backwards by Luna-Tic. These bumps freed Raving Luna-Tic, although it was not able to move freely enough to avoid being pushed into the corner by Luna-Tic. Slowly, Luna-Tic turned Raving Luna-Tic over against the wall; Raving Luna-Tic landed upside-down on its antennae and was unable to self-right, forcing it and Chris Sowry to concede victory to Luna-Tic and Felicity Sowry.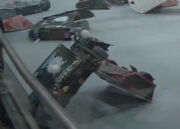 Both Raving Luna-Tic and Luna-Tic fought together again in the Gladiator, an eighteen-way melee held immediately before the final of the main 2018 UK International Championships. There, they competed alongside Crabsolutely Clawful, Take Cover, Impact, Aegis, Barróg, Meow, Orpheus, Neon, Mini ACE, BANE, Binky, The Claw, DB12, Hedgebot, Sabre20 and Satanix. Raving Luna-Tic began by attempting to push Luna-Tic, Crabsolutely Clawful and Impact together, only to be rammed by Aegis. Reversing, it promptly turned and rammed Satanix, before reversing again into Orpheus. Maneuvering to the other side of the arena, Raving Luna-Tic proceeded to bump Mini ACE, before being pushed into the wall by Satanix; the force of the latter's ram momentarily lifted Raving Luna-Tic onto its side. Within a matter of seconds, Raving Luna-Tic was pushed into the corner and the open pit by Satanix, resulting in its elimination from the Gladiator battle at an early stage; the battle itself would ultimately be won by Aegis.
"Lessons have been learnt and Raving is not done. It will under go another massive re-build to strengthen its drive train making it more reable [sic] and hopefully we can show off its very powerful drive motors."
— Official Team Luna website[3]
Results
RAVING LUNA-TIC - RESULTS
King of Bots UK 2018 (Insomnia 63)
Main Championship
Qualification Rounds
Rumble
vs. The Claw, Take Cover
Lost (2 Points)
Rumble
vs. Blunt Force Trauma Remix, Barróg
Lost (2 points)
Rumble
vs. Cobalt, Furious George
Lost (2 points)
Whiteboard Battles

Whiteboard
vs. Luna-Tic
Lost
Gladiator

Gladiator
vs. Crabsolutely Clawful, Take Cover, Impact, Aegis, Barróg, Meow, Orpheus, Neon, Mini ACE, BANE, Binky, The Claw, DB12, Hedgebot, Sabre20, Satanix, Luna-Tic
Lost



Wins/Losses
Outside King of Bots
Raving Luna-Tic initially made its combat debut at the 2018 Robots Live! event in Grantham, in order to test its drive systems ahead of its UK International Championship run. However, the robot's axles bent frequently, causing it to get stuck on the arena floor and prompting Team Luna to make improvements thereafter.[3] As of 2019, Raving Luna-Tic is currently in bits awaiting a another rebuild. However, it did make an appearance at January's Robodojo event, showing off further improvements. Including a new front-hinged flipper with a mechanism designed by Team Immersion[8], and proceeded to finish fourth overall in the main competition.[9] Raving Luna-Tic also competed at the Robodojo event in March, but lost all but one of its fights.
For more information on other robots built by Team Luna, see Luna-Tic.
References
External Links