Red Hot Tilly Pecker is a British featherweight robot which competed in the 2018 King of Bots UK International Championships. Entered by Team Tilly, it had a difficult run in the qualification rounds, finishing second in its first two battles to Binky and Neon after sustaining considerable damage from their respective spinners. A third second-place finish – against Sabre20 – followed, with Red Hot Tilly Pecker losing one of its wheels and becoming immobilized following an attack by the Team Legion machine. With this, it was eliminated from the 2018 UK International Championships, having not scored enough points to reach the Top 20.
Design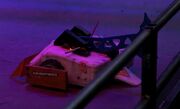 Red Hot Tilly Pecker is a white, two-wheel drive robot with a predominantly HDPE-based construction[1], armed with an electric-driven axe. The axe, painted light blue, was made out of HARDOX 500, and incorporated a head featuring both spiked and bladed tips at either end. At the front of the robot, Red Hot Tilly Pecker had a range of interchangeable front ends, including a set of large ramming spikes and two angled wedges, one of which bore the Union Jack. Depending on which wedge configuration it used, the robot also incorporated a pair of side panels protecting its wheels, although their effectiveness in combat varied.
Robot History
King of Bots UK 2018
Red Hot Tilly Pecker's first match was against Blunt Force Trauma Remix, and Binky. This match started off with all three bots leaving their starting positions. However almost immediately Blunt Force Trauma Remix emitted a puff of smoke, and stopped moving entirely.
Red Hot Tilly Pecker then started shoving Binky around as it was struggling to get up to speed. Red Hot Tilly Pecker then pressed the pit release, and delivered a flurry of axe blows to Binky, but the axe stopped working after this exchange, and backed away where it got itself stuck on Blunt Force Trauma Remix, and was immobilized giving Binky the win by KO, and 4 points, while leaving Tilly with 2.
Results
Wins/Losses
Series Record
| Series | Red Hot Tilly Pecker Series Record |
| --- | --- |
| Season 1 | Did not enter |
| Season 1.5 | Did not enter |
| Season 2 | Entered with Red Hot Tilly Pecker |
Outside King of Bots
Red Hot Tilly Pecker was initially built by Sam Price as one version of his featherweight, Hatchet, which initially debuted at live events in 2015 under Price's ownership. Price sold Hatchet to Team Tilly in 2017, who overhauled the robot and opened a naming competition on Facebook to decide its new identity.[2] Of the suggestions received, Red Hot Tilly Pecker emerged as the winning name.[3]
Red Hot Tilly Pecker first debuted under its new name at the 2018 Mechatrons event, winning all three of its battles; at the same event, Shane Lale also drove Iron-Awe 5 and Iron-Awe 6 to first and second in the heavyweight tournament, with permission from Gilbert Grimm.[4] Immediately prior to its King of Bots run, Red Hot Tilly Pecker also competed in the 2018 Fighting My Bots World Cup, in Shanghai, China, where it achieved a 3-2 win-loss record in its group.[5] Red Hot Tilly Pecker would later compete at the 2018 Robodojo Autumn Featherweight Championship, where it competed in the Sportsman division[6], earning a destructive win over The Tragic Roundabout but otherwise losing its battles.
Red Hot Tilly Pecker competed in the FRA UK Featherweight Championship 2019, under the controls of Sophie Clarkson. It enjoyed a reasonable amount of success in its Heat, finishing in third place out of six by defeating Frycook, and Venator 3 on a split decision, despite losing to Telekinesis, Galaga and Captain Jack Spinnah. This put Red Hot Tilly Pecker through to a three-way melee for a place in the Top 16, but it was immobilized by Drumroll and was eliminated at this stage.
References
External Links