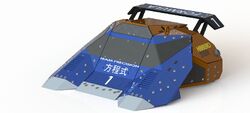 This article/section of article contains SPOILERS about the current season of King of Bots/This is Fighting Robots. If you're unaffected by potential spoilers, then continue to read the article. Otherwise, this article/section of article should not be read before watching the relevant episodes.
"I've wanted to build this robot for years. It's a beast."
— Ellis Ware
Sandstorm was a heavyweight robot which competed in Season 1.5, the debut of This is Fighting Robots. It was built by Team Ranglebots, captained by Ellis Ware, who previously entered Season 1 of King of Bots with Great White.
Design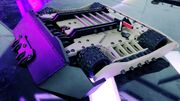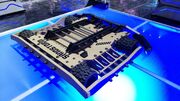 Sandstorm is a scaled-up version of Ellis Ware's featherweight Tormenta, using an invertible design driven by four wheels. Sandstorm's weapon is a lifting wedge, which fires forwards to turn robots over, and also allow the robot to self-right. Sandstorm boasts great pushing power and maneuverability, with a high top speed of 24mph, made possible through its brushless drive system, and is protected around all sides by thick HARDOX armor.
Robot History
This is Fighting Robots (Season 1.5)
Sandstorm is confirmed to be competing in Season 1.5.
Results
SANDSTORM - RESULTS
This is Fighting Robots (Season 1.5)
Main Championship

Round 1
vs. Unknown
Unknown
Wins/Losses
Series Record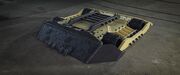 Outside King of Bots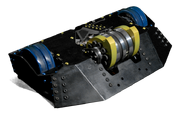 Ellis Ware had previously competed in Robot Wars, during the show's eighth, ninth and tenth seasons. He debuted in Series 8 with Pulsar. This initially lost in the first round after taking a heavy blow to the rear, but following the forfeit of Chompalot, Pulsar was reinstated, and defeated Beast and Ironside3 in the second round, to reach the Heat Final, defeating Gabriel on a Judges' decision. Pulsar qualified for the Grand Final, but broke down in battle with TR2 and Thor. In Series 9, Pulsar qualified through its group battle by immobilizing Apex, after Crushtacean had already been immobilized by Ironside3. Another battle between Pulsar and Ironside3 was this time declared to have no winner, but Pulsar qualified for the Heat Final by defeating Supernova and Wyrm. In the Heat Final itself, a limping Pulsar quickly fell to Ironside3.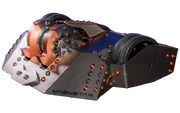 In Series 10, Ellis Ware entered with Magnetar, and quickly won its group battle over Hobgoblin and Push to Exit. Magnetar defeated Expulsion and Thor in succession to win its heat, but lost the group battle of its Grand Final to Eruption after encountering difficulties with its self-righting mechanism. Magnetar was eliminated when it was flipped over by Behemoth, despite immobilizing half of its opponent's drive. In Robot Wars: Battle of the Stars, Ellis Ware also mentored Paralympian Kadeena Cox with her robot Kadeena Machina ultimately winning the second episode with four consecutive wins.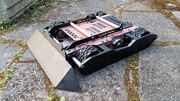 Ellis Ware had previously competed with a variety of robots in lower weight classes. A series of featherweights named Tormenta have competed worldwide, later inspiring the design of Sandstorm, with Tormenta 3 most recently placing sixth in the 2015 World Featherweight Championship. Newton is a very successful beetleweight, twice placing second in a major championship. Ware also collaborated with Team Legion to compete with Rango and Django, the latter placing second in the 2016 World Featherweight Championship, losing to Explosion in the final.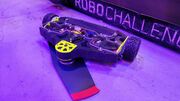 Leading up to the FRA Featherweight World Championship in 2017, Ellis Ware made use of his spare components, intended for use in heavyweight robots, to build the featherweight Neon in just two days. Featuring a powerful undercutting bar spinner and a top speed of 26mph, Neon finished ninth out of fifty robots at the championship. Neon would later compete in King of Bots as Remora, alongside Great White.
External Links
Trivia
Community content is available under
CC-BY-SA
unless otherwise noted.