Satanix is a British featherweight robot built by Team Hell, which appeared at the 2018 King of Bots UK International Championships. Although it was not able to enter the main competition due to a lack of active weapon, it took part in a variety of side events, including two whiteboard battles and the eighteen-way Gladiator melee. Despite performing strongly in each of its battles, Satanix would not achieve victory in any of them.
Team Hell also attended the 2018 UK International Championships with Hell's Angel, which competed in the main competition under the captaincy of David Weston.
Satanix is an invertible, two-wheel drive robot with a black and red color scheme. While not incorporating an active weapon, its design included a pair of hinged front wedges and sets of top-mounted ramming spikes at either end. These were used in tandem with Satanix's powerful drive system to push and ram opponents at high speeds, often with sufficient force to flip them if they were rammed against the arena walls.
SATANIX - RESULTS
King of Bots UK 2018 (Insomnia 63)
Whiteboard Battles

Whiteboard
vs. Broadax 2, The Mighty Unicorn, Strix, Meow, Crabsolutely Clawful, Enigma
Lost
Whiteboard
vs. The Claw, Impact, Elevate, X-303, Mini ACE, Forge Master, BANE
Lost
NOTE: Although the winner of Satanix's second whiteboard was not announced, it was eliminated from the battle after getting stuck on the wall.
Gladiator

Gladiator
vs. Crabsolutely Clawful, Take Cover, Impact, Aegis, Barróg, Meow, Orpheus, Neon, Mini ACE, BANE, Binky, The Claw, Hedgebot, Sabre20, DB12, Luna-Tic, Raving Luna-Tic
Lost
Wins/Losses
Edit
Outside King of Bots
Edit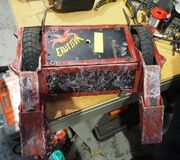 After its appearance at the King of Bots UK Championship, Satanix would later perform well at the Robodojo Autumn Featherweight Championship, collecting two dominant victories in its first two Full Combat fights. Satanix also competed at Robodojo in July 2019 in the sportsman division, gathering three wins over Crota, Parasite and Stabby McUnicornface, but drove out of the arena against Midas, and in the subsequent third place rumble.
Satanix competed in the main bracket at the FRA UK Featherweight Championship in August 2019, with success. It escaped its Heat in second place, most notably defeating Binky. In the Top 16, Satanix won its next fight against Get Shrekt and then earned a victory over Push-Abili-Tilly in the quarter-finals. However, Satanix was not able to be repaired in time for its semi-final match, and forfeited its place in the competition back to Push-Abili-Tilly.
Community content is available under
CC-BY-SA
unless otherwise noted.