This article's name is a rough translation from Chinese, and the team have yet to specify the robot's official name. As such, the article's title may not be entirely accurate.
海狼 (Romanized as hǎi láng and translated as Sea Wolf) entered into Season 1 by Team Old Captain. Their robot was defeated by Residual Wind in the first round.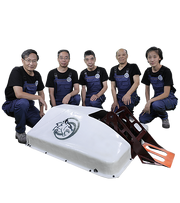 The robot was an unusual, angled barrel shaped white robot, armored in vulnerably plastic. Sea Wolf was notable for its locomotion, using Mecanum wheels which allowed the robot to move in any direction without turning the shell of the robot. The robot was armed with a rear-hinged four-bar lifting arm, painted dark brown and orange, which was capable of turning other robots over, but did not function as a self-righting mechanism. The robot had two logos on both side of the body armour of its Sea Wolf logo printed.
Robot History
Edit
In the first round, Sea Wold faced off against Residual Wind. The opening seconds of the battle saw Residual Wind spinning its bar up to speed, while Sea Wolf aimlessly spun around next to its starting square. Residual Wind's first contact did little to trouble Sea Wolf, barely scratching its lifting arm. However, Residual Wind slashed into Sea Wolf shortly after, when the hard-to-control style of Sea Wolf saw it expose itself.
Residual Wind's drone then got involved with a use of its flamethrower. Residual Wind itself then came in, and once again ripped into Sea Wolf's armour. After a minor attack to the side of Sea Wolf, Residual Wind came in with a big hit that shattered the back-left corner of Sea Wolf. This attack left Sea Wolf struggling for movement, which allowed Residual Wind to close in with another attack, and one which left Sea Wolf immobilised. Sea Wolf was counted out, and Residual Wind progressed to the next round, while Team Old Captain mourned for their robot in an emotional finish to the episode.
Wins/Losses
Edit
Series Record
Edit
Sea Wolf was the first robot to use Mecanum locomotion on a televised robotic combat show since Sweeney Todd in Robot Wars, two years prior. Blue also used a Mecanum drive system in the same series.
External Links
Edit
Community content is available under
CC-BY-SA
unless otherwise noted.