Spike Head was a heavyweight robot which represented Brazil in Season 1.5, the debut of This is Fighting Robots, although it lost in the first round after falling over when it attacked Greedy Snake.
Spike Head used a very wide design, supported by a shovel-like wedge, and was armed with a central lifting mechanism. The robot was quick, driven by two exposed wheels, and the back end of the robot was decorated with vertical spikes. However, while the robot could self-right if its wheels made contact with the floor, the removal of this contact left Spike Head unable to self-right.
Robot History
Edit
This is Fighting Robots (Season 1.5)
Edit
After not being selected by the celebrities to advance straight to the bracket, Spike Head fought in the second rumble of the series, in order to impress the celebrity captains. There, it fought Cat King, Greedy Snake, and Whirlwind.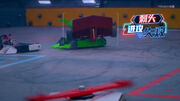 In its first attack, Spike Head rammed into Greedy Snake, but briefly fell over. It quickly righted itself, as its wheels were still in contact with the floor. However, after Greedy Snake released its grip on Cat King, Spike Head drove into Greedy Snake and threw itself over, landing on its back. One of the celebrities credited Greedy Snake for this attack, and added it to their team. The Brazilian machine could not self-right, and was deemed immobile, leaving Spike Head as the first victim of the battle. It was eliminated at this stage alongside Whirlwind, with only Greedy Snake progressing.
Series Record
Edit
Spike Head was the only Brazilian representative in This is Fighting Robots, with Big Carioca later appearing in King of Bots II.
Community content is available under
CC-BY-SA
unless otherwise noted.