"We are peaceful Russians - we are here with a deadly robot!"
— Alan Gubiev
Stingray (also spelt as StingRay and on the Weber Robotics website as Stingrey) was a competitor robot built by Weber Robotics, which competed in the first season of King of Bots. Named after the group of venomous rays, it appeared in the very first battle of the show's history alongside American full-body spinner Megabyte, which it lost via knockout. For Season 1.5, Weber Robotics instead entered with a new build, Weber.
Stingray was an invertible, two-wheel drive robot armed with a drum-type spinner powered by an 800W motor. The robot was Weber Robotics' first attempt at building a drum spinner, and featured two 650W motors for its drivetrain. Stingray's chassis and armour consisted of an internal aluminium frame, protected by a 6mm HARDOX steel cover. Its colour scheme is neon yellow with red flames on the top and side armor, a red drum and black 'S' logos on either side of the drum mount.
Robot History
Edit
King of Bots (Season 1)
Edit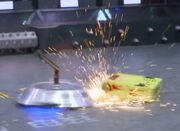 Debuting in Episode 1, Stingray fought in the very first battle of King of Bots, against seasoned American entrant Megabyte. It briefly hesitated as the battle began, only to drive straight towards and past a spinning Megabyte. Charging straight into Megabyte, Stingray was deflected and sent spinning away; the impact left it immobile on one side and driving in circles over the flame jets. After having flown across the arena on recoil, Megabyte approached Stingray and ripped its drum weapon out with a second hit. Stingray spun around helplessly near the grinders, and had one of its side panels torn off by Megabyte shortly before being counted out. With this, it lost to Megabyte via knockout, and was eliminated from the first season.
STINGRAY - RESULTS
King of Bots (Season 1)
Main Championship
First Round
Round 1
vs. Megabyte
Lost
Wins/Losses
Edit
Series Record
Edit
Outside King of Bots
Edit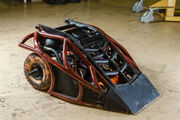 Prior to competing in King of Bots, Weber Robotics participated in several live events in domestic Russia, such as Bronebots, with a variety of robots and with considerable success. These have included:
Dolf I, a top-mounted bar spinner which won the Championship of Armored Light 2015.
Piramida, a pyramid-shaped robot with a unique shock pneumatic weapon system.
Dolf II, the team's first flipper robot, which finished third at the Battle of Armorbot 2016.
Rake, an invertible robot with a 360-degree lifter.
Weber, a pneumatic flipper with an exposed skeleton, which was rebuilt to enter This is Fighting Robots.
Stingray's debut on King of Bots aired just one day after Weber Robotics' televised debut on Robot Wars was aired in the United Kingdom.
External Links
Edit
Community content is available under
CC-BY-SA
unless otherwise noted.