Straddle 2 is a British featherweight robot which competed in the 2018 King of Bots UK International Championships. Entered by Bedfordshire-based Team Monsoon (also known as Team Tauron), it reached the Top 20 of the main competition after winning all three of its qualification rounds, notably tearing Neon open and achieving double knockouts against Cobalt and Tempest, which both resulted in Straddle 2 winning via a Judges' decision. In the Knockout Round, Straddle 2 lost to fellow vertical spinner Get Shrekt after having one of its wheels shredded and getting thrown onto the side rails, relegating it to one of the Losers' Melees. Straddle 2 lost the Melee to Orpheus after getting immobilized on one side, leading to its elimination from the 2018 UK International Championships.
In addition to the main competition, Straddle 2 fought in a Tag Team battle – paired with Vega – and the 'Battle of the Shuntposters' whiteboard battle, both of which it lost.
Design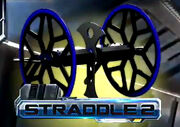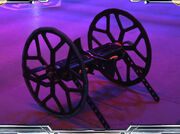 Straddle 2 is a large, two-wheeled axlebot with a full brushless drive system[1] and a set of interchangeable asymmetrical vertical bar spinners of differing lengths.[2] The spinners, mounted in the center of the robot's chassis, are modelled on the weapon used by the team's BattleBots competitor Monsoon, and enabled Straddle 2 to cause severe damage to opponents whenever it drove directly over them. Straddle 2's wheels and rear stabilisers were designed to flex whenever the robot was knocked onto its sides, although the spoked design of the wheels themselves often lead to them getting damaged easily by other high-powered spinners.
Results
Wins/Losses
Outside King of Bots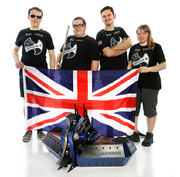 For more information on Tom Brewster's excursions aside from Straddle 2, see the Tauron article on the Robot Wars Wiki and the Monsoon article on the Battlebots Wiki.
References
External Links