Strix was a featherweight robot from Blairgowrie, Scotland, which competed in the 2018 King of Bots UK International Championships. Entered by Venator Robotics, it had limited success in the main competition, initially finishing second in its first two qualification battles to Amnesia and Shrapnel after suffering recurring issues with its flipper. While being prepared for its third qualifier – against Straddle 2 and Tempest – Strix's transmitter malfunctioned, resulting in it forfeiting the battle and scoring no further points.[1] As a result, it was eliminated from the 2018 UK International Championships at the qualification stage.
In addition to the main competition, Strix also entered one whiteboard battle, but suffered further technical issues while being prepared. As a result, it withdrew from the whiteboard, and was removed from the arena before the battle was due to begin. Strix also competed in one Tag Team battle, partnered with Impact, which both lost to Cobalt and Pendulum.
Strix's name is derived from the bird of ill omen in classical mythology.[2]
Design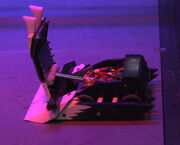 Strix was a dark blue and white robot with a box-wedge shape and a four-wheel drive system. Its weapon was an electric front-hinged flipper, operated by a fast-acting linear actuator, although this proved unreliable during the robot's appearances at the 2018 UK International Championships. Strix's construction utilized a variety of materials for its chassis, armor and weapon, including HDPE and HARDOX of varying thicknesses.[3][4]
Results
STRIX - RESULTS
King of Bots UK 2018 (Insomnia 63)
Main Championsip
Qualification Rounds
Rumble
vs. Amnesia, Elevate
Lost (2 points)
Rumble
vs. Calabash Bros, Shrapnel
Lost (2 points)
Rumble
vs. Straddle 2, Tempest
Forfeited (0 points)
NOTE: Strix forfeited its battle against Straddle 2 and Tempest due to transmitter issues.
Whiteboard Battles

Whiteboard
vs. Satanix, Broadax 2, The Mighty Unicorn, Meow, Crabsolutely Clawful, Enigma
Withdrew
NOTE: Strix withdrew from its whiteboard battle after encountering technical issues while being prepared in the arena.
Tag Team
Partnered with Impact
Tag Team
vs. Cobalt & Pendulum, The Claw & Hedgebot, Conker 3 & Forge Master
Lost
Wins/Losses
NOTE: Strix's withdrawal from its whiteboard battle is not considered to be a loss.
References
External Links