Switch was a robot from the United Kingdom which competed in Season 1.5, the debut of This is Fighting Robots. It was built by Kevin Cleasby, who competed in the previous series as part of Alan Young's Vulcan team.
Design
Little is currently known about Switch's design, although it is a low box-shaped robot with a four-wheel drive system, a predominantly yellow and black color scheme and a large axe as its weapon. The robot also features two small front wedges to enable it to get underneath opponents.
Robot History
This is Fighting Robots (Season 1.5)
Switch was not selected by any celebrities during their initial selection process, requiring Switch to compete in a four-way rumble.
Results
SWITCH - RESULTS
This is Fighting Robots (Season 1.5)
Main Championship

Rumble
vs. Unknown
Unknown
Series Record
Outside King of Bots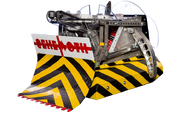 Kevin Cleasby is a member of Team Make Robotics, who had competed in the UK TV show Robot Wars with Behemoth since the second series. Cleasby himself first appeared as a team member in the eighth series, filmed and broadcast in 2016. In Series 8, Behemoth qualified over Bonk and The General to advance to the second round, where it defeated Nuts and Terrorhurtz in sequence, but lost a destructive battle to Carbide. This still gave Behemoth enough points to qualify for the Heat Final, but Behemoth lost to Carbide once again here.
Behemoth returned for Series 9 and advanced over Cobra and Hobgoblin in its Group Battle, but lost its second battle to Eruption. Behemoth started to redeem this by defeating PP3D, but after applying an experimental new weapon, Behemoth controversially lost its final battle of the series to Cherub.
Behemoth competed in Series 10 and won a narrow Judges' decision over Sabretooth and Donald Thump in the first round, and defeated The Swarm in the second round, to reach the Heat Final against former champion Apollo. Here, Behemoth pulled off a surprise win to enter its first Grand Final, although it was pitted in battle with Carbide and Nuts 2. Behemoth flipped Magnetar to win its Redemption Round, but was finally stopped by Eruption in the semi-final of the competition, resigning Behemoth to third place.
Trivia
Kevin Cleasby captaining his own team in Season 1.5 was one of three examples of a team separating into two halves, alongside Ellis Ware leaving the Great White team to compete with Sandstorm, and Bradley Warren Hanstad leaving the Megabyte team to compete with Chronos.
External Links
Community content is available under
CC-BY-SA
unless otherwise noted.