We're Getting Mutants in the MCU - The Loop
Play Sound
Telekinesis (also known as Telekinesis 1.5) was a British featherweight robot which competed in the 2018 King of Bots UK International Championships. Built and entered by Andy Russell of Team ARD, it reached the Top 20 stage of the competition after earning a knockout win and two second-place finishes in the qualification rounds. However, Telekinesis was later forced to withdraw from the 2018 UK International Championships, with its place in the Knockout Round subsequently being taken by Orpheus.
Andy Russell also entered the Tag Team competition during the same event, with his eggbeater spinner Pendulum.
Design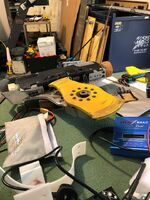 Telekinesis is an invertible, two-wheel drive robot armed with a set of interchangeable horizontal undercutting spinners. The spinners include a two-toothed flywheel, a two-toothed curved bar spinner and an asymmetrical bar spinner; of these, only the two-toothed and asymmetrical bars were used in the 2018 UK International Championships. Statistics for Telekinesis' spinners include a weight of 2.5kg and a tip speed of 250mph. Telekinesis itself featured a watercut and CNC-machined aluminium and HARDOX construction[1], sported a black and yellow color scheme, and had a top speed of 15mph according to its statistics card.
A few days prior to the event, Andy Russell produced a 2mm HDPE baseplate for Telekinesis after discovering that the robot was one kilo overweight. Before its first battle, this baseplate was fitted to the robot in place of its original 3mm HARDOX one, and parts of its HARDOX armor removed, in order to reduce Telekinesis' weight without compromising on armor or weapons.[2][3]
Robot History
King of Bots UK 2018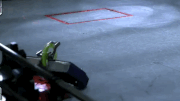 In the qualification rounds, Telekinesis first fought Little Devil, a featherweight version of This is Fighting Robots third-place finisher Xiake, and Nigel Barrage. Equipped with its curved bar spinner, it shuffled across the arena in the opening seconds, getting its weapon up to speed, and briefly approached Little Devil before spinning and clipping the Chinese machine's side. Seconds later, Telekinesis spun round again and hit an approaching Nigel Barrage, ripping one of the latter's HDPE front panels. Telekinesis proceeded to pursue both of its opponents, churning away at the side of Little Devil before driving spinner-first under Nigel Barrage. Sparks flew as Telekinesis' spinner hit the side wall; Telekinesis immediately reversed and slammed into Nigel Barrage again, throwing James Davies' machine over and ripping one of its wheels off.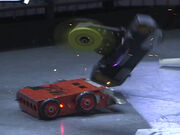 With Nigel Barrage now immobilized, Telekinesis clipped the side of Little Devil again, before the Team Xiake robot pushed it into the far wall. Telekinesis was thrown upwards as its bar spinner made contact with the wall, but landed upright, and immediately chased Little Devil across the arena once more. It hit the wall once again, causing more sparks to fly, and proceeded to dodge Little Devil a few times before the Chinese drum spinner pushed it across the arena. In the process, Telekinesis recoiled as its spinner hit Little Devil's drum, sparks flying as it was thrown into the air and landed spinner-first on the floor. The two competitors circled each other for a few seconds, before exchanging a few more blows to each other's sides and weapons. Telekinesis landed another blow which buckled Little Devil's front wedge and sent both robots recoiling; however, its bar spinner suddenly stopped working, leaving Telekinesis weaponless as it bumped Little Devil, drove around the arena and pressed the pit release button. Little Devil rammed Telekinesis, only to be left spinning near the wall and immobilized as a result of getting stuck on a loose nut. As a result, Little Devil was counted out; Telekinesis spun round in victory as it received its first knockout victory and four points.
Next, Telekinesis fought another horizontal spinner in Tempest, as well as seasoned UK flipper Beauty 2. Andy Russell expressed concerns beforehand about fighting Tempest, recognizing that the bar spinner of Matthew Pearman's machine had a larger reach than Telekinesis' own. As a result, Russell and Pearman agreed to team up and eliminate Beauty 2 together, to ensure that both of the horizontal spinners would be able to qualify for later rounds.[4]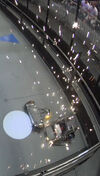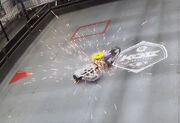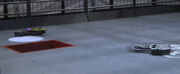 Immediately, Telekinesis dodged a rapidly-approaching Beauty 2, before turning and hitting the latter's side numerous times. Both robots were flipped over as a result of these attacks, with Telekinesis hitting the right-hand side of Beauty 2 as it self-righted on the top of its bar spinner. Telekinesis briefly clipped the side of Tempest as it drove away, seconds before the Team Slam machine immobilized Beauty 2. With its spinner now too high to reach Tempest, Telekinesis proceeded to drive into its remaining opponent numerous times, causing both robots to recoil across the arena. In doing so, Telekinesis sustained damage to one of its wheel hubs and front belt guard, the former resulting in it limping across the arena as it lingered around the far side of the arena for some time. Both robots declined to attack any further for a few moments; by that point, Russell realized that Telekinesis had lost drive on one side. As a result, Telekinesis slowed its spinner down and deliberately stopped moving beside the pit, with Russell tapping out in order to avoid risking any further damage to the robot.[4] Telekinesis was duly counted out, finishing the battle second to Tempest and scoring two more points.
Samantha France: "…you had a bit of a Mexican stand-off towards the end there, and it looked like, to me, you didn't want to damage each other. Is that correct?"
Andy Russell: "So, the issue is… 'cause [Tempest's] weapon sticks out further, so he's always gonna hit me before I hit him. And, so it took a few hits… I knew if he'd hit me again, it would've hit the weapon and just ruined it, so I thought, you know, pretty much lost this, so…"
— Andy Russell explains the tentative end to Telekinesis' second qualifier
In its third and final qualification battle, Telekinesis faced drum spinner Elevate and axebot Nelly the Ellybot. Prior to entering the arena, the robot was fitted with its asymmetrical spinner, had its wheelguards removed and the HDPE base swapped for its original HARDOX one, in order to offer better protection against Nelly the Ellybot's axe.[5] A points score in this battle would potentially enable Telekinesis to be in contention for a place in the Top 20; by the time the battle started, its score of six points had been enough for it to stand in 24th place overall.
Upon the battle starting, Telekinesis darted towards Elevate, before turning in either direction and striking both Elevate and Nelly the Ellybot within seconds of each other. These blows ripped one of Nelly the Ellybot's wheelguards off and immobilized Elevate, guaranteeing Telekinesis a higher points score. However, Telekinesis also sustained damage to its left wheel from Elevate's drum, which locked the wheel up and left the robot immobile on one side. Telekinesis weaved across the arena as Elevate was counted out, delivering more hits to the front of Nelly the Ellybot as the purple machine approached and deflected it away. The two remaining competitors eventually met each other again at the far side of the arena; Telekinesis dodged Nelly the Ellybot's axe before landing more blows on the latter's wedge and causing its left wheel to buckle.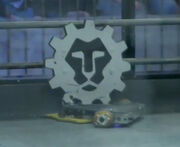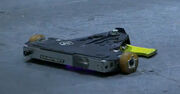 Telekinesis weaved its way along the arena perimeter, only to be sent recoiling after landing two more successive blows on the front of Nelly the Ellybot. It manoeuvred off the red triangle to attack Nelly the Ellybot again, ripping the other wheelguard off Sarah Maylan's machine before sending it spinning away. After this, Telekinesis' spinner stopped working, forcing it to press the pit release button. Smoke poured from Telekinesis as it suddenly paused on the floor, then weaved across towards Nelly the Ellybot again. Telekinesis dodged an axe blow from Nelly the Ellybot, and declined to attack its opponent further as it made its way back to the red triangle. There, more smoke poured from Telekinesis as it became fully immobilized, with the Team ARD machine being counted out and eliminated by knockout as a result. Telekinesis finished the battle second to Nelly the Ellybot, scoring two more points and bringing its final score up to eight points.
Telekinesis' score was enough for it to secure a place in the Top 20 of the competition, and a guaranteed place in the subsequent Knockout Round. There, it was due to face Little Devil for a second time. However, Telekinesis withdrew from the battle before it was due to start, and was quickly replaced by Orpheus. With this, it was eliminated from the 2018 UK International Championships following a short, yet destructive run.
Results
Wins/Losses
NOTE: Telekinesis' withdrawal from its battle against Little Devil is not considered to be a loss.
Outside King of Bots
Andy Russell has competed in featherweight and antweight classes for several years, with a variety of robots of different types. His first featherweight, Push and Shove – a simple four-wheel drive ramming robot – once finished second in a UK featherweight championship and won a similar tournament run by Robots Live![6] Andy Russell also created Ion, a beetleweight armed with a spinning drum with the weapon motor housed inside, as well as a successor, Ion 2. Andy Russell's next featherweight was Pendulum - see the Pendulum article for more information.
Built in 2017, Telekinesis initially appeared at the Extreme Robots events in Manchester and Guildford, where its drive and weapon systems were tested for the first time. Sporting a predominantly silver color scheme, it subsequently made its combat debut at that year's FRA Featherweight International Championships, held during Insomnia 61. There, Telekinesis enjoyed limited success, being eliminated at the qualification stage in the main competition before subsequently finishing fourth in the annihilator.[7] Russell's experiences at Insomnia 61 would allow him to refine Telekinesis' design further ahead of its King of Bots appearance.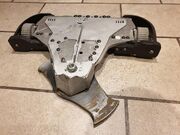 A repainted silver Telekinesis competed at the Robodojo Autumn Featherweight Championship in November 2018. It lost its first battle after driving onto the lip of the pit, and collected a win by default over X-303, but ultimately withdrew due to a lack of spare wheels. Telekinesis returned for the January 2019 event, and lost its first two fights, driving into the pit and then losing its removable link in each fight; however, Telekinesis redeemed this by causing significant damage to Get Shrekt, forcing it to retire from the event, and also defeated P.I.P. to earn fifth place in the full combat class. At the March 2019 event, Telekinesis suffered an early loss to Plastic Fantastic, but collected three straight wins against Binky, Vega and Raving Luna-Tic to qualify for the third place play-off, losing to Graffiti there as its spinner was not working. Telekinesis had an unfortunate run at Robodojo in July 2019, suffering defeats to Sawcerer, X-303 and Get Shrekt.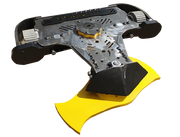 For the UK Featherweight Championship in 2019, Andy Russell built a third version of Telekinesis, sporting a new yellow blade. Although it earned destructive victories over Frycook and Red Hot Tilly Pecker, it was forced to withdraw from battles against Captain Jack Spinnah and Galaga, and was resigned to fourth place in its group after losing to Venator 3. Nevertheless, Telekinesis competed in the Annihilator where it achieved third place.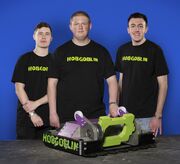 In addition to helping Adam Hamilton with creating commission-based featherweight robots, Russell also entered Series 10 of Robot Wars as part of Team Hobgoblin, a team captained by Harry Hills. Competing with their titular eggbeater spinner Hobgoblin, the team had limited success in Series 10, being eliminated in the first round of their heat after Hobgoblin lost its Group Battle and Redemption Round to Magnetar and Coyote respectively. Andy Russell would also join Team Immersion for their This is Fighting Robots campaign with Bonfire.
References
External Links