The Claw was a British featherweight robot built by Team Chukka (referred to on-screen as Team Crunch) which competed in the 2018 King of Bots UK International Championships. Captained by Georgina Henwood, it suffered recurring mobility issues throughout its qualification rounds, resulting in it finishing third to Take Cover and Neon, and second to Amnesia. The Claw was eliminated from the main 2018 UK International Championships as a result, having not scored enough points to progress to later rounds.
In addition to the main competition, The Claw also fought in two whiteboard battles, achieving one victory over Hedgebot on a Judges' decision. Alongside Hedgebot, it also competed in one Tag Team battle and the eighteen-way Gladiator melee, which both robots lost.
Design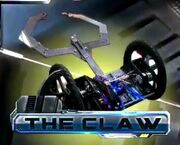 The Claw was a large, two-wheeled axlebot with a white and dark gray color scheme, armed with a set of horizontal grabbing claws. Each of the robot's wheels featured sets of intersecting semi-circular plates, with the intention of preventing it from being side-stranded.
Robot History
King of Bots UK 2018
The Claw's first match was against Raving Luna-Tic, and Take Cover. The match started very poorly for it as it was suffering mobility issues right from the start. In the meantime Raving Luna-Tic slammed Take Cover around the arena, before opening the pit.
The Claw then hobbled over to the center of the arena where it was attacked by Take Cover. The Claw then stopped moving, and was counted out, and lost its first match by knockout alongside Raving Luna-Tic which was eventually immobilized by Take Cover.
Results
THE CLAW - RESULTS
King of Bots UK 2018 (Insomnia 63)
Main Championship
Qualification Rounds
Rumble
vs. Raving Luna-Tic, Take Cover
Lost (1 point)
Rumble
vs. Neon, Red Hot Tilly Pecker
Lost (1 point)
Rumble
vs. Amnesia, Hedgebot
Lost (2 points)
Tag Team
Partnered with Hedgebot
Tag Team
vs. Cobalt & Pendulum, Strix & Impact, Conker 3 & Forge Master
Lost
Gladiator

Gladiator
vs. Crabsolutely Clawful, Take Cover, Impact, Satanix, Aegis, Barróg, Meow, Orpheus, Neon, Mini ACE, BANE, Binky, Hedgebot, Sabre20, DB12, Luna-Tic, Raving Luna-Tic
Lost
Whiteboard Battles

Whiteboard
vs. Hedgebot
Won
Whiteboard
vs. Satanix, Impact, Elevate, X-303, Mini ACE, Forge Master, BANE
Lost
NOTE: While the winner of The Claw's second whiteboard was not announced, it is presumed to have been eliminated after getting one of its wheels forced through the wall by Satanix.
Wins/Losses
Trivia
Although not present for King of Bots, builder Georgina Henwood was a member of the Suspension team at one point.