The third episode of This is Fighting Robots aired on April 27th, 2018. It opened the main competition, allowing robots to earn points for their celebrity teams for the first time.
Competing robots
Edit
Before each battle, a celebrity would choose a robot to enter a battle, and the remaining three celebrities could accept the challenge and select a robot to counter their choices, or choose to abstain from the battle. Each battle would have one winner, which would be decided by knockout or a Judges' decision, which would present one point to the victorious celebrity team.
Eater vs Fango vs Hunting Wind vs Shrederator Tiger Claw
Edit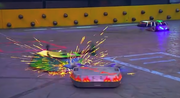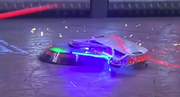 This battle was the first where the floor flippers and flame jets were activated, controlled by Blue team captain Zhang Yishan and Red team captain Wu Chun respectively. Immediately, Hunting Wind darted towards the main part of Eater, but missed and drove straight into one of the grinders. Capitalizing on the green machine's mistake, Eater proceeded to hit the side of Hunting Wind, the impact knocking the latter into a spin. Meanwhile, Shrederator Tiger Claw inched back and forth while trying to spin up, momentarily allowing Eater's multibot to harry it. The American shell spinner eventually attacked Hunting Wind, and initially pursued it as Eater and Fango hit each other with their spinning weapons. Shederator Tiger Claw proceeded to hit Eater twice, seconds before the British machine began attacking Fango's legs. While this happened, Hunting Wind lost mobility during its attempt to evade Shrederator Tiger Claw, although it was not yet deemed to have been eliminated.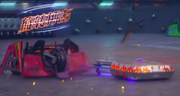 Shederator Tiger Claw and Eater continued to attack Fango and each other while Hunting Wind regained mobility – one powerful blow from Shrederator Tiger Claw sent Eater spinning across the arena into the wall spikes on the far side. Hunting Wind proceeded to drive into one of Eater's spinners, deflecting its opponent into Shrederator Tiger Claw and causing Eater to lose one of its weapon belts. Moments later, Shrederator Tiger Claw hit Hunting Wind again, this time ripping a chunk of its front armor out and leaving it immobile on one side – the attack awed an already impressed Sa Beining. Moments later, the main part of Eater surrounded Fango, proceeding to rip one of the Australian robot's claws off with its remaining bar spinner. As the main part of Eater survived another attack from Shrederator Tiger Claw, the smaller part got underneath and pushed Fango around in circles. However, it inadvertently drove forwards onto one of the floor flippers, which Zhang Yishan activated to toss the multibot into the nearby wall spikes.
Meanwhile, Shrederator Tiger Claw attacked the main part of Eater several more times, breaking the latter's remaining weapon belt in the process. It proceeded to push, damage and deflect the main part of Eater away, leaving it immobilized, before twice slamming into the smaller part, ripping one of its wheels off with the second hit. These attacks eliminated Eater as a whole, although the main robot would occasionally regain mobility later on. Shrederator Tiger Claw proceeded to make a charge at the partially immobile Hunting Wind – however, Zhang Yishan activated the other floor flipper as it drove over it. This threw Shrederator Tiger Claw into one of the grinder mounts, the impact causing it to ricochet into Hunting Wind and tear the latter's front and top armor open. The attack left Hunting Wind completely immobilized, resulting in its elimination via knockout. Shrederator Tiger Claw spent the remainder of the battle hitting Fango several more times, causing extensive damage to the shufflebot's legs, although both machines still survived to a Judges' decision. The decision went in favor of Shrederator Tiger Claw, earning it and Sa Beining the first point.
"I think Shrederator should fight every fight. The first is just the beginning…"
— Brian Nave on Shrederator Tiger Claw's debut victory
Unseen on the broadcast edit, Shrederator Tiger Claw pushed Fango around the arena for the final thirty seconds, as a result of its weapon motors burning out.
"Ps: thank goodness they edited out the ~ 30 seconds of us pushing things around because we lost spin. Burnt out 4 long mags in two days :) expensive..."
— Team LOGICOM on Reddit[1]
Winner: Shrederator Tiger Claw
ORBY Blade vs Saber II vs Tánshè
Edit
After Sa Beining issued the challenge by selecting Saber II, Zhang Yishan elected not to take part in the rumble, meaning that only three robots entered the arena; Saber II, ORBY Blade, and Tánshè. Sa Beining posed with the Exalibur team, wielding their sword to represent Saber II.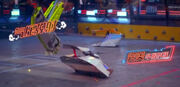 At the start of the battle, ORBY Blade attempted to accelerate its spinning bar, although it was chased down by Saber II and Tánshè. In the process, Tánshè drove under Saber II, and ORBY Blade made weapon contact with Saber II, making Saber II fire its flipper at thin air. ORBY Blade charged up its weapon, and struck the side of Tánshè, but caused little damage and deflected into the ground, where ORBY Blade's weapon threw sparks. However, the weapon survived, and reached top speed while Tánshè and Saber II evaded it, the latter still slowly retracting its flipper after another mistimed flip. ORBY Blade closed in on the wedge of Tánshè, but this contact threw ORBY Blade into the air, causing to lose part of its decorative armor upon landing.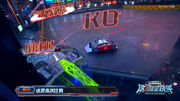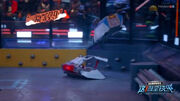 This hit left ORBY Blade vulnerable, and Tánshè swept under it to take ORBY Blade to the corner of the arena, and threw it over the wall, instantly defeating it. Tánshè then caught a reversing Saber II, and pushed it along the wall while underneath its wedge. Saber II broke free, but could not flee from the quicker Tánshè machine, which pressured Saber II towards the opposite corner of the arena. Tánshè lunged Saber II into the air, and it landed on the wall in the corner of the arena for a second immediate knockout, to the celebrations of Team Legion.
"That was just for you!"
— Gabriel Stroud to Zheng Shuang
Winner: Tánshè
Greedy Snake vs Mr Hippo vs Lieutenant Bam vs Tungsten
Edit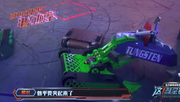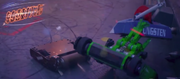 Tungsten and Mr Hippo immediately drove into each other, before the former bumped into one of the grinders. Eventually, Greedy Snake got underneath and pushed Tungsten into the wall spikes, clamping and attempting to lift the British spinner with its weapon. In doing so, it lifted its rear wheels off and turned, momentarily letting go of Tungsten. Tungsten swung its axe as this happened, but was pushed into Mr Hippo and the wall spikes by Greedy Snake, which finally succeeded in grasping and lifting Tungsten off the floor. Lieutenant Bam, meanwhile, slammed into the spikes while attempting to attack its opponents; Mr Hippo reversed and turned round, jostling Greedy Snake onto the spikes. This caused Greedy Snake to lose its grip on Tungsten and be left stranded on the spikes themselves, where it was quickly eliminated via knockout.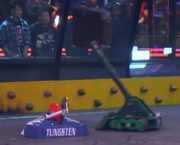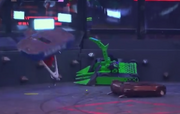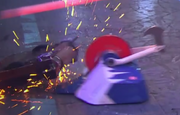 Mr Hippo bumped into Lieutenant Bam in the background; the former sustained an attack from Lieutenant Bam before Tungsten catapulted it across the arena perimeter. Despite hitting one of the nearby control area screens, Mr Hippo survived this blow, and proceeded to throw Tungsten into the wall spikes with a powerful blow. Tungsten self-righted using its axe; moments later, it responded to Mr Hippo's attack by inflicting several more hits to the Chinese machine's drum. By this stage, Mr Hippo had been completely immobilized, allowing Lieutenant Bam to drive in and repeatedly hammer its top armor with its spiked club. In the main episode, Lieutenant Bam's attacks were cited as the cause of Mr Hippo's elimination.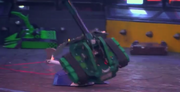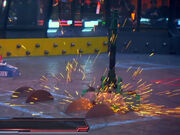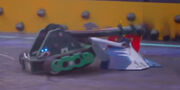 The two UK machines continued to exchange attacks for the remainder of the battle; Lieutenant Bam approached and slammed its arm on top of Tungsten, only to drive up Tungsten's front and be carried over by the latter's flywheel. Lieutenant Bam landed upright as Tungsten hopped and turned into the flame jets. Tungsten's flywheel stopped rotating by this point, while Lieutenant Bam momentarily drove head-on into the circular saws. Lieutenant Bam then proceeded to drive into Tungsten again, which began smoking and was momentarily left stationary, and hit it several more times with its arm until time ran out. The resulting Judges' decision ruled in favor of Lieutenant Bam, giving it and a delighted Sa Beining one point to the Yellow team.
"Tungsten did all the damage – this big army tank was still moving and didn't have any damage, so he won the fight."
— Megabyte's John Mladenik on Lieutenant Bam's victory
Winner: Lieutenant Bam
Golden Hoops vs Megabyte vs Saturn
Edit
Following on from his victory with Lieutenant Bam, Beining again issued the challenge to his rival captains, and immediately selected Golden Hoops despite prior comments about its alleged ineffectiveness. Wu Chun of the Red team elected not to take part in the battle, leaving Beining, Zhang Yishan and Zheng Shaung's robots to fight alone. Prior to the battle starting, Beining – carrying a large pole painted to resemble Golden Hoops – discussed with his robot's team about their chances of victory against Megabyte. He proceeded to interact with a few audience members, briefly giving and allowing them to lift the pole in unison.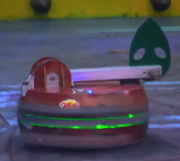 In the opening moments, all three robots hesitated to attack each other as they got their spinning weapons up to speed. This was until Saturn charged straight into Megabyte, ripping one of the latter's blades off.[2] The collision also launched both robots into the air, sending them flying into the grinders on opposite sides of the arena. Saturn bounced and spun around uncontrollably before coming to rest beside one of the floor flippers – although both of its weapons remained functional, a wire came loose inside Saturn, rendering it immobile and resulting in it being eliminated via knockout.[3]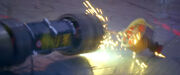 Moments later, Megabyte maneuvered across the arena and into a spinning Golden Hoops, sending the Chinese machine flying into a nearby grinder. Flexing, Golden Hoops continued spinning, only for one of its hammers and motor modules to break free. With part of its electronics severed, Golden Hoops bounced and spun uncontrollably towards the wall spikes, allowing Megabyte to drive into it and throw it upwards once again. This attack was sufficient to immobilize Golden Hoops completely, and for Megabyte to emerge victorious.
Winner: Megabyte
008 vs Cat King vs Red River Hong vs Weber
Edit
"He picked us, yeah, it was a good choice!"
— Alan Gubiev of the Weber team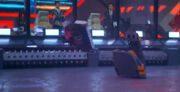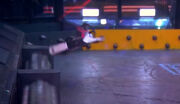 008 did not initially leave its starting zone, spinning up its blade. Weber was more active, and drove straight under Cat King, launching it straight into the air. Upon landing, Cat King bounced off its own spinner, rebounding into a Grinder. Cat King was inverted, and attempted to drive into the Grinders voluntarily to put the robot back on its wheels, but it had lost the use of its spinner, and could not self-right, despite performing a full somersault at one stage. Outside of the televised edit, Cat King was finally able to self-right in this manner.
Meanwhile, Weber chased Red River Hong across the arena, but failed to catch it, and drove over a floor flipper which threw Weber over. Weber self-righted powerfully, but as 008 closed in on the Russian machine, Weber threw itself over. In its attempts to self-right, Weber threw itself against the spiked wall. Red River Hong then charged into 008 for a weapon-to-weapon contact, generating many sparks. Cat King threw Weber over, while 008 and Red River Hong crashed into each other's weapons once again, ripping armor from both machines.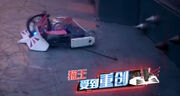 Red River Hong had started smoking, but it still smashed into 008, ripping another armor panel from it. In another attack edited out of the televised broadcast, 008 struck the back end of Cat King, ripping a drive belt from it. This rendered Cat King immobile on one side, albeit not immobile officially. Red River Hong drove over the flame jets, while Weber started struggling for movement. Red River Hong carried a small fire across the arena, while 008 was suspended by the ramrods, with Cat King also slightly lifted. This fire prompted Red River Hong to drive into the arena wall twice.
From this precarious position, Red River Hong then drifted across the arena to slam into Weber. At this stage, 008 was not moving freely, and Weber burnt over the flame jets. With twenty seconds remaining in the battle, Red River Hong started to pull ahead in spite of emitting smoke, as it slammed into Cat King. However, Red River Hong made a critical error, as it drove up the wedge of Weber, and was flipped directly onto its side, while Weber also punched itself into the air.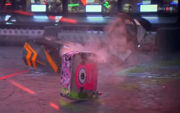 Completely balanced, Red River Hong became the only robot to be rendered officially immobile, despite all three active robots struggling for movement. Moving only on one wheel, Weber drove under 008, which had lost the use of its spinner, to flip it up, while Red River Hong emitted more smoke. The three robots with limited movement were sent to an adjudication, and Weber was declared to have won the battle.
"Zhang Yishan selecting us was very wise, and we're really happy"
— Alan Gubiev
Winner: Weber
Blue vs Bonfire vs Griffin Mk II vs Ninja
Edit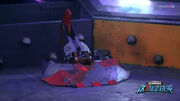 As the only celebrity not to score a point thus far, Wu Chun was cheered on by his other team members. Prior to the battle, Team Immersion realized that the weapon arm of their machine Bonfire was not working, and were given the option to withdraw from the battle, but competed nevertheless.
Wu Chun: "What's wrong with the machine?"
Adam Hamilton: "Well... we went to test the weapon, and just a little wire popped out."
Wu Chun: "If you don't fight, we can still do it tomorrow."
Adam Hamilton: "We'll stay in."
Wu Chun: "Alright, go for it!"
— Wu Chun cheers on the handicapped Bonfire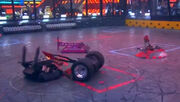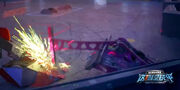 The battle began, and Griffin Mk II immediately challenged Blue, while Ninja fought Bonfire. Blue missed its attack on Griffin Mk II, but struck Ninja with its axe, then swung at the arm of Bonfire. Griffin Mk II then pushed Bonfire into the arena saws sideways, then gripped its weapon, but this brought Griffin Mk II's wheels from the floor, allowing it to be dragged by Bonfire, and Ninja landed an overhead hit on Griffin Mk II, following this up with a lighter blow. Edited out of the main battle, Bonfire was able to separately slam Blue and Griffin Mk II into the arena wall for a large impact[4]. Blue swung its axe and hit the side of Bonfire's inactive weapon, although Bonfire briefly found its way under Blue. Bonfire edged Blue into the corner of the arena, but sustained a direct blow to its wedge from Blue's hammer.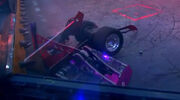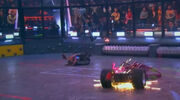 Blue then landed two direct blows onto the top of Bonfire, but on the third swing, Blue flipped itself over. Although Blue quickly self-righted, Griffin Mk II abandoned its private battle with Ninja to slam into the back of Bonfire. At this stage, Bonfire had become immobile as a result of its speed controller failing, shorting out the entire robot[5]. Nevertheless, Blue continued to pound the top of Bonfire, denting its weaponry, also forcing Ninja to attack Bonfire in the same fashion, despite Team Immersion conceding the immobility of their machine. Blue also struck the wedge of Ninja, but was pushed back by the wedge of Ninja.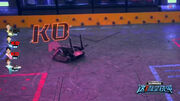 Griffin Mk II came in to hold Blue in place, and Ninja landed an overhead hit on Blue. Ninja and Griffin Mk II collaborated to push Blue back, but this resulted in Griffin Mk II moving under the arena hammer, which slammed onto the top of Griffin Mk II, which drove free, but seconds later, stopped moving and was rendered immobile. With only Ninja and Blue active, both robots attempted to strike each other from above, but largely missed.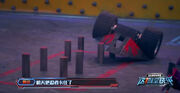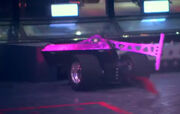 After narrowly missing an attack on Ninja, Blue turned itself over when retracting its weapon. Ninja pushed Blue back, managing to prevent it from self-righting, but became stuck on the ramrods. The momentum of Ninja's push sent Blue sliding back, where it could freely self-right. Ninja continued to pin Blue against the wall, and Blue missed with its retaliating strikes. In the final ten seconds of the battle, Ninja drove under Blue, which climbed even further up the body of Ninja by swinging its weapon, but Ninja pushed Blue towards the Grinder, before the battle concluded.
A very close battle was sent to a Judges' decision, although the winner out of Blue and Ninja was not declared until the beginning of Episode 4. There, Blue was revealed to have won the decision.
Winner: Blue
This was the second episode to show a battle, and not reveal the outcome until the following episode.
References
Edit
Community content is available under
CC-BY-SA
unless otherwise noted.