Utopia is a British featherweight robot which competed in the 2018 King of Bots UK International Championships. Entered by Gareth Anstee, it endured a mixed run during the main competition, initially picking up a knockout victory in its first qualification round over Barróg, which touched the bottom of the pit first when both robots fell in together. From that point onwards, Utopia incurred two further losses, finishing second and third in its remaining qualifiers and scoring enough points to qualify for the 8 Way Melee. However, it lost the latter to Barróg, and was initially eliminated at the qualification stage as a result.
Following the withdrawal of Tempest, Utopia was reinstated to take the latter's place in the knockout round. There, it suffered a swift loss at the hands of Chinese entry Calabash Bros, relegating it to one of the Losers' Melees, and was finally eliminated from the 2018 UK International Championships when it lost the Melee to DB12.
A newer build of Utopia was also intended to compete in a number of whiteboard battles throughout the 2018 UK International Championships, after initially not being able to enter the main competition. However, it would not be seen in combat throughout the event.[1]
Utopia was a two-wheel drive robot with a slanted box-shaped profile and an 'exoskeleton'-based design. Its main weapon was a pneumatic rear-hinged flipper at the front, initially painted red, black and blue, which was mounted far forwards and had angled sides to deflect spinners. The robot's chassis was primarily painted black with red, white and blue markings, with the top panels being coloured light grey.
The version of Utopia seen in the 2018 UK International Championships was initially built for the 2017 FRA Championships, in conjunction with Andy Russell and Adam Hamilton. Originally, Team. Ablaze planned to enter the main championship with a completely new build of the robot, which also featured a taller design and a revised flipper. This version would not be finished in time to compete in the main competition, resulting in Team. Ablaze entering the 2017 version with the new version's flipper and different armor.[1]
Robot History
Edit
King of Bots UK 2018
Edit
Utopia's first match was against Barróg, and Bane. This match started off well for Utopia, as it pressed the pit from the start, Barróg went after Bane, immobilizing it almost immediately. However Utopia quickly gained the upper hand, and started shoving it around. More back, and fourth took place before Barróg, pitted both it, and Utopia, as Barróg touched the bottom of the pit first, Utopia won the match with the full 4 points.
UTOPIA - RESULTS
King of Bots UK 2018 (Insomnia 63)
Main Championship
Quarter-Finals
Rumble
vs. BANE, Barróg
Won via knockout (4 points)
Rumble
vs. Furious George, Meow
Lost (2 points)
Rumble
vs. Crabsolutely Clawful, Get Shrekt
Lost (1 point)
8 Way Melee
vs. Calabash Bros, Barróg, Blunt Force Trauma Remix, Naughty Snake, Cobalt, Orpheus, Neon
Lost
NOTE: Utopia was reinstated for the knockout round, taking the place of Tempest.
Knockout
vs. Calabash Bros
Lost
Losers' Melee
vs. Saber-X, Hell's Angel, Furious George, DB12
Lost
Wins/Losses
Edit
Series Record
Edit
Outside King of Bots
Edit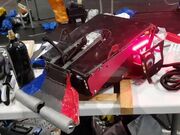 Utopia was initially created as a scaled-down version of Gareth Anstee's heavyweight Dystopia, before a new design was created in collaboration with Andy Russell for the 2017 FRA Featherweight International Championships. This version used an intentionally basic open-plan design to inspire new builders, as well as a front-mounted pneumatic flipper with a wide front plate, and was built by Anstee with welding assisted by Adam Hamilton. In this form, Utopia enjoyed a long undefeated run in the 2017 Championships before suffering a gas leak, ultimately finishing fourth overall after being defeated by 722 in the semi-final, and Amnesia in the play-off.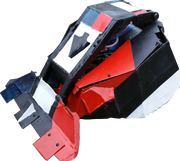 Gareth Anstee also enjoyed considerable success with his other robots on the UK live circuit, including his heavyweight Dystopia. Armed with a full-pressure pneumatic flipper, Dystopia was initially converted from a former heavyweight champion Ripper, before being fully rebuilt by Anstee. In this form, it reached the Quarter-Finals of the 2016 Heavyweight FRA UK Championships before losing to Manta, and was subsequently eliminated in the losers' melee by Nuts and Gabriel. In July 2017, Team. Ablaze officially announced on Facebook that a new version of Dystopia was being worked on, featuring comprehensive 'all-round upgrades' and interchangeable weapons.[2] The original version of Dystopia was fully retired in 2018.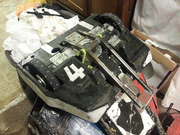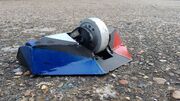 In addition to Utopia, Anstee also competes in featherweight events with Defector, which is armed with a longer and narrower flipper, and finished fourth at the 2014 FRA UK Championships. He has also competed in antweight events with DystopiAnt and DefectAnt, miniature replicas of Dystopia and Defector built by Alex Shakespeare. DystopiAnt won the Ant Freeze 4 event in January 2017, with DefectAnt finishing fourth at the same event.[3] One week after Utopia's fourth place finish in the featherweight division, Team. Ablaze competed at the European Beetleweight Championship with R.P.M., a past success which had been re-branded under the team uniform. Armed with a vertical spinner, R.P.M. finished fifth, when it was knocked out by the eventual champion.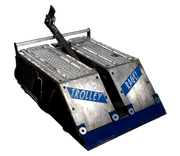 Gareth Anstee competed on Robot Wars as part of his university's team, the Greenwich Greats. They competed with Trolley Rage, a robot equipped with an axe, which was initially built by Professor Simeon Keates, before being overhauled by Gareth Anstee. However, Trolley Rage was moved from its intended opening melee, and substituted for a withdrawal, placing Trolley Rage against the reigning champion Carbide, alongside Crackers 'n' Smash and Meggamouse. After a powerful blow from Carbide, Trolley Rage was immobilised, and it lost in the first round.
The University then gave a list of requirements and a budget to build a new robot to try and make a competitive entry that still inspired new engineers. After some initial designs and component selection by Gareth Anstee, he then worked with Adam Hamilton to produce the final design of General d'Meaner, which Anstee built over the two weeks leading up to its debut. General d'Meaner's design is based on a "Terrier" combat engineer vehicle; the robot features a 18hp drive system, a top speed of 20mph, and a low-pressure pneumatic flipper and grabbing arm as weapons. The completed General d'Meaner made its debut at the University of Greenwich Extreme Robots event in late September 2017, where it was used as a house robot for the final round of a schools' featherweight competition. General d'Meaner also fought in three battles at Extreme Robots in Maidstone, where despite some initial teething problems causing it to be plagued by issues with its weaponry - it managed to win its first fight in a 5 way melee against other experienced competitors.
References
Edit
↑ https://www.facebook.com/AblazeCombatRobotics/photos/a.1092123777488957.1073741828.1091968234171178/1592725690762094/?type=3&theater