We're Getting Mutants in the MCU - The Loop
Play Sound
Utopia is a British featherweight robot which competed in the 2018 King of Bots UK International Championships. Entered by Gareth Anstee, it endured a mixed run during the main competition, initially picking up a knockout victory in its first qualification round over Barróg, which touched the bottom of the pit first when both robots fell in together. From that point onwards, Utopia incurred two further losses, finishing second and third in its remaining qualifiers and scoring enough points to qualify for the 8 Way Melee. However, it lost the latter to Barróg, and was initially eliminated at the qualification stage as a result.
Following the withdrawal of Tempest, Utopia was reinstated to take the latter's place in the Knockout Round. There, it suffered a swift loss at the hands of Chinese entry Calabash Bros, relegating it to one of the Losers' Melees, and was finally eliminated from the 2018 UK International Championships when it lost the Melee to DB12.
A newer build of Utopia was also intended to compete in a number of whiteboard battles throughout the 2018 UK International Championships, after initially not being able to enter the main competition. However, it would not be seen in combat throughout the event.[1]
Design
Utopia was a two-wheel drive robot with a slanted box-shaped profile and an 'exoskeleton'-based design. Its main weapon was a pneumatic rear-hinged flipper at the front, initially painted red, black and blue, which was mounted far forwards and had angled sides to deflect spinners. The robot's chassis was primarily painted black with red, white and blue markings, with the top panels being coloured light grey.
The version of Utopia seen in the 2018 UK International Championships was initially built for the 2017 FRA Championships, in conjunction with Andy Russell and Adam Hamilton. Originally, Team. Ablaze planned to enter the main championship with a completely new build of the robot, which also featured a taller design and a revised flipper. This version would not be finished in time to compete in the main competition, resulting in Team. Ablaze entering the 2017 version with the new version's flipper and different armor.[1]
Robot History
King of Bots UK 2018
Utopia initially appeared during the opening qualification round, where it fought front-hinged lifter BANE and Irish competitor Barróg in its first melee. Immediately, it darted across the arena and reversed into the pit release button, before driving up the sides of each of its opponents in rapid succession. Eventually, Utopia pushed Barróg around in circles, then into the wall, briefly coming under pressure from BANE as it drove towards the top-right corner. It proceeded to drive under Barróg again after the latter helped BANE get stranded on the wall, and attempted to push it towards the pit. While BANE was being counted out, the two remaining competitors quickly separated; Utopia bumped and pushed Barróg a few more times, at one point driving up the latter's lifter.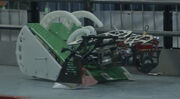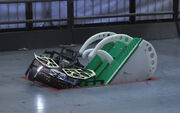 This continued for some time, with Utopia constantly using its flipper to get underneath Barróg's front and sides. Utopia briefly pinned Barróg against the wall, before both robots pushed each other around in circles for a few moments. In the process, Barróg got underneath and pushed Utopia sideways, albeit only momentarily. Utopia again rammed Barróg head-on, briefly flicking Eoin Ó Cionna's machine upwards, only to be shepherded along the wall upon driving up Barróg's lifter again. For several seconds, the two competitors exchanged more bumps and shoves, with Utopia twice getting slammed into the walls by Barróg. Utopia lost parts of its top armor as a result, and was left unable to escape as Barróg seized it in its lifter and claws. Swiftly, Utopia was steered into the pit by Barróg, which also fell in at the same time. The battle therefore went to a Judges' decision, which ruled that Barróg had touched the bottom of the pit first. As a result, Utopia was declared to have won via knockout, scoring its first four points of the competition.
"I first saw this machine compete in Ireland at the beginning of the year – fantastic machine! I really wanted to fight it. It looks so unique, and the way it finished me off there, getting near the pit – it's a very unique machine. It's great to see that kind of thing fighting, and I'm pleased to have fought it, even if I've won or lost…"
— Gareth Anstee praises Barróg during a post-battle interview
In its second battle, Utopia was drawn to face Furious George and Meow. It initially attacked Meow, driving up the latter's front before shuttling across the arena. Utopia drove past Meow and the opening pit, hesitating in the top-left corner. It proceeded to chase Furious George shortly after the latter immobilized Meow, the two robots circling each other in an attempt to avoid each other's weapons. Shortly after, Utopia sustained two successive side-on blows from Furious George, which threw it upwards and send pieces of debris flying everywhere. Undaunted, it pursued Furious George across the arena again, but was thrown into a spin upon making contact with the latter's spinner. Utopia quickly retreated to the far end of the arena, and spent several moments driving around in an attempt to avoid Furious George's weapon. Eventually, it rammed Furious George head-on, receiving another side-on blow as it spun near Meow and the flame jet.
Utopia bumped and briefly steered Furious George into the corner, only to retreat and meander across the arena once more. Slamming into the front of Furious George, it pushed Tim Rackley's machine back towards the pit release button for a few seconds. However, Utopia's flipper made contact with Furious George's spinner, sending Utopia cartwheeling into the bottom-left corner. With its weapon now dangling loose, Utopia rammed Furious George twice more, only to be pushed back towards the pit by Furious George in return. The two competitors pushed each other back and forth for some time, until Utopia hooked itself against the wall behind the blue triangle. This left it vulnerable to two more blows from Furious George, at which point Gareth Anstee decided to tap out of the battle. Utopia finished the battle second to Furious George, picking up two more points for a total of six points.
Samantha France: "How do you feel about how that fight went?"
Gareth Anstee: "Honestly, that's the best it could've gone, given what I'm fighting with… to last that long against [Furious George], it's a good achievement. I'm happy with that. Got two points – it's more than what I would've got if I didn't enter."
— Interview following Utopia's second qualifier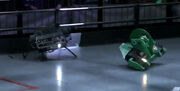 For its third and final qualification round, Utopia faced another powerful vertical spinner in Get Shrekt, as well as Bristol-based grabber Crabsolutely Clawful. By the time it re-entered the arena, the robot's top armor had been replaced, and two large blocks of wood added in order to secure the flipper on its hinges. Straight away, Utopia darted into Crabsolutely Clawful, but was unable to get underneath it or remove its extra attachment. Speeding over the flame jet, it rammed Crabsolutely Clawful a second time, sandwiching the latter between itself and Get Shrekt, and allowing Sam Price's machine to throw Crabsolutely Clawful over. Utopia circled around both of its opponents, before nudging Crabsolutely Clawful again and attempting to push Get Shrekt back over the closed pit. It proceeded to lure Get Shrekt across the arena, only to be flipped over after a few violent blows from Get Shrekt's flywheel. Unable to self-right, Utopia was counted out and eliminated, finishing the battle third and scoring one more point.
With a total score of seven points, Utopia finished joint-twentieth overall at the end of the qualification rounds, securing itself a place in the 8 Way Melee. There, it fought Barróg a second time, alongside Blunt Force Trauma Remix, Calabash Bros, Naughty Snake, Neon and Cobalt, for a chance to earn the final place in the Knockout Round. Initially, Utopia shuffled towards Barróg, dodging a lunge from Neon as it made its way across the arena. Driving past Naughty Snake, which in turn attacked Cobalt, it eventually rammed Calabash Bros by the flame jet, and was spun round upon impact. Utopia next chased Blunt Force Trauma Remix, sliding and bumping into Cobalt as it did so. It spent a few moments shuffling beside the pit, before proceeding to push Naughty Snake into it with assistance from Orpheus. For some time, Utopia maneuvered around in the corner, before getting underneath and pushing Blunt Force Trauma Remix into the pit release button. Another gentle nudge was enough to dislodge one of Blunt Force Trauma Remix's wheels, eliminating the Suvv Industries machine from contention.
Utopia maneuvered its way back to the center of the arena, dicing with Orpheus and Barróg as the remaining machines converged. Seconds later, it was rammed by Barróg, then by Orpheus, but briefly rammed the former in response. With smoke pouring from the top of the robot, Utopia approached Orpheus and Calabash Bros, and was left spinning around in circles for some time. It quickly became evident that Utopia had become immobilized on one side. However, it was still able to nudge Barróg once more before the battle was stopped, in order to allow Orpheus and Calabash Bros to be separated.
As soon as the melee was restarted, Utopia attempted to get underneath the side of Barróg once more, before bumping into and getting pushed back by a badly-damaged Orpheus. It briefly got underneath the back of Calabash Bros, itself suffering from mobility issues, and weaved its way over the flame jet before being assailed by both Barróg and Orpheus. Barróg swiftly got underneath and pinned Utopia against the wall; Utopia was lifted and dragged back and forth by the Irish machine, but escaped, retreating towards the top-left corner. Utopia survived to a Judges' decision alongside Barróg and Orpheus, but lost the melee to the former, initially signalling its elimination from the main competition. Gareth Anstee later explained that one of Utopia's gearboxes had locked up, contributing to its mobility issues in the later stages of the fight. In the pits, Anstee later found that one of the robot's wires had come loose, an issue which was quickly fixed.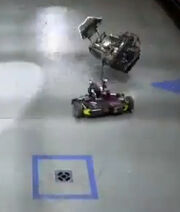 With several robots later withdrawing from the Knockout Round, Utopia was reinstated to take the place of Tempest in the latter round. There, it faced Calabash Bros for the second time, itself taking the place of fellow withdrawal Barghest. In the opening seconds, Utopia weaved its way from the blue triangle, still suffering from the drive issues encountered previously. After initially succeeding in dodging Calabash Bros, it was eventually nudged by the 2018 Wuhan champion, which proceeded to throw Utopia onto its back with a side-on blow. Unable to self-right, Utopia was instantly counted out and eliminated from the battle. During a post-battle interview with Grant Cooper, Gareth Anstee explained that he did not have enough time to fully check Utopia's electronics in the pits beforehand, initially believing the loose wire as the cause of its drive issues.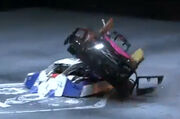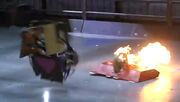 Utopia was therefore relegated to one of the Losers' Melees, where it was drawn against Saber-X, Hell's Angel, Furious George and DB12. With Hell's Angel not being present in the arena, the four remaining robots fought on alone; Utopia spun its way towards the center of the arena in the opening seconds, darting away from an approaching Saber-X before pressing the pit release button. It spent a considerable amount of time avoiding its opponents, and momentarily dodged DB12 as it meandered across the arena. Utopia drove up the front of Saber-X, tipping the 2018 Beijing champion off-balance, and drove away as DB12 closed in on the pair. Several seconds elapsed, before DB12's disc grazed the side of Utopia; Utopia then drove head-on into DB12, only to be thrown into somersaults by the Team Asgard machine's spinner. Sliding on its now-damaged flipper, Utopia came to rest against the side wall, and was quickly counted out. With this, it lost the Losers' Melee and was eliminated from the 2018 UK International Championships; the battle itself was eventually won by DB12.
Results
UTOPIA - RESULTS
King of Bots UK 2018 (Insomnia 63)
Main Championship
Quarter-Finals
Rumble
vs. BANE, Barróg
Won via knockout (4 points)
Rumble
vs. Furious George, Meow
Lost (2 points)
Rumble
vs. Crabsolutely Clawful, Get Shrekt
Lost (1 point)
8 Way Melee
vs. Calabash Bros, Barróg, Blunt Force Trauma Remix, Naughty Snake, Cobalt, Orpheus, Neon
Lost
NOTE: Utopia was reinstated for the Knockout Round, taking the place of Tempest.
Knockout
vs. Calabash Bros
Lost
Losers' Melee
vs. Saber-X, Hell's Angel, Furious George, DB12
Lost
Wins/Losses
Series Record
Outside King of Bots
Utopia was initially created as a scaled-down version of Gareth Anstee's heavyweight Dystopia, before a new design was created in collaboration with Andy Russell for the 2017 FRA Featherweight International Championships. This version used an intentionally basic open-plan design to inspire new builders, as well as a front-mounted pneumatic flipper with a wide front plate, and was built by Anstee with welding assisted by Adam Hamilton. In this form, Utopia enjoyed a long undefeated run in the 2017 Championships before suffering a gas leak, ultimately finishing fourth overall after being defeated by 722 in the semi-final, and Amnesia in the play-off.
Gareth Anstee also enjoyed considerable success with his other robots on the UK live circuit, including his heavyweight Dystopia. Armed with a full-pressure pneumatic flipper, Dystopia was initially converted from a former heavyweight champion Ripper, before being fully rebuilt by Anstee. In this form, it reached the Quarter-Finals of the 2016 Heavyweight FRA UK Championships before losing to Manta, and was subsequently eliminated in the losers' melee by Nuts and Gabriel. In July 2017, Team. Ablaze officially announced on Facebook that a new version of Dystopia was being worked on, featuring comprehensive 'all-round upgrades' and interchangeable weapons.[2] The original version of Dystopia was fully retired in 2018.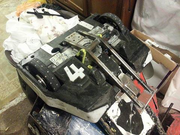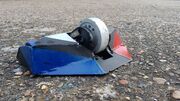 In addition to Utopia, Anstee also competes in featherweight events with Defector, which is armed with a longer and narrower flipper, and finished fourth at the 2014 FRA UK Championships. He has also competed in antweight events with DystopiAnt and DefectAnt, miniature replicas of Dystopia and Defector built by Alex Shakespeare. DystopiAnt won the Ant Freeze 4 event in January 2017, with DefectAnt finishing fourth at the same event.[3] One week after Utopia's fourth place finish in the featherweight division, Team. Ablaze competed at the European Beetleweight Championship with R.P.M., a past success which had been re-branded under the team uniform. Armed with a vertical spinner, R.P.M. finished fifth, when it was knocked out by the eventual champion.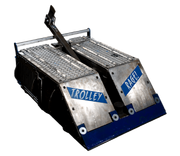 Gareth Anstee competed on Robot Wars as part of his university's team, the Greenwich Greats. They competed with Trolley Rage, a robot equipped with an axe, which was initially built by Professor Simeon Keates, before being overhauled by Gareth Anstee. However, Trolley Rage was moved from its intended opening melee, and substituted for a withdrawal, placing Trolley Rage against the reigning champion Carbide, alongside Crackers 'n' Smash and Meggamouse. After a powerful blow from Carbide, Trolley Rage was immobilised, and it lost in the first round.
The University then gave a list of requirements and a budget to build a new robot to try and make a competitive entry that still inspired new engineers. After some initial designs and component selection by Gareth Anstee, he then worked with Adam Hamilton to produce the final design of General d'Meaner, which Anstee built over the two weeks leading up to its debut. General d'Meaner's design is based on a "Terrier" combat engineer vehicle; the robot features a 18hp drive system, a top speed of 20mph, and a low-pressure pneumatic flipper and grabbing arm as weapons. The completed General d'Meaner made its debut at the University of Greenwich Extreme Robots event in late September 2017, where it was used as a house robot for the final round of a schools' featherweight competition. General d'Meaner also fought in three battles at Extreme Robots in Maidstone, where despite some initial teething problems causing it to be plagued by issues with its weaponry - it managed to win its first fight in a 5 way melee against other experienced competitors.
References