Wall Breaker was a Chinese robot which competed in Season 1.5, the debut of This is Fighting Robots. It survived until the end of its preliminary rumble, but ultimately would not be selected by a celebrity captain. It was the successor to Nuclear Bomb[1], and would itself be succeeded by The Martian.
Wall Breaker was a box-shaped robot, with angled sides. It was driven by two wheels, and was equipped with overhead gripping forks, operating vertically. These weapons presumably allowed the robot to self-right, albeit slowly. Its additional weapon was a flamethrower, and two front forks intended to beach competitors in place before using its main weapons.
Robot History
Edit
This is Fighting Robots (Season 1.5)
Edit
Wall Breaker was not chosen by any celebrities in their initial selection process, requiring Wall Breaker to compete in a preliminary rumble against three successful machines from the first season of King of Bots; Blue, Saber II, and Thunder and Lightning.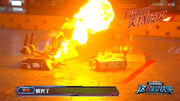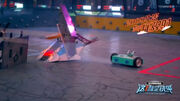 At the beginning of the match, Wall Breaker drove up the wedge of Saber II, but reversed away, causing Saber II to fire at the air. Wall Breaker fired its flamethrower and paraded around the arena, while Saber II mistimed another flip. Ultimately this proved to be Wall Breaker's main tactic, lighting up the arena without direction. Half of Thunder and Lightning became stuck under Blue, and Wall Breaker attempted to grab the smaller multibot. However, this allowed Saber II to drive under Wall Breaker and toss it across the arena. Although Wall Breaker landed on its wheels, Saber II followed this up with a flip which turned Blue and Wall Breaker over with a single attack. Wall Breaker attempted to self-right using its forks, but was harassed by Thunder and Lightning. Later into the battle, Wall Breaker was revealed to have been righted, but it made no further impact, and time expired without Wall Breaker being selected by a celebrity. Thus, the team fell at this stage.
Series Record
Edit
NOTE: Team member Zhang Chongbing also entered King of Bots II with his own robot, Giraffe.
While entering the arena, the team held signs reading "Fang Bou", the name of the Chinese riot control and terrorism task force.
In Season 1, the Fang Bao team were known as the Real Steel team.
References
Edit
Community content is available under
CC-BY-SA
unless otherwise noted.