X-303 is a featherweight robot from Manchester, the United Kingdom, which competed in the 2018 King of Bots UK International Championships. Entered by Cosmin Gorgovan of Bad Timing Robotics, it had limited success in the main championship, initially finishing third its first two qualification battles to Straddle 2 and Amnesia after becoming immobilized. Despite causing severe damage to Luna-Tic in its last qualifier, X-303 again finished third after the former pushed it into Take Cover, causing X-303 to recoil into the pit. With this, it did not score enough points to reach the Top 20, and was eliminated from the 2018 UK International Championships.
X-303 later returned to take part in a whiteboard battle, although the results of the battle were not officially announced.
Design
"X-303's drum was an experiment to see whether a competitive FW drum can be built 1) without access to a machine shop and 2) cheaply."
— Bad Timing Robotics Facebook page, detailing the design of X-303's drum[1]
X-303 is an invertible, multi-colored two-wheel drive robot armed with a powerful front-mounted drum spinner. The drum consisted of several 15mm laser-cut HARDOX 500 plates and a waterjet-cut pulley of the same material, stacked and bolted together to form a single weapon. Bad Timing Robotics designed the drum to be affordable and to be made without the team needing to use a machine shop. The team cited inspiration from BattleBots competitor Bucktooth Burl, which used a similar construction process for its own drum spinner.[1]
X-303's construction incorporated rounded wheelguards, front wedgelets on either side of its weapon mount, and a top panel depicting a starfield.
Results
Wins/Losses
NOTE: X-303's whiteboard battle is not included in this tally.
Outside King of Bots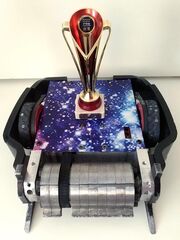 Following its 2018 UK Championship run, X-303 achieved significant success in the 2018 Dutch Robot Games European Championship, co-hosted with Fighting My Bots. There, it won the competition outright, achieving an unbroken six-win streak in the process.[2] X-303 followed this up by winning the January 2019 Robodojo featherweight event, the only competitor at the event to achieve a 4-0 win record.[3] It also finished second at the July 2019 Robodojo event, behind Drumroll.
In August 2019, X-303 became the new UK featherweight champion, after an undefeated run at the FRA championship, hosted by Robodojo. In its heat, it defeated Graffiti, Impact, Barghest, Push-Abili-Tilly and Sinister in sequence, before defeating Galaga, Amnesia, Captain Jack Spinnah in the Top 16 to reach the final, where it threw Push-Abili-Tilly out of the arena to complete its campaign.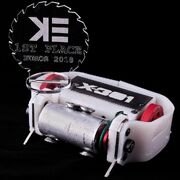 X-303 is essentially an upscaled version of Bad Timing Robotics' beetleweight drum spinner X-301, which has competed at various live events with considerable success. Debuting at the 2018 UWE Beetle Brawl, it reached the second round of the competition before losing to Tempus; despite progressing through its losers' melee, X-301 was forced to withdraw following damage to its weapon pulley and belt.[4] In subsequent events, X-301 enjoyed considerably greater success, winning the inaugural Robodojo beetleweight event in July 2018[5] and the FRA European Beetleweight Championship in October that year, the latter run by Kinematic Events.[6] X-301 also appeared in the 'Whiteboards' episode of the online web series Bugglebots, shown at the very end of the first series. Competing in the 'Wedges vs Spinners' battle, it initially landed a heavy blow on Sir Lance-a-frog, but lost mobility early on after throwing Big Wedge Energy out of the arena. As a result, X-301 played no further part in the fight, which was won by the 'Wedges' team.

In addition to their drum spinners, Bad Timing Robotics have also competed with a variety of non-spinner robots. The most successful of these is The O'Neill, a four-wheel drive beetleweight rammer which won at the 2017 Dutch Robot Games[7], finished second in its heat at the 2018 UWE Beetle Brawl[4] and third at the July 2018 Robodojo beetleweight event.[5] Bad Timing Robotics also competed at various live events with a featherweight pusher, Bald Unicorn, which made its most recent appearance at the 2018 Dutch Robot Games/FMB European Championship.[8]
In 2019, Cosmin Gorgovan built another beetleweight, Daedalus, which debuted at the Robodojo event early that year. Armed with a horizontal HARDOX bar spinner, Daedalus subsequently entered that year's UWE Bot Brawl, which it won outright after beating Saw Loser in the final round.[9]
For the online web series Bugglebots, debuting in 2018, Cosmin Gorgovan collaborated with Greg Cathalina of Team Health & Safety to enter a two-part beetleweight clusterbot, WeeWoo. Each segment incorporated brushless drive systems and magnets for additional grip on the arena floor, as well as interchangeable large wedges or pairs of forks at the front. This set-up allowed WeeWoo to perform strongly in its heat, immobilizing Dr Thwackenstein in its eliminator before facing Sam Price's Maximum Ogredrive. There, both parts of WeeWoo sustained attacks from Maximum Ogredrive's overhead saw, resulting in the whole robot losing on a Judges' decision and being eliminated from the first series. WeeWoo most recently competed at the 2019 UWE Bot Brawl alongside Daedalus, reaching the Round of 32 before being defeated by Saw Loser.[10]
References
External Links