Yesaji was a robot from India which competed in Season 1.5, the debut season of This is Fighting Robots. Built and entered by renowned Indian robot combat team Blanka Botz, it was not selected to take part in the main competition, after none of the celebrity team captains chose it during its preliminary rumble.
The robot was named after Yesaji Kank, a childhood comrade of Shivaji Maharaj, a warrior king and the founder of the Maratha Empire.[1]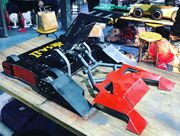 Yesaji was a black and red, four-wheel drive robot with a low, roughly box-shaped chassis and a lifting/grabbing weapon. The weapon combined a forked lifting plate with a pair of overhead clamping jaws, which were intended to allow Yesaji to grab and lift opponents.
Robot History
Edit
This is Fighting Robots (Season 1.5)
Edit
Yesaji was not initially selected by the celebrity team captains, and so was required to fight in a preliminary rumble to impress them. There, it fought UK entries Griffin Mk II and Lieutenant Bam, as well as Chinese competitor Unlimited Numbers. Brief highlights of this battle were shown as part of Episode 2; Yesaji initially began the battle strongly, ramming and getting underneath Unlimited Numbers in the opening moments. However, its contributions to the remainder of the battle were not shown in the main episode, as the rest of the highlights focused on its three opponents. By the end of its rumble, Yesaji was not selected by any of the celebrities and would not progress to the main competition.
Series Record
Edit
Outside King of Bots
Edit
Founded in 2011, Blanka Botz Robotics Club is a non-profit organization dedicated to the design, development and manufacturing of robots in various disciplines. The club have enjoyed outstanding success in Indian and international robotics competitions – as of December 2017, they have won 90 trophies in domestic events as well as two titles and 63 medals internationally.[2]
Blanka Botz have built several robots for domestic and international competitions, a majority of them being equipped with vertical spinners. Their robots include:
Taanaji, a 60kg, invertible drum spinner, which won the 2017 Techfest International Robowars competition and finished runner-up in the 2018 FMB (Fighting My Bots) World Cup 60kg tournament.
Dara, a two-wheeled, 15kg robot armed with a drum spinner, winner of the 2017 FMB World Championship.
Goho, a four-wheel drive, 15kg robot armed with a large drum spinner.
Khashaba, a two-wheel drive middleweight armed with a single-toothed vertical drisc.
The team also competed in fellow Chinese robotics show Clash Bots with Eggbeater, a heavyweight robot armed with an egg beater spinner. It won its first battle against Nuclear and found reasonable success on the show, but was eliminated halfway through the series. It made a late return in Episode 10, as part of Excalibur's three-in-a-row battle challenge, but Eggbeater was not required to fight after Excalibur was immobilized by Bull Devil.
References
Edit
External Links
Edit